Brighten Up Your Flower Garden Palette With 2023's Color Of The Year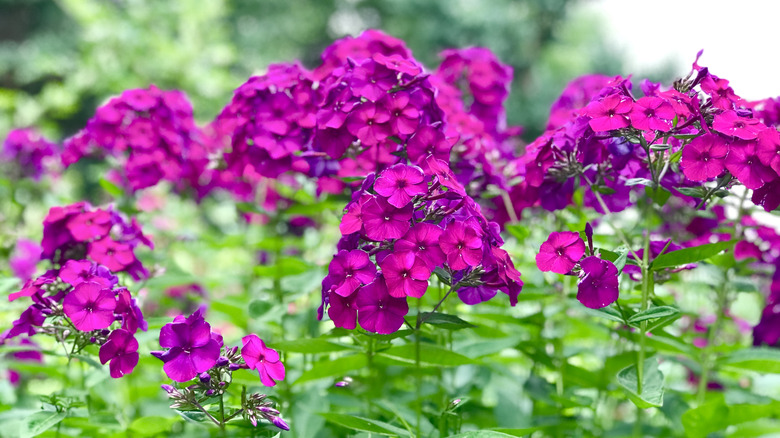 Eastriverstudio/Getty Images
The 2023 Color of the Year is Viva Magenta, per Pantone. This vivid hue is a pink-toned purple that is always eye-catching. It is slightly darker than fuchsia, with more blue tones than maroon, and has great depth despite its brightness. It pairs well with almost any color imaginable and is a strong choice for building color palettes for the wardrobe, the home interior, and of course, the garden! Magenta is a show-stopping color when added next to lovely green stems and leaves. Partly this is because magenta is adjacent to red, and red, being green's opposite, creates a vibrant combination when the two colors are side by side. Magenta combines warm red and cool blue tones, so it looks great with yellow and bluish greens. Its brightness can light up a shady garden corner or look positively radiant in a sunny flower bed.
Annual flowers are inexpensive compared to perennials and generally provide a longer season of color, so you may decide to plant some magenta annuals to see if you like this hue. But for maximum impact, consider adding both annuals and perennials in this dramatic color. This hue is available in many varieties of flowers that bloom from early spring through late autumn. The success of perennials will depend on your garden's growing zone, but most annuals can be grown seasonally anywhere with proper care.
Annual magenta flowers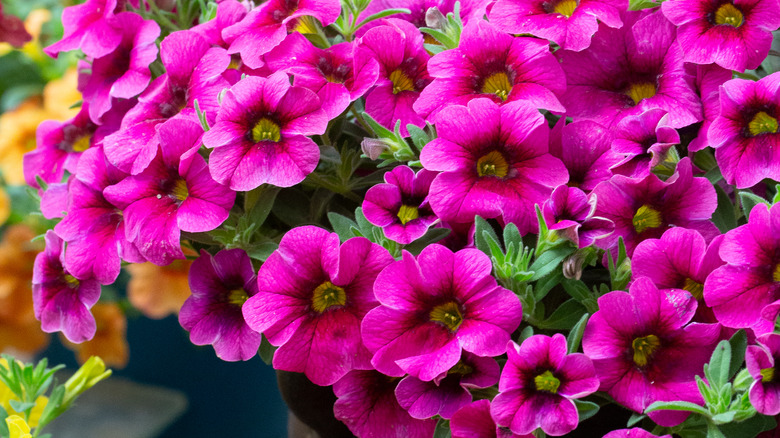 Jian Yi Liu/Getty Images
Sun-loving annuals available in magenta shades include cosmos, portulaca, snapdragons, stock, celosia, petunias, zinnias, and verbena. There are various magenta cultivars to look out for, such as petunias. Try Supertunia petunias in 'Royal Magenta' or 'Picasso in Purple' (magenta flowers edged in bright chartreuse), Easy Wave petunias 'Burgundy Velour,' the Shock Wave 'Deep Purple' petunia, or the Crazytunia 'Magenta Storm.' It's important to deadhead the spent blooms to keep the plants clean.
Stock is an old-fashioned annual with a strong clove fragrance and has magenta varieties, such as the 'Harmony Mix' and 'Anytime Mix.' Once the blooms are spent, gently snip the stems, and your stock will rebloom in a few weeks. Magenta snapdragons can be found in the 'Madame Butterfly' mix; also try 'Speedy Sonnet Purple,' a hot pink-purple shade, or 'Black Prince,' a deep purple-burgundy color. Once the central stem of your snapdragons is done blooming, it will sprout side stems with new buds; deadhead the spent flowers, and it will bloom through November! Shade-loving annuals in shades of magenta include impatiens, caladiums, and coleus. Impatiens come in a huge range of colors and flower continuously all summer long. One pleasing color mix that includes magenta is 'Candy Box.' Normally these flowers prefer shade, but there are also sun-tolerant impatiens, with thicker leaves and larger blooms; try Sunpatiens in 'Compact Hot Pink' or 'Compact Purple.' 
Perennial magenta flowers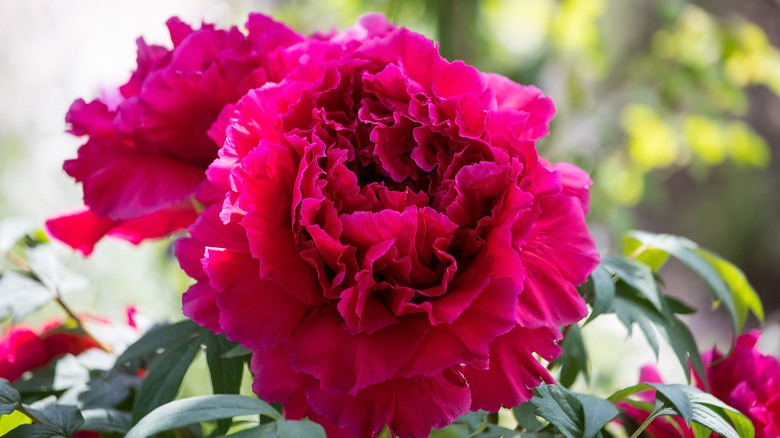 Pierre Suu/Getty Images
A vast range of perennial plants come in various shades of magenta, so it's easy to find something that will add colorful zing to your garden. Always check the information listed on labels or websites to ensure you have the right growing zone, and check mature size, sunlight, soil needs, and other important details. Some plants include peonies, dianthus, phlox, iris, shrubs like lilacs, butterfly bushes, hibiscus, azaleas, and rhododendrons. In warmer growing zones, dahlias can be perennial, too: 'Thomas Edison' is a classic heirloom dahlia in a lush deep magenta hue.
A number of peonies provide vivid magenta hues, including 'Karl Rosenfield,' 'Felix Crousse,' and 'Old Faithful.' Peonies should be planted properly, with the buds no deeper than 2 inches below the soil line, and they like plenty of sun. There are many dianthuses varieties, but one recent cultivar stands out: 'Paint the Town Magenta' is a vibrant long-blooming plant that attracts pollinators. Deadheading the flowers once they fade will help these plants rebloom. Tall garden phlox give weeks of summer color: 'Ultraviolet' is a dark rich magenta, while 'Magenta Pearl' is a rich orchid purple. Be sure to give them some space for air circulation to prevent mildew. The sun-loving butterfly bush is a surefire pollinator magnet; try 'Magenta Darling,' 'Buzz Hot Raspberry,' or 'Miss Molly.' You can cut it back in the fall to keep it neat, and it will grow back in spring.
Garden color palettes revolving around magenta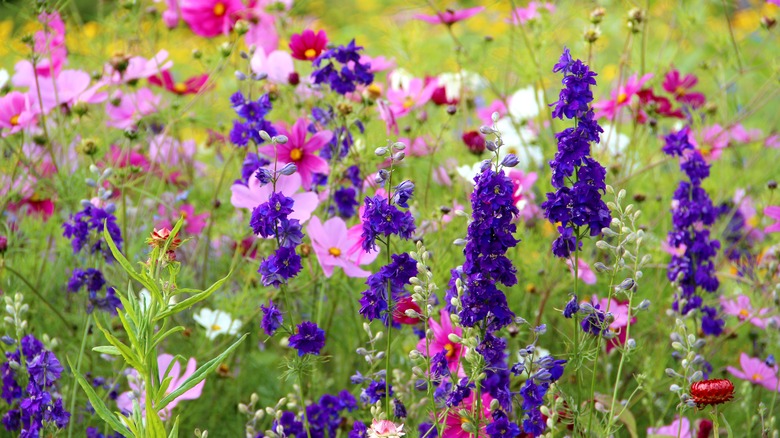 Fotolinchen/Getty Images
Magenta is a versatile color that can enhance almost any palette. This goes for garden design, too. Some striking combinations include magenta, chartreuse, and pink; magenta, light blue, and purple; magenta, silver, and lavender; magenta, orange, and yellow. Of course, ideally, you want your plants to bloom at the same time so these color combinations really pop. Annuals bloom for a longer time than most perennials. So, you can experiment with palettes using annuals and then use perennials to keep the theme going more permanently.
Magenta and chartreuse pair up beautifully, and adding some bright pink flowers enhances this vibrant combo. In a container, you could try magenta and pink petunias with chartreuse sweet potato vine. In the flower bed, try magenta dianthus planted near a chartreuse hosta (like 'Fire Island' or 'Sunny Halycon'), with some pink roses and lilies, all at their peak color in June and July. Magenta is also gorgeous, with light blue and dark purple. In late May, you could have magenta peonies blooming alongside light blue Amsonia, columbines, or forget-me-nots, and some dark purple German irises ('Titan's Glory,' 'Rosalie Figge,' or 'Obsidian'). For a more sophisticated look, try including plants with silver foliage, such as artemisia (like 'Silver Mound' or 'Silver Brocade') or a silvery heuchera like 'Stainless Steel,' 'Silver Gumdrop' or 'Smoke and Mirrors.' This pairing goes great with lavender flowers, like phlox, dianthus, petunias, or stock.