Lisa Vanderpump's Backyard Looks Less Like A Patio And More Like An Outdoor Living Room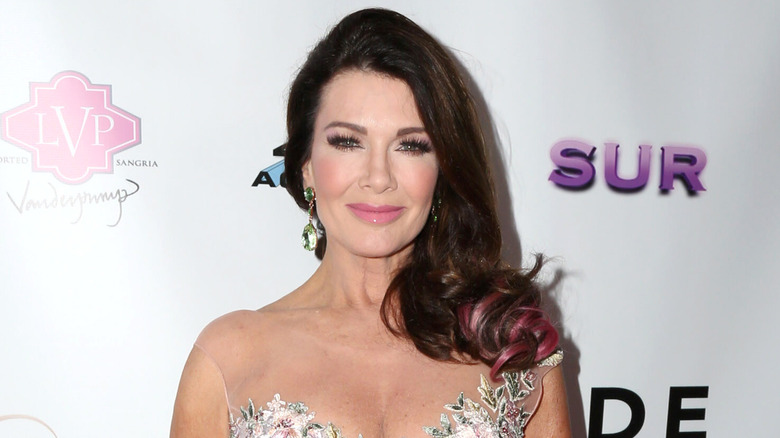 Kathy Hutchins/Shutterstock
We may receive a commission on purchases made from links.
Star of "Vanderpump Rules," Lisa Vanderpump has quite an extravagant home, which she's named "Villa Rosa." When talking about the Los Angeles- located property, she says, "Villa Rosa is all about the views and the sparkle and the feel-good factor," she told Bravo. This is true about both the inside and the outside of her abode.
While the typical backyard has a grill and perhaps a few pieces of outdoor furniture, Vanderpump's setup is much more elaborate. One section is a full outdoor living room, complete with wicker armchairs, a mounted television, and a large outdoor area rug with a swirling pattern. On each of the four chairs, which are arranged around a central square fireplace, sit patterned throw pillows that add a bit more interest. Vanderpump decorated the space with multiple bouquets of pale pink flowers, adding a pop of color. "For the most part, it's a neutral palette with [pink] accents like the flowers and things like that," she explained. 
How to recreate Vanderpump's outdoor living room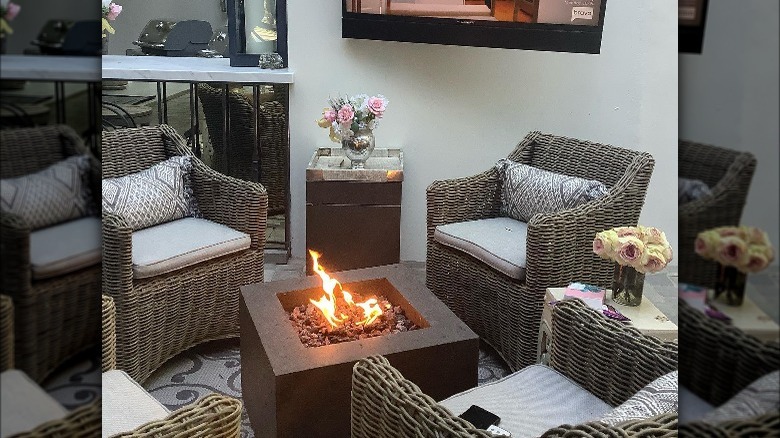 Lisa Vanderpump/Instagram
If you want to recreate Lisa Vanderpump's outdoor living space, first consider where it should be located. Placing it right next to your home may be best, so you can mount the television against your house's exterior. You may also want to arrange your furniture in a shaded area, perhaps underneath a tree or a pergola. This will not only provide you with shade but also protect the furniture from any harsh weather and hot sunlight, which could cause it to wear down or fade. 
To recreate the space, purchase a large gray area rug with a swirling pattern, such as the Unique Loom Collection Botanical rug from Amazon. Then, you'll need to buy four wicker armchairs with gray cushions, as well as a few side tables next to the chairs to provide a place to set down a drink. In the center of the area, include a square fireplace with stones, which will provide warmth and a relaxing ambiance. Finally, to truly make your backyard look like it was designed by Vanderpump, decorate it with faux pink silk flowers in clear vases. 
The rest of Vanderpump's backyard
Not only does Lisa Vanderpump have an outdoor living room, but she also has a dining area. Situated right in front of the living space is a long table with plenty of clear acrylic chairs surrounding it. Down the middle of the table is a lush floral centerpiece filled with succulents and pink, white, and purple flowers. Overhead is crystal chandeliers, which add to the glamorous style. Next to the large table is another unique feature: a courtyard water fountain. This gives the space a truly relaxing Italian feel that makes it look like an actual villa.
To carry the luxurious feel throughout the rest of the backyard, Vanderpump even includes a beautiful area for her miniature horses. Their "stable" looks like a small, quaint cottage painted pink and blue, with delicate shutters and flower boxes. Her pets also have a fenced-in area located underneath a sprawling tree, and the fence has ornate detailing with beautiful white pillars. To add to the idyllic feel, there's even a white swing hung from the tree with flowers twisted down the ropes that suspend it.