Hilary Farr's Plunge Pool Is The Star Of Her Renovated North Carolina Backyard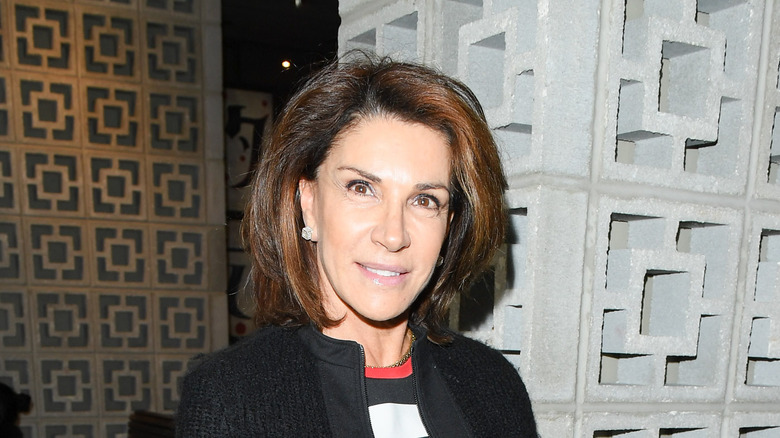 George Pimentel/Getty Images
Hilary Farr has spent a major part of her career transforming homes for clients on HGTV's "Love It or List It." As the co-host of the show, Farr addresses homeowner's concerns over a dysfunctional, often on a limited budget, to create a space they may love again. But recently, she's tackled a renovation for herself. Her new home in North Carolina was completely transformed to create a space where her family can gather, and she can relax.
The home as a whole is unrecognizable, with additions added to the front and back, and the facade changed from shingles to brick. "The brick looks almost reclaimed," Farr said of the new exterior, per Pine Hall Brick. "The artisanal style softens the sharper lines of the home design." Among other incredible changes like the bold geode-inspired wallpaper and floor-to-ceiling windows in the main bedroom, her backyard takes centerstage. It's the perfect place to relax in the evening or entertain guests. And the centerpiece of the backyard is a saltwater plunge pool at the edge of the patio. Though it may be small, it makes a major impact on the style and function of Farr's backyard.
A splash and a plunge
For many people, a large swimming pool would transform their backyard into an oasis. But Hilary Farr's plunge pool proves that you don't always need to go big to make a major impact. Plunge pools are much smaller than a standard pool, typically 6.5 to 10 feet wide and 10 to 22 feet long. While there is no standard depth for a plunge pool, most can fall between 4 to 8 feet.
Some may question what the point of a pool this small is. Pure relaxation. A plunge pool isn't made for sport or taking laps; instead, it's meant to cool off after a sauna. But for those who do want to get a small workout, it's great for water aerobics and standing workouts. Plunge pools are also great for a quick dip if you just want to cool off. But these pools can also be heated, creating a personal sauna or hot tub for you to relax in. The saltwater pool in Farr's backyard provides the perfect location for relaxation and entertainment.
Take the plunge
Plunge pools are great options for smaller yards where a traditional pool may take up too much room. They're also ideal for those who may want a little bit of water to take a dip but don't need a large pool for activities or sports. And if you're doing an outdoor renovation on a budget, plunge pools, in general, cost less than traditional ones. The average cost can fall between $7,000 and $12,000, though the final cost depends on factors like size, material, and whether it's above or in-ground.
Large plunge pools, of course, will be on the more expensive end of the price range. And when it comes to materials, concrete is one of the most popular and durable options available. They also offer flexibility in customization in terms of shape and design. Fiberglass is another common material that's more budget-friendly. However, there is much less customization available with this material.
In-ground pools require excavating the ground, which makes it a more expensive option compared to an above-ground option. But above-ground options aren't always the most durable, which may mean maintenance in the future. And above-ground plunge pools don't have the same customization options as their in-ground counterparts. But no matter what you decide on, a plunge pool easily makes your backyard a retreat.