Here's The Most Money Tarek El Moussa Has Ever Spent On A Remodeled House Flip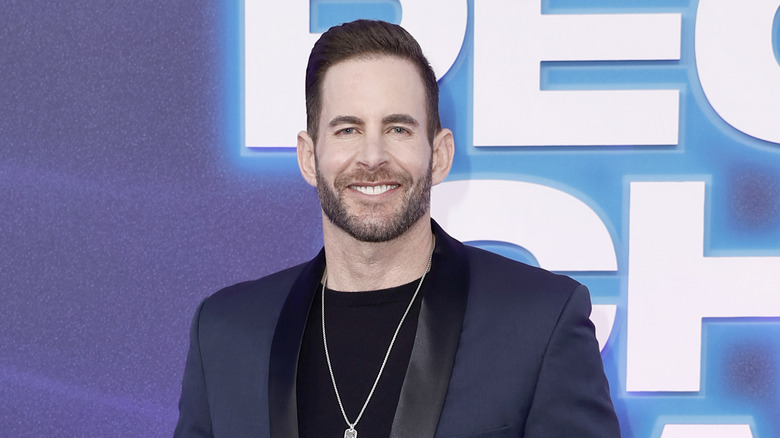 Frazer Harrison/Getty Images
Tarek El Moussa began flipping houses back in 2010, and his budget has grown along with his experience. According to Realtor.com, El Moussa's top three most expensive house flip remodels have happened in the last few years. In April 2020, El Moussa purchased a Corona Del Mar, California home and filmed it for the last season of "Flip or Flop." The home was purchased for $1.4 million and had a nearly half a million dollar renovation cost, for an over $2 million dollar total investment. In May 2022, El Moussa paid $1.8 million for a four-bedroom, three-bath Los Angeles home. The exact reno costs aren't clear, but the purchase price alone makes it one of his most expensive flips. 
However, in April 2022, a four-bedroom, three-bath home in the Silver Lake neighborhood of Los Angeles was purchased for $2.15 million by him and Heather Rae El Moussa, his wife and co-host. They filmed their first flip together, and with a renovation budget of about $400,000, the total cost of the project ended up being over $2.5 million, making it El Moussa's most expensive flip to date.
The exterior design
As seen in Episode 1, Season 1 of "The Flipping El Moussa's," Tarek went all out on luxury amenities and finishes on his most expensive flip (via YouTube). Stunning views of Los Angeles were the largest selling point, and El Moussa made sure to capitalize on it. The home came with a rear deck and was updated with a stone gray tile and staged with modern patio furniture. The look was kept simple, keeping the focus on the view. The front of the home was originally designed with unappealing brick siding, a dated front door (behind a wrought iron gate), and neglected landscaping. So, they had the home's exterior painted in a clean, neutral color palette to instantly brighten and modernize the space.
The wrought iron safety gate was removed, and the front door was updated with a minimalist slatted door. Perhaps the best upgrade to the exterior was the dark brown horizontal slatted wood that covered the dated brick siding. A simple clean-up of the home's front landscaping and some new mulch helped make this home much more welcoming and desirable. When renovations were done, the mid-century modern home was listed at $2,895,000, and after several months on the market, it finally sold for $2,580,000, per Zillow. 
The home's interior
While the home's exterior got some much-needed love, the episode also showed how the interior layout was rearranged for a stunning, modern look (via YouTube). A cramped upstairs with a kitchen and living room became a bright, open-concept space that seamlessly connected to the deck outside through large glass doors. The small, dark kitchen became a modern entertaining and cooking space with white cabinets, a blue tile backsplash, and a cocktail bar. An all-white island and nearby dining table offer plenty of seating with great outdoor views. A dated fireplace in the center of the living room was moved to the wall and replaced with a modern electric model. Because the ceilings were low, the beams were left exposed and painted white to allow for more headspace, and an ultra-modern hanging light was added over the stair landing leading downstairs.
The downstairs also went through a dramatic transformation. The home was listed as having four bedrooms, but when El Moussa got a glimpse of the interior after buying, two of the bedrooms were actually closets. To solve this problem, a downstairs flex space was turned into a third bedroom. The bathrooms were completely renovated and updated with gray tile showers and surrounds, glass shower doors, and a soft color palette with wood accents in the vanities and décor.