How To Create The Illusion Of A Bigger Space Using Paint
Hispanolistic/Getty Images
If you have a smaller apartment than you would like — or have a bonus room that's a bit too cramped for your liking — you can make your home feel a little bigger with some easy DIYs. While you can't easily increase your square footage, you can utilize paint to create the illusion of more space. Using certain paint colors or applying them in particular ways creates an optical illusion that tricks the eye into seeing more space than there actually is. One of the best ways to do that is to create a focal point with the help of an accent wall.
Painting a dark accent color on the wall directly opposite the entry door helps draw your attention to that one spot, creating the illusion of depth. Your eyes will be immediately drawn to that wall, making it come forward and appear wider. For the ultimate contrast, keep the other walls white to help it really pop.
Other painting tricks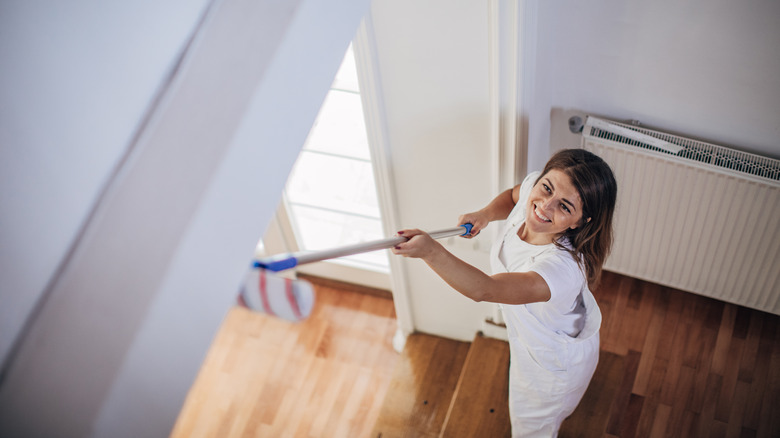 Hirurg/Getty Images
If you're looking for more painting tricks to create a bigger space, you're in luck. There are so many different options, ensuring you can find one that best fits your tastes and style. One great painting trick focuses on your ceiling. Rather than choosing a bright white ceiling color — as is typical — go in a different direction and choose a hue a few shades lighter than your wall color. When the ceiling is white, your eyes become aware of where the walls end and the ceiling begins, making your space feel more cramped and closed off. But if you keep all the colors in the same family, that stark line will disappear, making it appear more open.
You can also try painting your crown molding the same color as your walls, making the room feel taller by a few inches. The molding will blend in with your walls rather than your ceiling, giving you an extra few inches of wall height.
Paint sheen also matters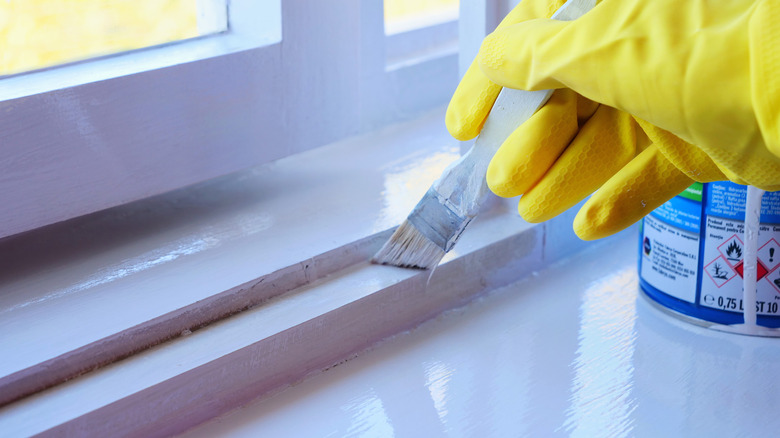 Whiteaster/Shutterstock
You can also use paint sheen to your advantage. Using matte paint doesn't do much in terms of optical illusions, but using glossy paint does. If you spend the extra $10 or so on a can, the gloss will help attract and reflect more light, making the room appear airier. Much like how mirrors make a small space feel bigger because they bounce light, glossy paint acts similarly.
If it isn't in your budget for the whole room, you can concentrate on adding this paint to the ceiling instead. Simply apply glossy paint to the ceiling and its surrounding trim work. The glossiness will attract the eye upward, making it feel more expansive. It will also reflect any lamplight pointing upwards, helping the light bounce around the room.
One thing to keep in mind is that high-gloss paint can look very dramatic. If you prefer a somewhat toned-down look for a less formal space, try an eggshell or semi-gloss finish instead.