The Most Durable Materials For A Long-Lasting Front Door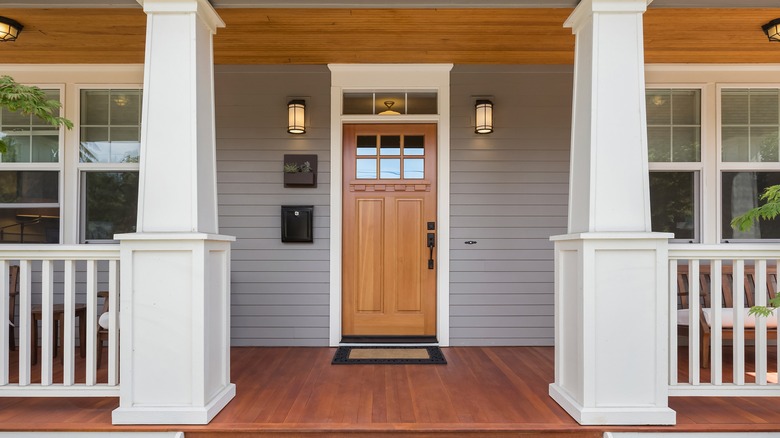 BM_27/Shutterstock
Front doors are your first line of defense against bad weather, thieves, and nosy neighbors. Moreover, they're one of the first things your guests will notice about your home, guiding their perception of it. So, it's important to find a front door material that's secure, durable, and attractive, like steel or fiberglass. Both of these doors will protect your home for a long time, ensuring you won't need to replace it anytime soon.
Wood is another popular front door material known for its charm and character. Wood doors are easy to repair and energy-efficient, but their cons can outweigh their pros. For starters, they aren't suitable as front doors for homes in areas with lots of extreme weather, like high humidity, heavy rainfall, and snow, as they can warp and distort. Wood doors also require regular maintenance — sanding and re-staining — or they will rot over time. Further, they're often more expensive than steel and fiberglass doors, especially if you go for a high-end, custom look.
Steel front doors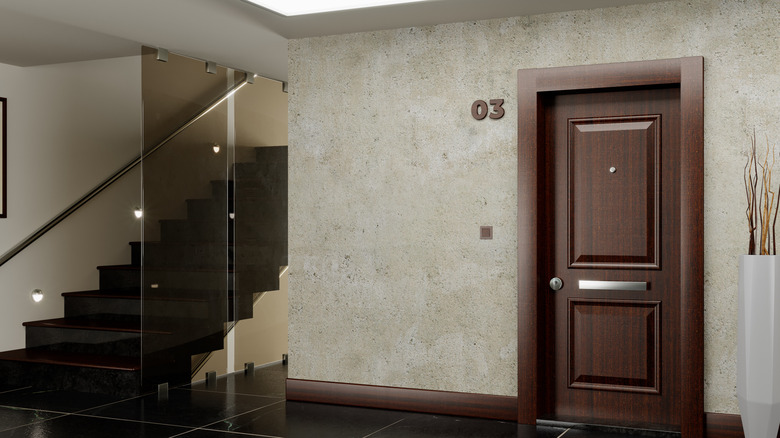 Nurulanga/Getty Images
Steel front doors are an excellent option since they are sturdy and impervious to natural elements. These doors are extremely durable as they don't crack, warp, or rot over time, and they don't need regular maintenance. Additionally, these metal doors are more affordable than fiberglass and wood doors as they cost less to manufacture. Steel doors are fire-resistant, and they are a solid home security investment as they have sturdy, reinforced hinges and feature steel panels on both sides with insulated foam at their core. You even have the option to customize your steel front door by adding decorative glass to it and choosing a paint color that suits the rest of your home decor.
With that said, these front doors have some imperfections too. Steel doors can get damaged by rust if they're not maintained adequately. They can also accumulate dents and scuffs over time, though they can be repaired.  Additionally, as they are metal, steel doors are a natural conductor and can absorb heat and cold if they lack an insulated core. 
Fiberglass front doors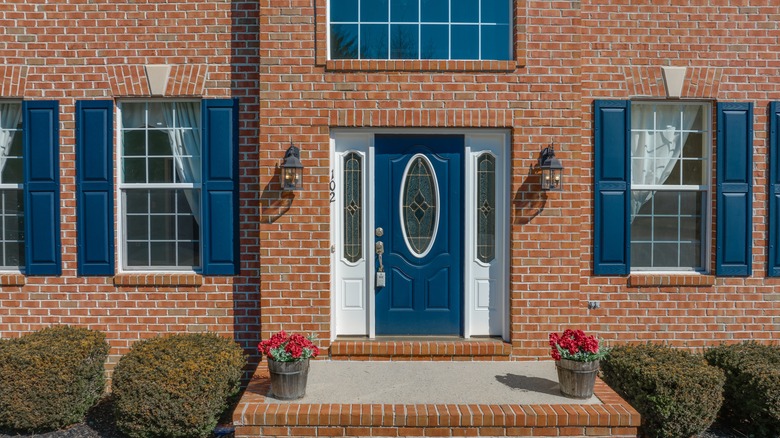 tokar/Shutterstock
Fiberglass front doors are a hit among homeowners, and these fiber-reinforced doors are made up of resin and glass. This makes them a durable and secure front door option, similar to steel front doors. Containing dense foam materials, these doors are also the most energy-efficient option as they reduce heat transfer. Unlike steel and wood doors, they don't fade, chip, crack, expand, or warp if subjected to extreme weather conditions. Further, fiberglass front doors are extremely low-maintenance and resistant to moisture and fire.
Fiberglass doors are available in a range of colors, styles, and shapes, and they can be easily customized for your tastes. They can even mimic the appearance of a stained wood door without the hefty price tag. However, fiberglass doors are often unfit for DIY installation as they're usually assembled as a complete door and frame unit, and their manufacturer warranty is subject to a professional installation.