HGTV's Meridith Baer's Lighting Tip Will Help You Sell A House In The Blink Of An Eye
Sdi Productions/Getty Images
Often overlooked but one of the most important features of interior design, lighting should be a top priority whether you're designing a room or trying to sell your home. Lighting adds dimension to a space, whether it's illuminating the entire room or highlighting unique architectural features. Getting lighting right and placing it well can breathe life into a home and bring energy to a room.
If you're staging your home to sell, lighting is one of the factors you should pay attention to, according to interior designer Meridith Baer (via The Journal News). Her suggestion is to factor in the time of day when it comes to lighting. Daytime showings should play up the brightness, turning on all the lights to make the home look as bright as it can be. If a home has tons of natural light, the extra brightness will only complement that. And if it doesn't, the bright lights can supplement the lack of sunlight.
On the other hand, in the evenings, you'll want to focus on making the home look softer. Since most people want their evenings to be about winding down from a long day, evening showings should focus on making the home look more inviting and relaxing. Softer, warmer lights are the better option to show how the home can become a tranquil retreat.
Creating ambiance with lighting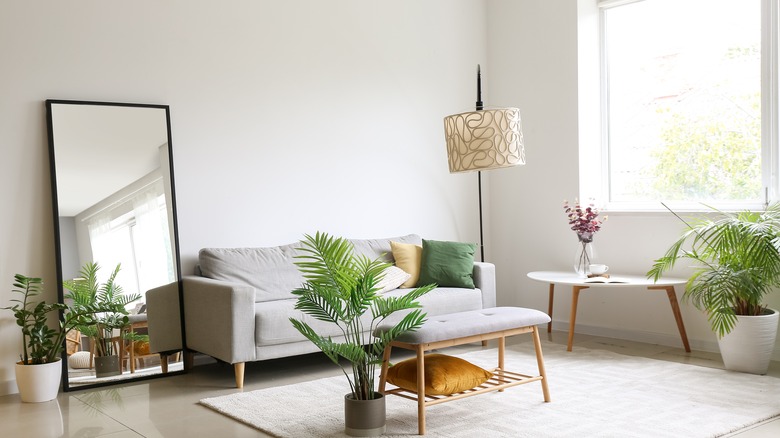 Pixel-Shot/Shutterstock
Bright daytime lighting and relaxing evening lighting don't only differ in their appearance — you also need to use different strategies to achieve them. Ambient, accent, and task lighting are the three main kinds, and combining them in different ways will create a bespoke lighting plan for every space.
For daytime showings where overall brightness is the goal, you'll want to focus on ambient lights, which are typically overhead, like recessed lighting and hanging fixtures. Ambient lighting can use bright white bulbs that are best for general lighting and illuminating the true colors in the room. Pair this with natural sunlight coming through windows to boost the brightness. Interior designer Meridith Baer suggests taking down heavy curtains or drapery to allow more light to come into the room. However, if the home needs privacy or you're trying to hide a not-so-great view, opt for sheer curtains. These still allow light in the room but block the view in and out of the window.
Twilight and evening showings should prioritize comfort and calm so potential homeowners see the home as a relaxing oasis. Turn off the overhead lights and instead focus on accent and task lighting. Accent lighting highlights decorative and architectural features, such as picture fixtures above a painting. Task lighting helps focus on specific activities, like floor and table lamps meant to help you read. Both can use warm bulbs to create an inviting atmosphere.