How To Use Copper Mesh To Prevent Slugs And Snails From Invading Your Garden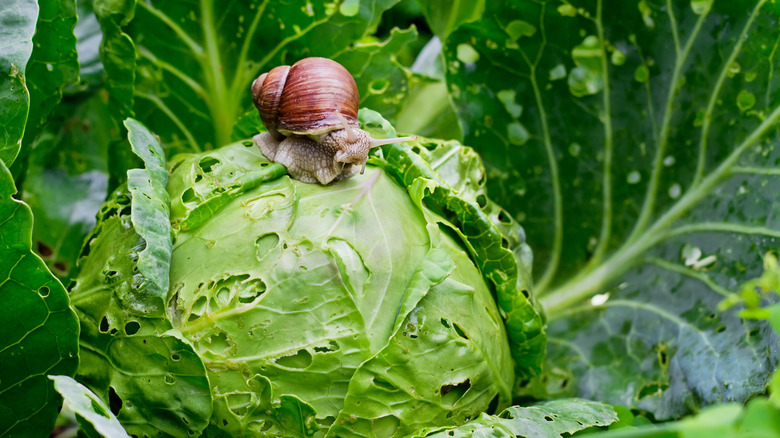 Kosobu/Getty Images
We may receive a commission on purchases made from links.
If you've ever noticed trails of slime leading to and from your garden along with destroyed leaves and produce, you may be dealing with a slug and snail infestation. These pests are some of the most harmful, especially to vegetable and strawberry plants, certain herbs, and citrus trees. While there are pesticides available for keeping these critters away, perhaps you'd rather go a more natural route. If so, try using a copper mesh gardening product to keep slugs and snails from destroying your plants.
Basically, all you need to do is surround either the plant itself or the garden container with something that's made out of copper mesh. This most likely deters slugs and snails because they don't like the feeling of the metal underneath them. Additionally, a benefit of this method of prevention is that it won't kill the animals like pesticides would. Instead, the slightly uncomfortable sensation of the copper should simply turn them around and send them on their way.
How to protect plants with copper mesh
@mulchitover

Slugs and snails love my hostas, hollyhocks, lupins and sunflowers, and I have lots of them. To protect them, especially when they're young, I use copper scourers to make copper rings. Slugs and snails hate copper as the 2+ ions in the copper react with their slime to create an unpleasant sensation. It must be real copper though and not just copper coloured. 1. Wear gloves. These ones are called Bamboozle it. Made from sustainable and breathable bamboo fibre, they're designed to keep your hands cool. This will protect your hands from the copper threads, which can get into the skin like splinters. 2. Cut the middle section out of the scourer. Do this over a tray to collect the threads as they're sharp and will go into the bottom of any bare feet or potentially get eaten by wildlife. I used scissors but you could use secateurs 3. Stretch to the required size and put over the top of your hostas. If the plant is really big, use the copper rings I made from plant pots and plant tape (see earlier post). 4. Make sure you pin or peg them securely into place to protect hedgehogs and other garden wildlife. So far I've had 100% success with these over the last month. I'm keeping an eye out for any that could jump over the top via a wall or branch but, so far, so good! #slugprevention #gardenpests #copperrings #gardening #mulchitover www.mulchgarden.co.uk

♬ original sound - Mulch
There are a couple of different copper products you could use to deter snails and slugs from your garden. The first is a roll of mesh like the 10-foot Yelite Copper Mesh for Pest Control, which is sold at Walmart for about $11. On the other hand, if you want to test out a DIY, try using Scotch-Brite Copper Coated Scrubbing Scour Pads; a pack of three is sold on Amazon for under $3. To use this, you'll need to cut out the middle and then stretch the outside to create a large ring.
Once you've purchased your copper product, simply place it either around the plant itself or around the plant's container. You could surround your garden box, pot, tree trunk, seedling, etc. You can also create a vertical wall of mesh around your plant, but make sure it's a few inches deep in the ground so that snails and slugs can't go underneath it. If you're surrounding a tree trunk, it's best to make sure the material can expand while the tree grows. Regularly check on the copper mesh to make sure you don't need a larger piece. Another solution is to wrap the tree with an 8-inch overlap that's secured with paper clips, which is easy to adjust if the trunk grows wider.
Why copper mesh works and a few cautions
Some think that copper mesh works to repel slugs and snails because the metal reacts with the critter's mucus, which creates a sensation similar to an electric shock. Because they don't like this feeling, they won't want to pass over the material to get to your plant, which will keep them from ruining your crops. Further, the mesh also has a jagged and sharp edge, which could help deter the critters further. To ensure that this hack works, it's best to place at least 6 inches of material around your plants, as just a thin strip may not be enough to keep them away.
You'll also want to regularly check on the copper to make sure it's in tip-top shape. If it starts to tarnish, you can polish it with vinegar or another natural cleaner. You may also notice the copper start to deteriorate past the point of saving, in which case you should replace it. When placing the mesh around your plants, check to see if there are any slugs or snails currently in your garden, as you'll want to remove these. Finally, when purchasing the right product, make sure it's actually copper and not just copper-colored.