Create A DIY Canopy For Your Patio With This Viral TikTok Hack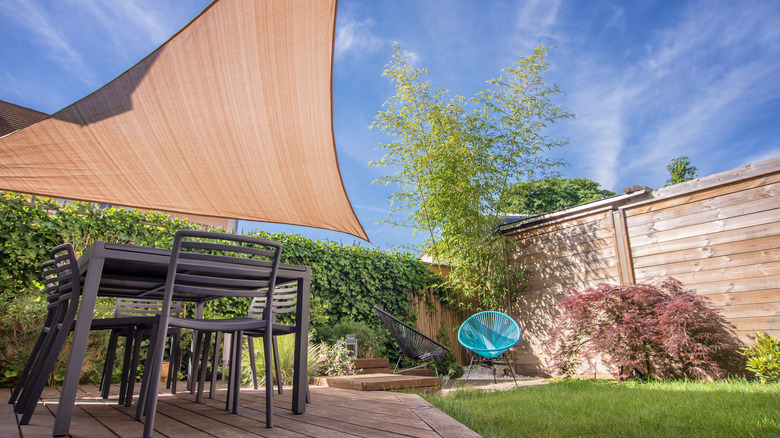 Delpixart/Getty Images
We may receive a commission on purchases made from links.
If you're looking for a backyard canopy or gazebo, you may find that the cheapest options aren't all that cheap. While you may be able to find one for around $500, most gazebos are priced at least higher than $1,000, with some even costing closer to $10,000. Instead, what if you could build your own canopy for under $200? Luckily, you can, and a TikTok by @kenzieemac demonstrates exactly how to do this. You'll need to install two posts, then suspend a sail from them that's also attached to two places on your home's exterior.
Above just saving you money, this canopy is also extremely easy to put together, and you don't need any DIY or gazebo-building experience to complete it. Further, it's so simple that you could even finish the project in just one day. And, you can decorate and personalize it however you desire to make it suitable to your tastes. This hack is ideal for those who want to elevate the look and feel of their outdoor seating area while also providing a shady space to relax on hot days.
How to build this backyard canopy
To start building this canopy, you'll first need to gather your materials. The two posts of pressure-treated lumber should be 4 inches by 4 inches by 10 feet tall and can be purchased from Lowe's. You'll also need Quikrete fast-setting concrete mix, which you can buy from Home Depot. The Amgo rectangular canopy sail can be purchased from Amazon in multiple sizes and colors, and the Homper awning attachment set is also available on Amazon as well. While optional, resin Better Homes & Gardens gray planters can be bought from Walmart, and House & Garden solar-powered string lights can be purchased from HomeGoods to finish the look. 
To start, you'll need to dig holes for the posts; TikToker @kenzieemac digs them about 1 foot deep. Place your posts in the center of the holes and surround them with the quick-setting concrete, which you'll need to mix with water and allow to set for 20 to 40 minutes. If desired, you can cut holes out of the bottom of the planters and place them over the top of each post, which can then be filled with rocks, soil, and flowers. Then, screw four pad eyes from the awning attachment set into the posts and two sides of your house at the same height, all facing one another. Finally, attach the canopy sail and the string lights. 
How to personalize the canopy and a few things to keep in mind
To make this hack personalized to your tastes, you could choose another shade for the canopy sail, to either blend in or add a pop of color. You can also opt for triangle-shaped sails instead of rectangular depending on the configuration of your space. Further, instead of cutting a hole in the resin planters and placing them over the posts, you could cement the posts into the planters, as long as you choose heavier and sturdier ones that won't topple over. 
If you're going to place your posts in the ground, it may be wise to dig a hole that's at least 3 feet deep instead of just 1 foot, as this will make your posts much more secure. Just make sure to request to have your yard marked to avoid any underground utilities. Also, in harsh winds, rain, or snow, you should remove the canopy sail to make sure it doesn't get damaged. And, before erecting the posts, it may be wise to stain or seal them so that they don't rot over time.