The Genius Way The Property Brothers Made A Coffee Table Fit In A Large Room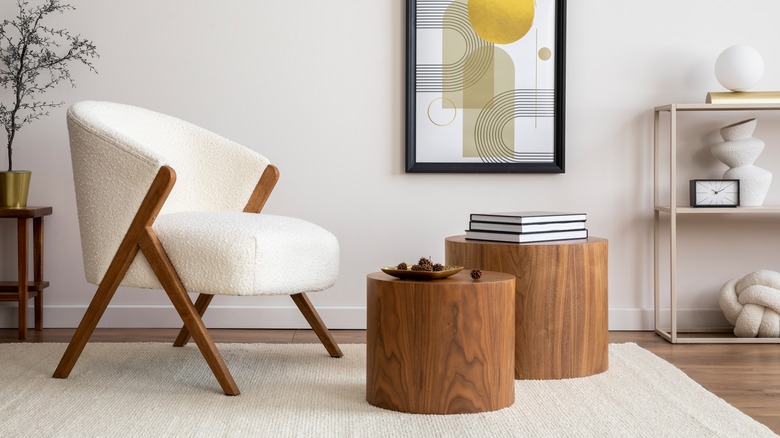 Followtheflow/Shutterstock
Sat in front of your living room sofa, a coffee table is a stylish and functional piece of furniture. Whether it's meticulously styled or simply a place to put your feet up while watching TV, having the right coffee table can make all the difference. Part of choosing the right coffee table is getting the size and scale right. As a general rule of thumb, coffee tables should be 1 to 2 inches shorter than the sofa's seat cushions and about two-thirds the width of the sofa. These measurements ensure the proper scale so the design looks balanced.
While this may be easier to achieve with standard furniture, when you have larger pieces or even a large room, it can be challenging to find a coffee table that meets the proper style. The Property Brothers faced this challenge in a living room they designed for clients. On an episode of "Property Brothers: Forever Home," Jonathan and Drew Scott had an oversized sectional that was much longer than the standard. While the large sectional filled out the room, it presented the issue of finding a coffee table that would match the scale.
However, instead of searching for one large coffee table, the brothers placed two standard sizes together. These coffee tables present one large surface that works with the size of the room and the size of the sofa. However, because they're two pieces of furniture, they can be separated if needed for people sitting on opposite ends of the sofa.
Double or triple coffee tables
Two coffee tables in one living room are particularly good for spaces meant to entertain. Not only does it provide more surface for serving food and drinks or playing board games, but it also allows you to have a flexible floor plan conducive to social gatherings. Having multiple coffee tables that can move around the room where necessary will allow you to create vignettes or separate spaces as needed. Double coffee tables also don't have to sit together all the time. You can style two matching tables to serve either end of the sofa. This technique is also great if you have two sofas in your living room; each one gets its own coffee table.
A similar option for multiple coffee tables is nesting tables. These are multiple tables where one is a little smaller than the other, allowing you to place one underneath seamlessly. Nesting tables are a great option if you want more surface area but still want to maximize your floor space. This table style typically comes in sets of two or three, so it can account for the surface area you need. For larger spaces, you'll still want to choose a wide surface area for the largest table to match the room's scale and furniture.
Mix and match designs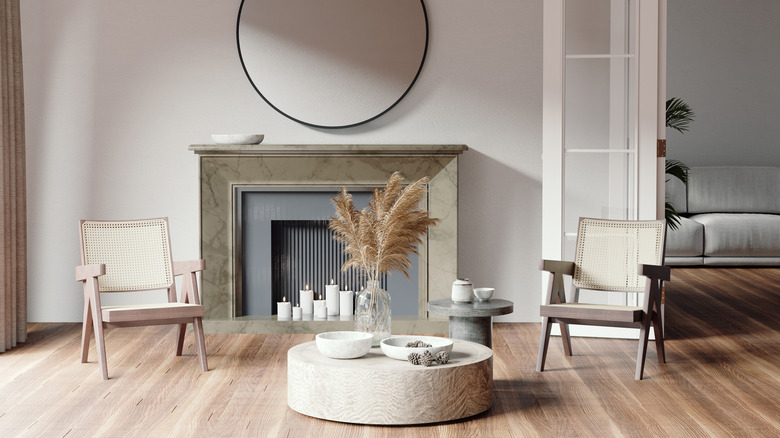 Izusek/Getty Images
If you're going to have multiple coffee tables in the room, you're not limited to choosing the same style for both. Mixing and matching the design details can create a bespoke and eclectic look. Consider choosing two or three coffee tables of different materials, heights, or colors. When mixing and matching, it's always a good idea to have a thread that joins pieces together.
For example, all the coffee tables could have a stylistic beachy theme but be made from different materials like driftwood and white ceramic. You can keep the shape the same but play with size; two round coffee tables, one a little bigger and one a little smaller. Or choose the same coffee table in multiple colors, creating a bright focal point that helps ground the room. Ultimately, mixing and matching coffee table designs comes down to your creativity and the design you want to achieve in your home.