The TikTok-Approved Swiffer WetJet Hack Your Wallet Will Thank You For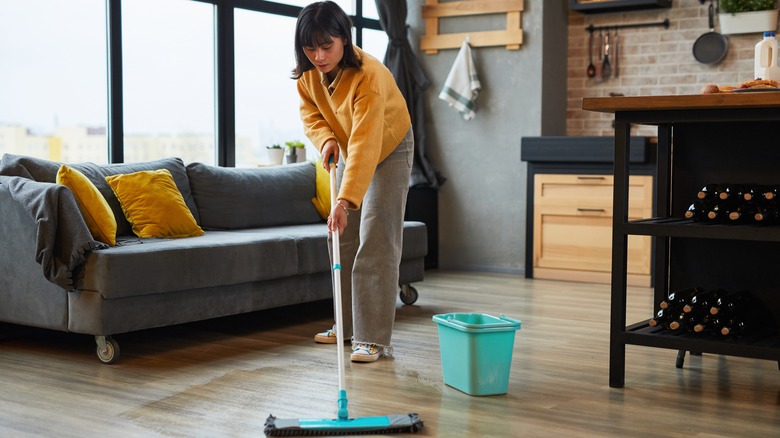 SeventyFour/Shutterstock
A Swiffer WetJet can change the way you clean. It saves gallons of water compared to traditional mopping, and the WetJet pad doesn't hold bacteria like the stringy threads of a mop. However, the innovative tool is not without faults. The WetJet floor solution, on average, lasts a month. The company then wants you to throw away those plastic containers – which do not decompose — and buy a refill. But savvy consumers have found a way to refill the containers so you don't have to continue the cycle of buying and tossing.
Concocting your own cleaning solution and replenishing the WetJet bottle will save you precious dollars in the long run. Plus, you get the fragrance and clean you prefer with an easy DIY. All you need is a wrench and your favorite floor cleaner to refill the canister. It turns a month-long use for one canister into a lifetime of cleans.
Say goodbye to buying WetJet refills
The Swiffer WetJet bottle is not designed to be opened and refilled. But a little ingenuity goes a long way. To get the cap off, simply dunk it in boiling water for 30 seconds — more if necessary. The heat will loosen up the plastic just enough to unscrew it. Using pliers, twist the cover clockwise, and it will pop off. Now you're free to reuse the container.
For an inexpensive hardwood floor cleaner, use vinegar, hot water, and a few drops of dish soap. To tackle tile flooring, use the same but swap vinegar with alcohol. Twist the cap on until you hear the locking click, and you're ready to use your WetJet.
You can save even more money and gain sustainability points by forgoing Swiffer's single-use disposable pads and making DIY floor mop refills with reusable paper towels or microfiber cloths. Mother Nature and your wallet will thank you.