The Bedroom Design Trend For 2023 That's All About Luxury And Glamour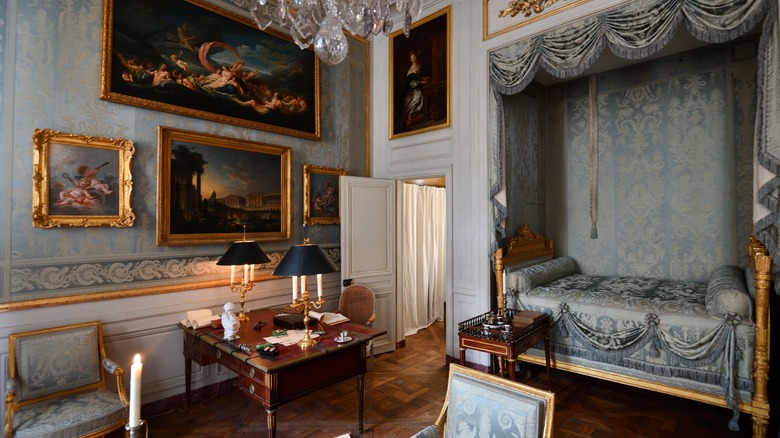 Frédéric Soltan/Getty
2023 says, go big or go home! Minimalism has had quite the run, and it isn't over yet. But more than ever, this year has embraced a bold, new world in which opulent maximalism is the superstar. Luxury and opulence are the main goals, especially in the bedroom. It's about a classy, elegant style that uses bright, bold colors, patterns, and textures. We're talking velvets and furs and jewels. (Lions and tigers and bears, oh my!) It's about seriously engaging the senses and immersing yourself in the aesthetic.
A key aspect of this design trend is layering patterns and textures in unexpected ways without the end result looking too chaotic. It's creating focal points with carefully chosen statement pieces. With opulent maximalism, there is no "over the top," but dedicating one special, personal space like your bedroom to this theme is more achievable than trying to do an entire house. And your bedroom is the ideal personal space to boldly go where no one has gone before, so buckle up; we're going on an adventure!
Walls and bedding ideas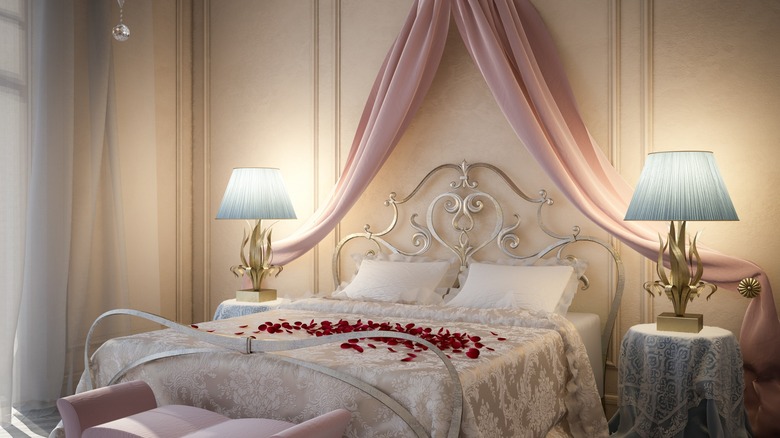 Bulgac/Getty
There are multiple ways to implement this style into the bedroom. For example, you could start by trying one of the colors of the year for 2023, such as Benjamin Moore's Raspberry Blush, for painting the walls and ceiling. Maximalism is all about utilizing every square inch of wall space, so don't be afraid to experiment with yours. You can layer prints and patterns that normally wouldn't go together by using one thing to tie them together, whether it be a color, a shape, or a theme of some kind.
For bedding, try some king-size silk sheets in a royal teal color by SilkSilky for $315. For more texture, cover those silk sheets with a beautiful authentic rabbit fur throw from Amazon for $185.99. Or how about a lovely bed canopy? You can find a king-size 4-poster bed canopy on Amazon for $42.99, and it gives you the look of luxury for just the right price. This item is available in many different colors, but keep in mind it's just the flowing curtain-canopy part. Still, it can help turn your bedroom into a palace! If you like this idea, try a 52 by 30-inch romantic valance like this blue waterfall design, also on Amazon for $36.00. Speaking of windows, Austrian shades are a great choice for window coverings with their royal-looking billowing scallops of rich material.
Statement pieces and focal points
Creating a statement piece for this style should be fun and exciting. Remember that much of opulent maximalism is about timeless, classic beauty. It could be an antique desk with ornate carvings made from dark, rich wood with gold hardware. It could be an unusual marble sculpture, a large piece of artwork, or a beautiful Oriental tapestry. Or incorporate a stained glass Tiffany lamp or a family heirloom grandfather clock. For a statement piece to really work, you'll want it to inspire conversation. The eye should be immediately drawn to this focal point, and the piece will be what directs the theme of your style for the rest of the room.
Perhaps your statement piece would be something like this pink velvet loveseat by Titus from Wayfair for $549.99. It also comes in black, green, blue, gray, and ivory and is done in the Chesterfield style. Maximalism, with the added touch of opulence, in 2023, represents our refusal to stay repressed and our defiant hope for the future. So the next time you're shopping, and you see something that would be perfect in an opulent, maximalist bedroom, indulge yourself. Start gathering pieces little by little; you'll be amazed at how much fun it is!