Does The Shark Tank Hummingbird Feeder Actually Work? Here's What We Know
No matter how innovative technology gets and how many different forms of artificial entertainment arise, nature lovers are constantly finding ways to use new creations to bring us closer to the world around us. Take John Creed, for example, who grew up observing and studying hummingbirds. He took his lifelong passion and created the HummViewer, a welding mask-turned-hummingbird feeder that allows humans to get up close and personal with these beautiful birds. The best part of the HummViewer? It actually works.
The niche invention is so successful because of its simple design. The mask has the same feeders as a traditional hummingbird feeder and provides a safe experience for both the human wearing it and the birds feeding from it. Many of the HummViewer reviews commend the product for how quickly birds are attracted to it and for how great of a nature show the wearers receive as a result.
What is it?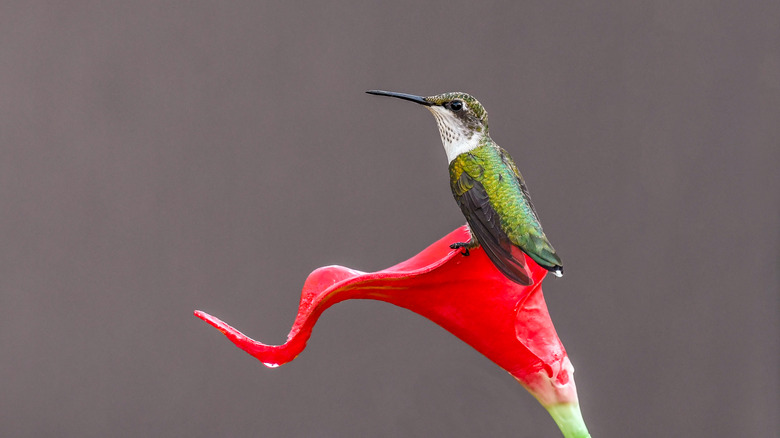 Brent Barnes/Shutterstock
From glass-blown, decorative works of art to simple and practical window sill feeders, there are more hummingbird feeders on the market now than ever before. That being said, it's important to know what the HummViewer is and what it comes with before deciding if it's the right feeder for you.
The HummViewer is a lightweight mask that comes with everything you need to get started. It includes a plastic shield with an adjustable head strap, three flower feeding tubes, one nectar bulb, a cleaning brush, instructions for use, a nectar recipe, and storage bags.
The head strap allows different users to fit the shield to their head to ensure that it doesn't shift, a sudden movement that could scare hummingbirds away. The flower feeding tubes have saturated red petals and a bright yellow middle. Like other feeders, they mimic the canna lily, a flower rich in sweet nectar adored by hummingbirds.
How to use it
Unlike other hummingbird feeders, there are multiple ways to use the HummViewer, a feature that enhances the products' serviceability. You can hang it outside to act as a feeder on its own, you can stand and wear it, or you can disconnect the fake flowers and feed hummingbirds by hand. While instructions to use this versatile feeder come with it, there is also a video and written instructions for different forms of use on the HummViewer website.
To start, remove any other hummingbird feeders to make sure that any potential winged customers are fully focused on the HummViewer. You can make nectar yourself using the company's nectar recipe or buy some from the store. Then, using the nectar bulb, insert it into the flower feeder tubes. To insert the tubes into the mask, simply push in while twisting to secure them in place. Finally, put the HummViewer on and adjust the fit by pushing the knob on the back of the strap and placing it securely on your head. You can also hold the flower feeder tubes or set the mask out on a flat surface. Regardless of how one uses the HummViewer, they can expect an up close and personal nature show if and when any hummingbirds come looking for food.