The Surefire Way To Get Chlorine Smells Out Of Your Pool Towels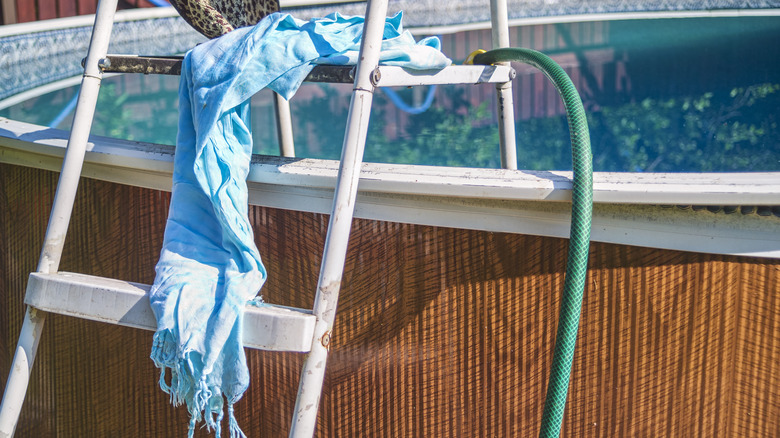 Victorass88/Getty Images
A simple activity can bring to mind happy summer memories, such as enjoying a cold popsicle on a hot day, watching the sunset over the lake, or listening to the sound of crickets in the evening. Spending time at the pool is a favorite pastime of many people, and the aroma of suntan lotion or burgers on the grill can evoke great memories of time in the sun. Even the smell of chlorine can bring back a recollection of jumping off the diving board and splashing in the water with friends. But what happens when that scent of chlorine lingers in your pool towels? The good news is that you can enjoy the summer memories without the chemical smell in your towels because adding white vinegar to your laundry routine will help you remove the aroma of chlorine.
Chlorine is a necessary part of keeping a swimming pool clean, as it kills bacteria and prevents viruses from spreading. Unfortunately, it can also be hard on your pool towels, causing the vivid colors to fade over time. The chemical will also start to weaken the fabric when it's not washed out completely, which can cause them to begin to feel thinner and less absorbent. Not only is chlorine hard on your towels, but it can also be irritating to anyone with sensitive skin. Fortunately, it's easy to remove chlorine from your towels by following these simple steps.
Use vinegar to keep your towels fresh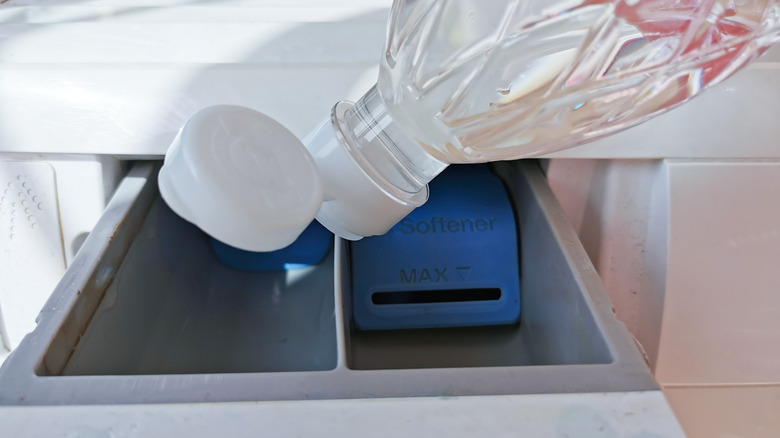 Leestudio/Shutterstock
Begin by adding ½ cup of white vinegar to your regular laundry. Not only will the vinegar remove the chlorine scent, but it will also help your towels maintain their fluffy texture. The vinegar helps to remove residue from laundry detergent that has accumulated over time. This residue can weigh down the towels so that they start to look and feel dull. However, vinegar is not only a cleaning agent, but it can be used in place of traditional fabric softeners as well. It is hypoallergenic, so it's a good choice for pool guests who may have sensitive skin, and all traces of odors are washed away, leaving your towels fluffy and fresh. Take care never to combine vinegar with bleach, however, because the fumes from this mixture are toxic. 
If it seems like the chlorine scent is not completely gone after the first wash, you can give your towels an extra boost by soaking them in a mixture of half water and half white vinegar. Leave the towels in this solution for about an hour, then rinse them in cold water and launder them as usual. Following these tips will help your towels stay fresh, keep their colors vibrant, and last long enough to become part of your new summer memories.