Easily DIY A Trendy Rattan Plant Stand With TikTok's Brilliant Hack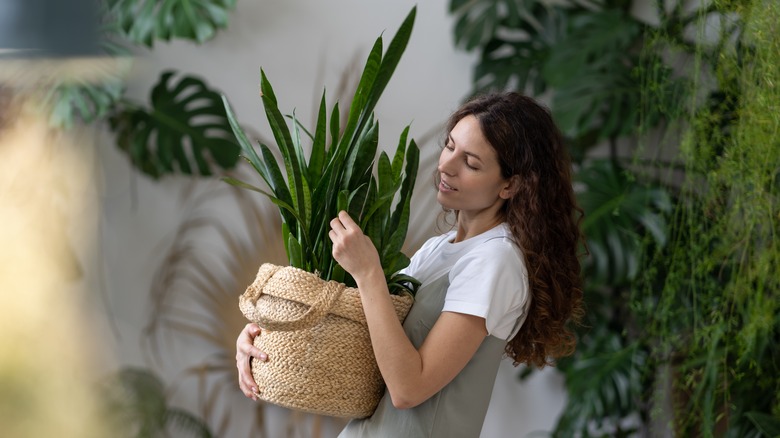 DimaBerlin/Shutterstock
Finding a cheap yet stylish plant stand can be challenging, especially when working with indoor plants. However, a DIY solution by @carolina.mccauley on TikTok could help you to upgrade your indoor décor for a relatively cheap price using just a rattan bin and is a great way to decorate with indoor plants. What more could you want? Not only does it look great, but it's also incredibly affordable. You can prop it anywhere in your house or add a plant stand to hold it in place. 
So, how can you make this trendy and versatile DIY rattan plant stand for your own home? While you may have to get a bit crafty, it certainly works great. You only need an old or new rattan bin and a few other small items to complete the job. If you're ready to begin, then the steps are thankfully very easy to follow. Let's take a look at what you need to do. 
Assemble your bin items
To create this rattan plant stand, take a suitable stand that will hold the bin, the bin itself, whether it is old or new, and some cable ties. Once you gather the necessary items together, you can begin your handy work. Place your rattan bin onto the stand, ensuring it sits flat and firmly where you want it. This is important, as you don't want the final result to be wonky. Now it's time for the finishing touches. Tightly attach the bin to your base with your cable ties by fishing them all the way through the gaps and pulling firmly. If you don't have any, you could always use string or another similar alternative. Now you just need to cut off any excess from your cables, and you should be left with a trendy rattan plant stand ready to go. Give it a wobble or a pull to make sure it won't come loose. 
In addition to using a rattan bin, you also have the option to customize it to your liking. For example, you can choose a suitable color for your décor or re-paint your current one so that it fits the interior of your home. You could even add other decorations, such as ribbons, to it. All that's left to do once you finish is to add your favorite indoor plant. Just make sure it fits before you start the whole process.
The bin acts as the pot
This hack is a great way to add a dash of DIY to your home décor. What makes it so effective is that the bin essentially acts as a pot to hold your indoor plant in place due to both its shape and size, which mimics that of a real plant pot. All you have to do is slip your indoor plant in and finish the job. However, you should always remember to put your plant inside while it's already in its plastic container, otherwise, it could make a mess from soil coming out of the cracks. Likewise, it's also lightweight, which makes it perfect for moving around your home as you see fit.
In this case, bigger plants may work better for a more dramatic effect. You can also place several smaller ones inside your DIY rattan bin stand. Or try adding some houseplants that are good for your health. Your styling options are endless.