The Benefit Of Painting Your Front Door Black, According To A Home Trends Expert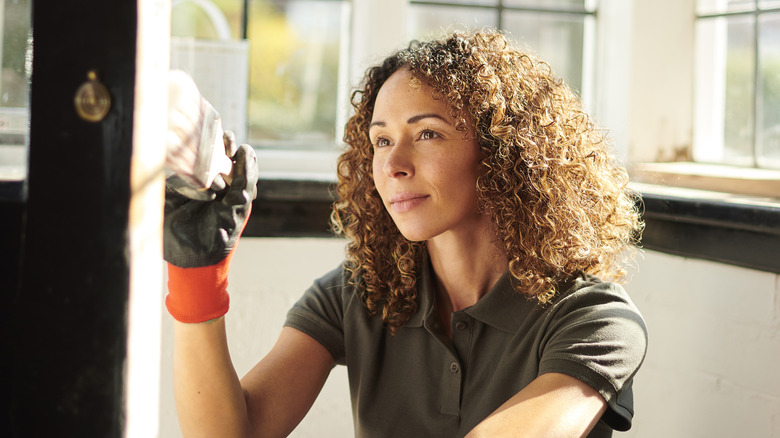 Sturti/Getty Images
Selling your home is a huge undertaking with significant unknowns, the two biggest being how soon you'll close the deal, and for how much. For some homeowners, selling is a meandering journey followed, hopefully, by a successful sale. For others, it's a rapid, linear process that allows them to expedite the next chapter of their lives.  
Your house's curb appeal can greatly influence how quickly you can make a sale and whether you can get your asking price. And, the impression your home makes on a potential buyer pulling up to view it is instantaneous. As Amanda Pendelton, a home trends expert with Zillow, tells Real Simple, "On the right home, a shiny new coat of black paint feels classic. It's a high-contrast color, so it really pops and makes a front door stand out."
Plus, studies have shown that the number one door color to help sell your home is black. The genius thing about neutrals like black is that regardless of their trendiness, they're also timeless. They'll always play well with versatile palettes and other colors. So when you're getting your home ready to sell, going dark with the front door can be a smart move.
The benefit of a black front door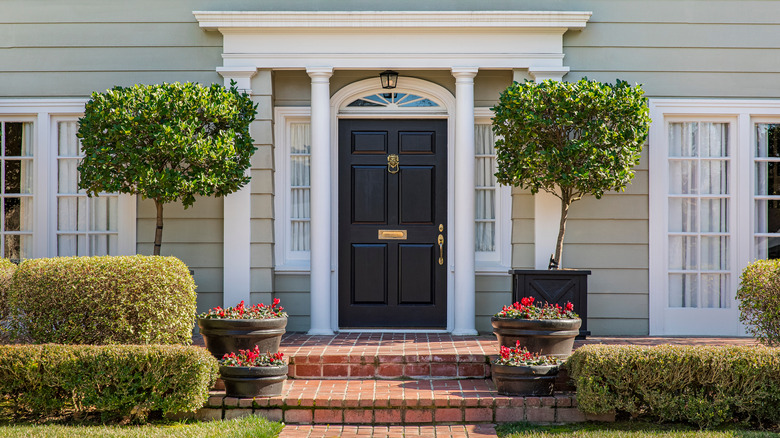 David Papazian/Shutterstock
In a 2022 study, online real estate marketplace Zillow declared that homes with black doors were outselling similarly designed homes with other door colors by $6,449. Revamping one door typically takes a quart of primer (approximately $17) and a quart of paint (approximately $30). This means that a $47 investment could yield nearly a whopping 14,000% ROI.
From a design point of view, black telegraphs sophistication, elegance, and prestige. What better first impression to provide a potential home buyer with? However, not all black paints are created equal. Look for one that contrasts nicely with the rest of your exterior for a stunning look. Tricorn Black by Sherwin Williams is a popular choice as it's a true black hue that plays well off of both warm and cool undertones. Or, opt for Benjamin Moore's Onyx, a slighter warmer black tone that's adaptable and welcoming.
Many architectural styles and exterior house colors can work beautifully with a black door. Or course, farmhouse and contemporary-style exteriors typically include black in their color scheme. However, more traditional home styles can also benefit from the hue's versatility. Cape Cod and Mid-century modern homes often feature contrasting doors and a black hue gives the look a fresh take. And a black door can modernize the exterior and play off the brick of a townhouse apartment or colonial home. Then, add a stylish wreath and a few potted plants to play off your stately door and your entrance is home-hunter-ready.