How To Sand Your Deck The Correct Way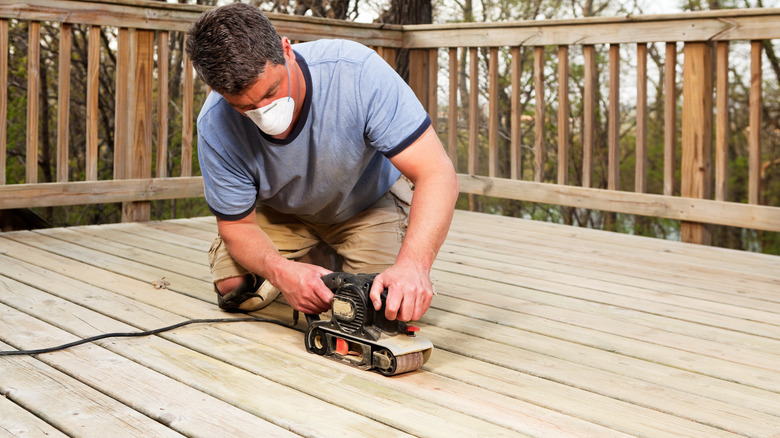 Banksphotos/Getty Images
You've been bitten by the DIY bug. Not only does doing home repairs save you money, but it also gives you the satisfaction of completing a project that restores an area of your house, creates a sense of pride, and might even increase your home's value. If you've got your eye on a deck restoration, cleaning, sanding, and re-staining it will protect it from adverse weather and also freshen the look and vibe of your backyard. A common mistake DIYers sometimes make is sanding the wood to a smooth, furniture-like finish. This makes it difficult for the wood to hold the stain.
Tackling the refurbishing of your deck is a multi-day, multi-faceted project with many steps. Before you start buying supplies, it's important to consider what is the right stain for your deck, what grit of sandpaper to use, and whether to rent or purchase a sander. When it comes to sanding your deck the right way, your primary consideration needs to be your choice of sandpaper. 
The correct way to sand your deck
Using an electric sander will make the task much easier. A handheld orbital or belt sander is fine for smaller decks, however, if your deck is large, consider renting an upright sanding machine. The sandpaper you need for a deck should be between 60 and 80-grit, while 100 is the maximum for the upright sander. If your deck has railings, these can be prepared with an 80-grit sanding sponge. Before you sand, you'll need to have swept off leaves and debris, gently power-washed with a biodegradable cleaner, and allowed the deck to dry for at least 24 hours or more. Finally, make sure you wear a safety mask and goggles so you're not inhaling fine wood and paint particles.
Start sanding with the orbital sander, and go with the grain in the direction of your wooden slats. Keep even pressure on the machine — you're removing old stain or gloss, evening out the wood, and creating a slightly rough texture that will allow the stain to penetrate. However, it won't be too rough to walk on with bare feet once you've completed your restaining and sealing. Once done, to clean up the sanding dust, run the vacuum cleaner over the deck before gently washing it again. Finally, apply your choice of finishing product as per the manufacturer's instructions.