The Best Heirloom Apple Trees To Grow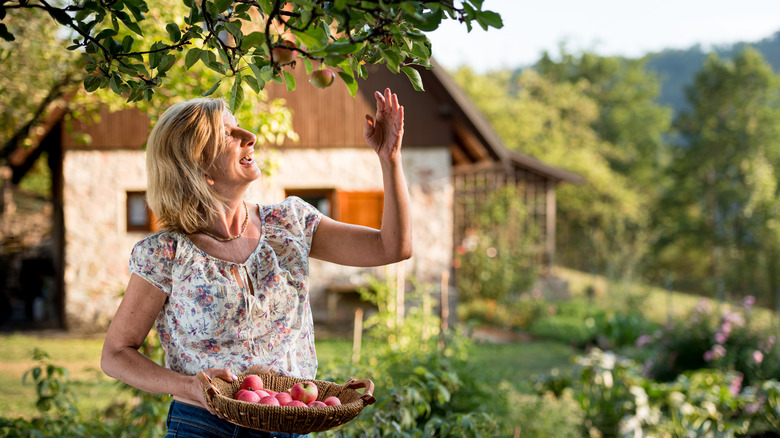 Hmvart/Getty Images
If you've bought apples in a grocery store or at a farmers' market recently, you were probably struck by the large variety available. Some of these varieties are newer ones developed in recent years — such as Honeycrisp, Cosmic Crisp, or Zestar — but there are also many older varieties. Some of these used to be quite rare until recent efforts by orchardists and botanists brought them back for the enjoyment of apple enthusiasts. Some of the best heirlooms for growing in your own backyard orchard include Gravenstein, Winesap, Belle de Boskoop, Sweet Bough, Summer Rose, and Roxbury Russet, among many others.
There are virtually thousands of heirloom apple varieties, many of them no longer in existence, and some of them known only to a select few hobbyists. Apple trees do not reproduce from one seed, rather each new wild tree is a hybrid of two varieties. Before the science of hybridization was perfected, a new variety discovered in nature could be carefully grafted onto an existing tree, to produce more apples. But as interest in heirloom apples grows, and as people become interested in preserving or revitalizing old orchards and planting new ones, there will likely be more of them available for growers, too. 
Why heirloom apples have odd names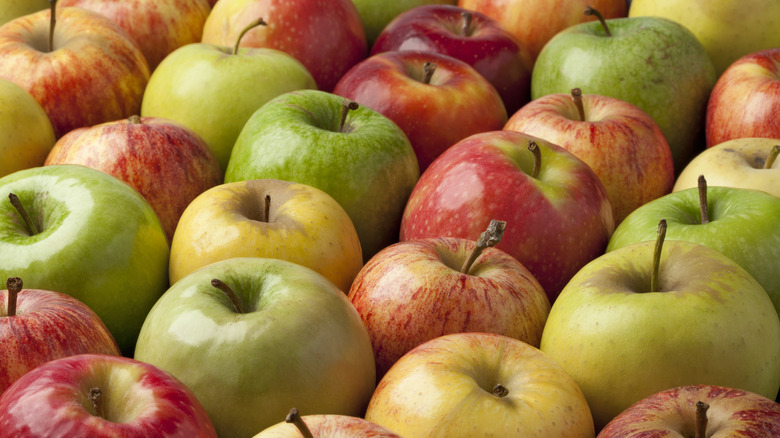 Picturepartners/Getty Images
Years ago it was common for new apple varieties to be named for the people who discovered them, such as "Ingrid Marie" which was first seen in a schoolyard in Denmark in 1910, or their place of origin like "Westfield Seek-no-Further" first found in Westfield, Massachusetts in 1750. They can also be named for their physical qualities, for example, "Sweet Bough" or "Pink Princess", or time of ripening. When new "sports" would appear (a sport has clear parentage from a recognizable variety) they'd get a similar name like "White Pearmain" and "Blue Pearmain" or "Gravenstein" and "Red Gravenstein". 
Your first step in choosing which heirloom apples to grow might be to look at the names and see which ones appeal to you. Maybe you'll want to try a "Sheep's Nose," "Roxbury Russet," "Yellow Bellflower," "Hooples Antique Gold," or "King of the Pippins" — yes these are all apples you can grow. The history of the names can be fascinating and colorful and might make you want to become part of their story by growing them and enjoying their fruit at harvest time. But there are other factors to consider when choosing which heirloom apples to grow: the tree's growing zone, the blossoming/ripening time, the suitability of the apples to your purpose (baking, making hard cider, fresh eating), the apple tree's size, its resistance to pests, and its needs. 
Considerations for choosing an heirloom apple tree
romiri/Shutterstock
The most important factor to consider first before selecting heirloom apple trees is your growing zone. You want to make sure the tree is suited to your climate, especially if you get cold winters. There are many heirloom apple trees available suitable for a wide range of growing zones but some are not as cold-hardy as others. Most heirloom apples are hardy from Zone 5-9, but check the specific description before you buy.
Another factor is the growing season. Some apple trees blossom earlier than others. With changing weather patterns due to global warming, some orchardists are diversifying their tree selections to include trees that blossom in early, mid, and late spring, to ensure an unexpected late frost doesn't wipe out their crop. Apples also ripen at different times over a long season: some are ready to pick in August, while some aren't ripe until late October. Be sure you'll be around and available for your harvest. These ripening times are also provided in the information on most websites that sell heirloom trees, like Trees of Antiquity, Stark Brothers, and Fedco. 
You also need to choose the right size tree for your space. Many heirloom trees come in more than one size, including standard, semi-dwarf, or dwarf varieties. Check out their space needs before you plant to make sure they'll have room once they reach mature size.
Pests, Diseases and Heirloom Tree Care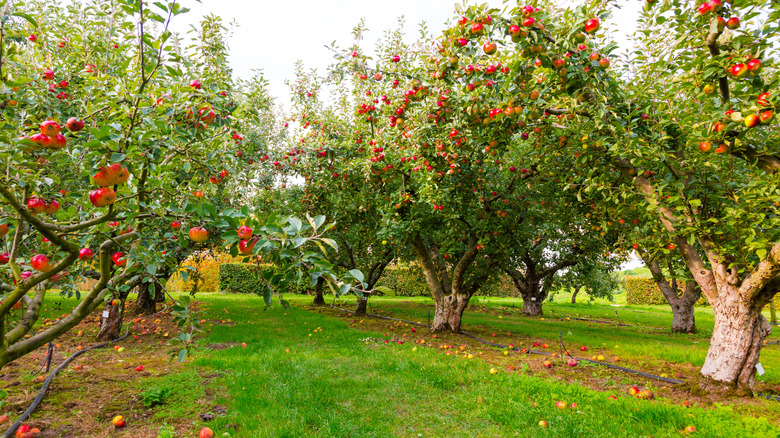 Tommy Lee Walker/Shutterstock
Heirloom apple tree varieties that have survived for decades or even centuries via grafted stock are often very hardy and disease resistant. However, they're not always as resistant to pests and diseases as newer trees that are specially bred by orchardists and botanists. Growers of heirloom apples also usually want to use organic methods, or integrated pest management (which uses lower amounts of spray than traditional apple tree care).
Protecting apple trees from common pests and diseases requires being familiar with the most common issues that might come up, from blight to rust to scab. Sometimes wildlife can be an issue, though generally having a pollinator and rodent-friendly orchard provides an excellent and diverse environment for your apples and other plants. But there are preventive measures to take, as well as tips for observing changes, to stay on top of any invading diseases or pests, and many of these solutions are non-toxic. There are plenty of resources on organic orchard care, including books, websites, and classes. You can also check with your local Cooperative Extension or other horticultural organization for help.
Which heirloom apples are the best?
Pixel-Shot/Shutterstock
People have different reasons for choosing heirloom apple trees. Some want to preserve natural history and biodiversity. Some are fascinated and intrigued by apples that aren't widely available. Heirloom apples come in a wide range of varieties with different uses and different features. Most growers want to grow apples for fresh eating, baking and cooking, cider making, or some combination. Depending on which varieties you choose, you'll want to determine their suitability for your needs, including size, growing zones, blossoming/ripening time, and whether they need a pollinator.
Some of the best-tasting heirloom apples for fresh eating, that stay fresh and crunchy and keep well in cold storage, include "Jonathan," "Stayman Winesap," "Belle de Boskoop," "Grimes Golden," "Snow (Fameuse)" (a bright red apple with snow white flesh that looks like it belongs in a fairy tale!), "Newtown Pippin," and "Opalescent."
For those interested in pressing their own apples for cider, some of the most flavorful heirloom cider apples include "Dabinett," "Golden Russet," "Northern Spy" (a flavorful tart apple that is also excellent for baking), "Cox Orange Pippin" (a colorful English apple), "Baldwin," "Dorsett Golden," "Smokehouse," and "White Pearmain" (one of the oldest known apple varieties from England). Some apples recommended for cider are also great for multiple uses, while others are not as suitable for fresh eating, so be sure to grow a couple of trees for eating apples, too.