Tidy Up Your Home With The Trendy Storage System Nate Berkus Swears By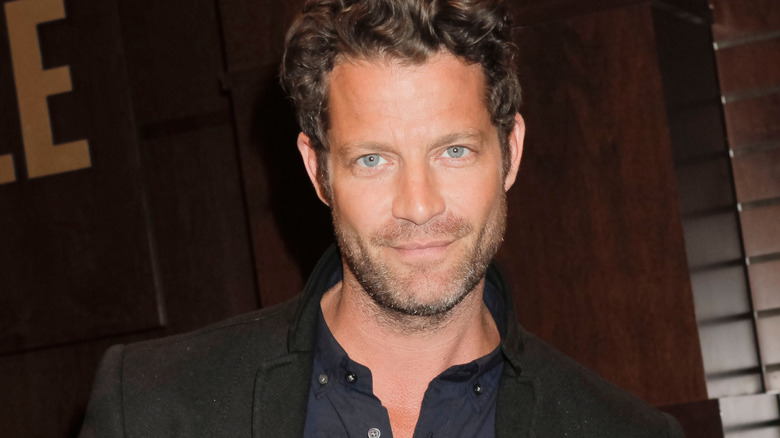 Tibrina Hobson/Getty Images
We may receive a commission on purchases made from links.
Just because you have a tiny kitchen or bathroom doesn't mean you can't fit everything you need in those small spaces. You just have to utilize all of the space that you do have efficiently. That's why award-winning interior designer Nate Berkus of HGTV's "The Nate and Jeremiah Home Project" created a clever storage solution he uses all over his home to keep it clutter-free.
You can make every inch of the storage areas in your home completely organized with the Two-Tier Sliding Pull-Out Drawers from NATE HOME. These clear double-tiered pull-out drawers allow you to take advantage of the often under-utilized vertical space in your cabinets or on countertops. Stacking these items in an easy pull-out drawer improves accessibility, minimizes clutter on the countertop, and frees up horizontal space. 
Add them to your refrigerator, and never forget what's in the back of the fridge again. Place them in your cabinets to store tea bags or spice and seasoning packets. Or place one in the bathroom to store hand towels or feminine sanitary products. They even make great makeup organizers or nail polish. The possibilities with two-tiered storage drawers are endless.
How Berkus uses them in his home
The Two Tier Sliding Pull Out Drawers is one of Berkus' "all-time favorite" products from his homeware line, NATE HOME by Nake Berkus, which offers organization pieces, as well as bed, bath, and other home items. "I use it everywhere in the house," Berkus said in an Instagram video.
He uses them in multiple rooms of his home to eradicate clutter but said that people especially love using them underneath their sinks to store things like laundry or dishwashing pods and sponges. The stacked pull-out drawers allow you to easily see what's stored in this area, where things can get shoved to the back. With these drawers, you won't have to reach all the way to the back of the deep cabinet to get what you're looking for. 
Berkus also uses this item in the coffee bar beside his coffee machine to save the limited space on the bar countertop. It holds his jars of fresh coffee beans and sugar. Though he doesn't really use sugar in his coffee, that doesn't matter because "it looks great" in the two-tiered caddy next to the beans.
Recreate the look in your home for less
The Two Tier Sliding Pull Out Drawers from NATE HOME will run you between $35 and $40 depending on whether you get the 10 x 7 x 10 size or the 12 x 8 x 10. They are so popular that many of the sizes are sold out on Target. But if you're looking to spend a little less on these pieces of plastic, there are other products that will give you the same effect in your home.
You can get a set of two in the larger size by LANDNEOO for just $37 on Amazon or one for $19.99. They're made with food grade, BPA-free plastic, and stainless steel. There's also one in a similar size that has dividers within each bin for additional organization, as well as a hanging cup for $17.99, also on Amazon. If you're looking to store heavier items, there are a variety of wire options that range in size that can be purchased on Amazon for under $40.