Extend Your Indoor Living Space With This Italian Patio Alternative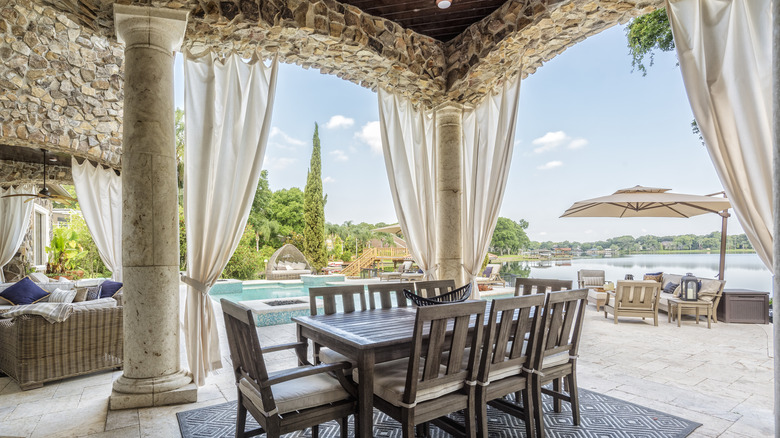 Terryj/Getty Images
The artful Italian Renaissance period has transformed how we connect our indoor and outdoor spaces by inspiring the creation of the loggia, the oh-so-captivating open-sided, vaulted gallery. Filippo Brunelleschi, the famed Duomo creator, contributed heavily to this transitional, recessed room design, complete with columns and arches. Loggias are a prominent feature across European palaces and public buildings like the Vatican's Apostolic Palace and Palazzo Vecchio in Florence. However, these elegant Italian gems are no longer the preserve of a select few, with several homeowners living in warmer climates embracing them.
Owing to their functionality, which beautifully weaves in opulence and openness, loggias offer a space where you can interact with nature without being severely affected by its vagaries. Having grown from their traditional role of a courtyard walkway, they now serve as an idyllic extension of indoor living spaces. Their sophisticated, adaptable designs add visual interest to your home's architecture, making them a formidable alternative to the traditional patio.
Reasons for adding a loggia to your home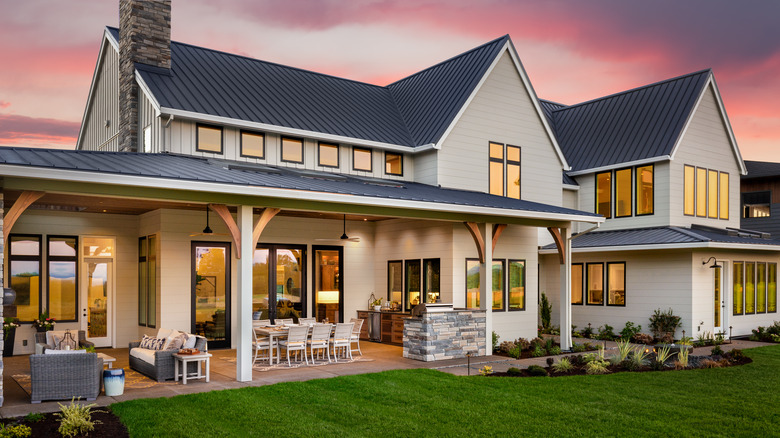 BM_27/Shutterstock
Derived from Italian, loggia, or lodge, is a roofed space that runs along the side or the front of a home, with its outer wall opening into the outdoors and only accessible from the house's interior. These outer walls are generally marked by elaborate arches and columns, standing tall as pieces of grandeur that enable connection with the natural landscape without compromising privacy. Though traditionally located on the upper floor, modern versions work just as well on ground level. 
Beyond their aesthetic and dramatic allure, which is a far cry from a plain old patio, loggias offer a myriad of benefits, including functioning as sublime retreats to unwind. They serve as perfect entertainment havens, enabling the hosting of intimate gatherings and al-fresco dinner parties that spill over from indoors to your covered patio. Moreover, they eliminate the need for patio umbrellas and similar accessories as the exposure to nature's harshest elements is greatly minimized. Additionally, their designs can easily be customized to add a personal touch to your home's aesthetic.
Designing your loggia's interior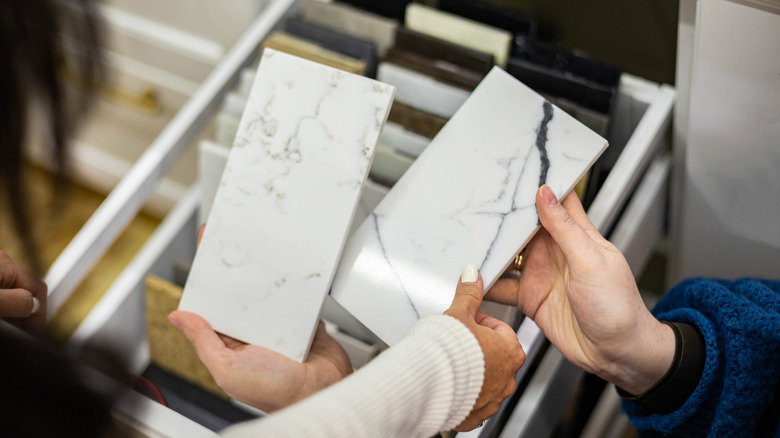 Kostikova/Getty Images
Fashioning a loggia sanctuary that retains its elegance and still adapts to contemporary sensibilities is easier than imagined. Swapping out arches with linear walls fitted with lighting and temperature controls can add the necessary modern touch to your home. Conversely, you can choose to lean closer to its Italian roots by decorating with marble, stone, or bricks to give it an old-world feel.
However, it's best to stick to sturdy furniture, such as rust-protected finishes, mold-resistant cushions, and fade-proof fabrics. But you can still turn the area theatrical by bringing in draperies, area rugs, and overstuffed seating that match your living space's interiors. For a more Mediterranean feel, you can decorate with rustic tiles evoking oceanic colors and rattan furniture, including deck chairs and hammocks. Acrylic chairs paired with lush green planters can lend themselves well if you want a more casual vibe.