Fixer Upper Explains The Front Door Mistake You Should Avoid At All Costs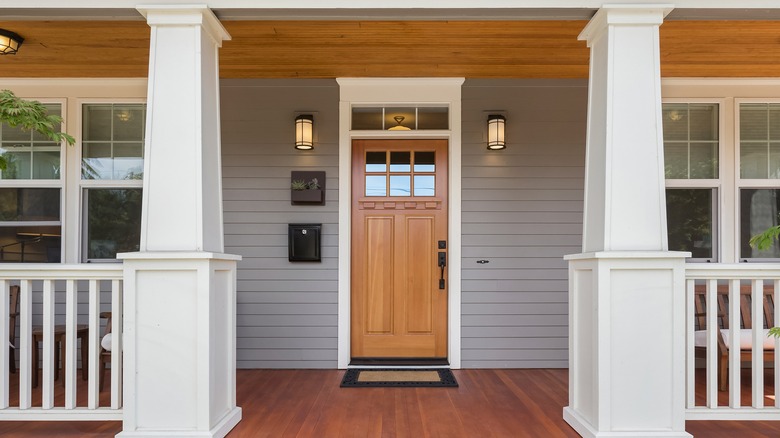 BM_27/Shutterstock
The exterior of a home is an opportunity to make a good first impression, as it's a feature that contributes a lot to the overall design. For many people passing on the street, the exterior of your home is often all they see. For guests, it's what first welcomes them to your home. The front door, especially, is an important feature. Chip and Joanna Gaines from HGTV's "Fixer Upper" always stress the importance of a stylish exterior and front door that's front and center, literally. An episode of "Fixer Upper" featured a classic farmhouse with a stunning front porch (via Discovery+). Unfortunately, the front door was off-center. Joanna Gaines quickly stated how the door feels off to her when discussing plans on where to start with the renovation. "I think we figure out how to relocate that door," the designer said.
The home's front door doesn't line up with the porch steps or the walkway to the house, creating a design that certainly feels off-putting. The asymmetry of the exterior in an otherwise symmetrical house throws off the aesthetic and lowers the curb appeal of the home. Not having the front door centered makes it look like the home's design wasn't well-thought out, and it draws the eyes to it in a negative way.
Front and center
Not having a front door in the center of the home is often more for aesthetics than it is for function. After all, as long as the door is able to open unobstructed, it's done its job. However, having a front door in the center of the exterior often comes off as more stately and attractive. Humans are naturally drawn to symmetry, often because it's familiar, expected, and orderly. In a way, a door in the center of a home's exterior fulfills a rule and expectation humans inherently have. An off-center door deviates from that and therefore feels wrong. Because of that rule, symmetrical homes and features have become associated with stature and beauty.
For homes that may have an off-center front door, moving it may prove to be a challenge. Moving a door is a pretty straightforward process unless there are systems, like the plumbing and electrical in this episode of "Fixer Upper," in place. Typically, you would remove the door and the old framing, cut a new hole, install new framing, and re-install the door or install a new door. Most professional contractors can do this job in a few days. However, because of architectural style or interior layout, it may not always make sense to have a centered front door. But you can still use symmetry to make the exterior aesthetically pleasing. Lining up the front door with other elements like the walkway, stairs, or landscaping still focuses the eye in a positive way.