The Utensil Hack To Elevate Your Kitchen Look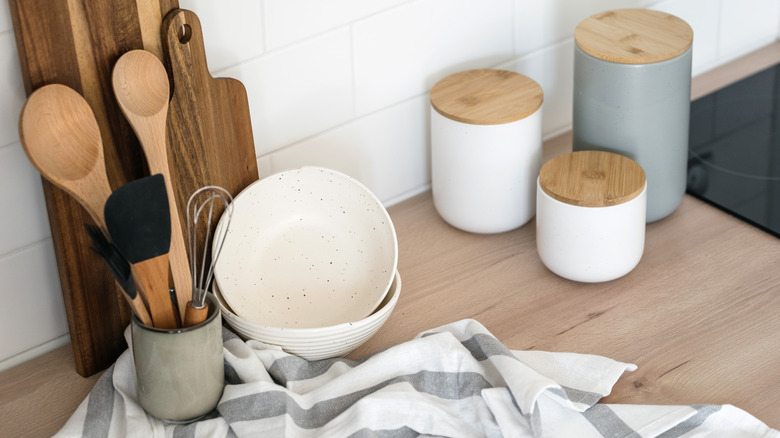 Brizmaker/Getty Images
We may receive a commission on purchases made from links.
If you like to cook, chances are you have an extensive collection of cooking utensils. It can be frustrating to pull the drawer open and sort through your daily spatulas in search of the ladle that you haven't seen since last Thanksgiving. The answer to this chaos is to turn your culinary tools into a pretty piece of decor on your countertop. Select a container that complements your kitchen style, and then unload those spoons and spatulas out of your drawer and into your new utensil holder. Everything will be easier to find, and you've just turned a functional solution into a pretty new accessory for your kitchen.
Whether you're displaying a special collection of utensils or just want to make that next family meal easier to prepare, organizing your cooking tools in a container is a terrific way to create a pretty yet functional piece. The best part about this kitchen hack is that it's completely up to you how you want to style it. And, with the variety of containers out there, you're sure to find one to accent your room's unique look.
A stylish accent for your kitchen
If your kitchen has an industrial look, then you can choose a metal container like this pitcher made of galvanized steel from Amazon. The silver will complement any coordinating appliances or hardware. A copper jug such as this one from Everly Quinn at Wayfair would be a beautiful accessory for a country style kitchen, particularly if you have gleaming copper cookware hanging from a pot rack.
Or, maybe you have a collection of mismatched serving spoons handed down from an aunt, bringing back memories of cooking holiday meals together. Add warmth and character to your own kitchen by displaying these items in some type of vintage canister. Here's your excuse to peruse an antique store to find something to hold these precious items. Be creative with your choice –- an old metal flour tin or even an antique-inspired milk pitcher like this one from Amazon would look wonderful in a kitchen with a rustic farmhouse theme.
Another possibility is choosing a piece of stoneware, such as the Gabriella pitcher from Pottery Barn. This material has a classic beauty that conveys a sense of timeless elegance, and it blends well with modern or traditional styles. Or, opt for a simple glass container like this Heritage Hill Jar from Crate and Barrel, which works with any type of decor. It could showcase items with decorative details such as etched or painted handles, allowing them to brighten up the room with their unique features.