The Unconventional Kitchen Island Shape That Christina Hall Says Is Quite Practical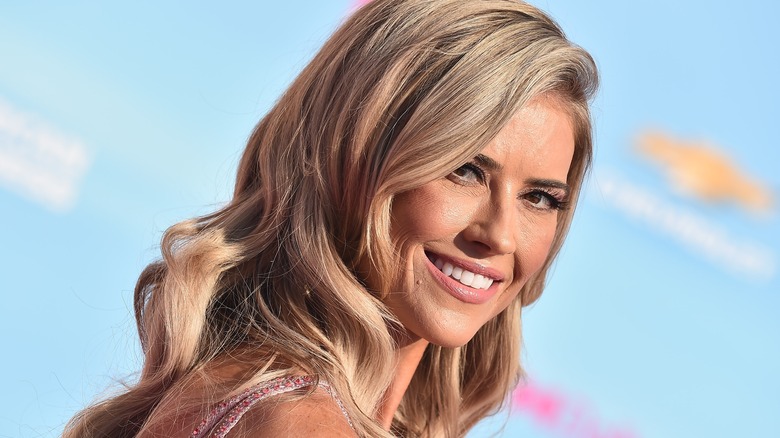 DFree/Shutterstock
An island. What a beautiful place to enjoy a drink and read a book. We're not talking about the tropics, but your kitchen island. When it comes to this staple piece, a standard rectangle with a stone countertop comes to mind. However, that four-sided quartz is not the only option. The T-shaped island is making its rounds in the spotlight.
HGTV star Christina Hall isn't a fan of stovetop ranges on islands, but she approves of T-shaped varieties. This unique kitchen fixture looks like a table joined to an island to form a capital T. The design was featured in the season finale of "Christina on the Coast," and it was the first time the interior stylist completed a kitchen with the T-shaped fixture. It was a success – so much so that Hall labeled the centerpiece practical due to the wealth of options it provides. It's the type of kitchen island that can transform your home.
T-shaped islands are in
Upgrade your cookery instantly with a T-shaped island. Traditionally, one end of the counter is used for prepping, while the extended piece is used for dining. However, the T-shaped island is customizable to fit your needs. You can opt for a large tabletop and a thin counter or vice versa. Perhaps you just need extra room for storage and more prep space. Just like your standard straight or L-shaped kitchen island, you can build in a wine cooler, sink, drawers, and stovetop.
You'll love the seamless flow of the kitchen and maximized workspace. However, keep in mind that this unconventional island is more expensive than standard islands and is only ideal for a large kitchen area. Fortunately, you can DIY this lettered built-in by adding a table to your existing island. Play with design dimension by contrasting materials and heights or paint a counter to match and join the twin pieces. It is an innovative way to spice up your kitchen island.