HGTV's Nate Berkus Reveals A Bedroom Essential For Restful Nights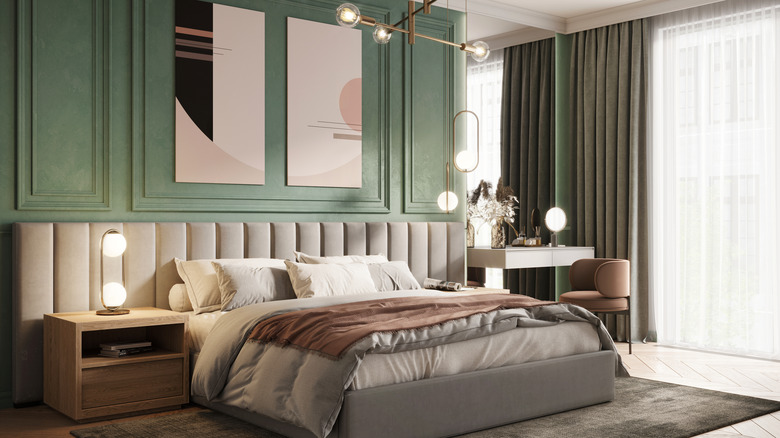 Alvarez/Getty Images
With over two decades in the industry and a stunning self-designed home in New York City, seasoned interior stylist Nate Berkus knows how to design a bedroom. His talents are evident on his HGTV show "The Nate and Jeremiah Home Project." While the bed might be the most important aspect of your bedroom, the curtains are a close second. However, not just any drapes will do for where you sleep. Along with Berkus' best ideas for decorating your bedroom, he also recommends hanging blackout curtains in the windows. These window covers are both functional and aesthetic, as they can improve your quality of sleep and the decor of your room.
Despite their name, blackout curtains come in an array of colors and prints. The HGTV star has an exclusive collection with The Shade Store, so you can get your Berkus blackout curtains to block out sunlight in style. When it comes to your chamber, you're going to want to swap any sheer fabric or linen drapes for thick, light-blocking types. If you do this, your quality of sleep and the design of your bedroom will greatly improve.
Blackout curtains are a must
"Sensitivity to light is huge," Nate Berkus told Apartment Therapy. That is why he likes blackout curtains and considers the fabric a must-have for bedrooms. They block light from entering the bedroom, whether it is shining in from the sun or from passing cars' headlights. The total darkness helps you get a better night's sleep so that you can rest past sunrise and take naps in the daytime. Plus, that burst of light when you draw the curtains back after waking up can give you an energy boost that's a perfect way to start the day.
These thick drapes don't just keep out light but also prevent heat from escaping the room. Further, along with temperature control, they can also reduce noise pollution. Dim lights, low noise, and warm temperatures are the perfect combination for sleeping peacefully. Additionally, this mixture also creates the ideal atmosphere for watching movies and relaxing. Blackout curtains are crucial for quality sleep, but Berkus reminds us they can also improve a room's design. Picking the right drapes for your home and aesthetic will create a room you never want to leave.
How to pick the right blackout curtains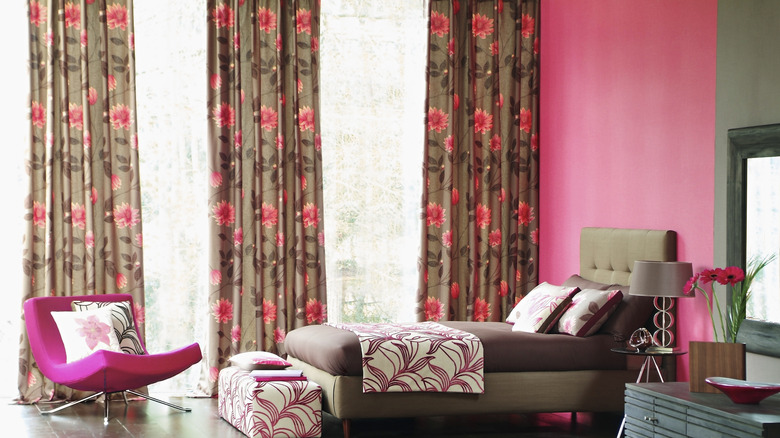 Onzeg/Getty Images
Decor should be functional but also stylish. "Blackout curtains are so hardworking, minimizing light and elevating the way someone lives in their space," Nate Berkus told House Beautiful. "But they can also be good looking, adding a pattern or colorway that will complement the overall design of a room." Make curtains the focus of your decor with bold shades and eccentric patterns. Use them to tie in accent hues or draw eyes away from your unmade bed.
For added dimension, layer blackout curtains with sheer drapery. Hang the sheer fabric inside as your base layer and place the blackout drapes on the outer edges. This style combines colors and patterns for maximum allure. Plus, the sheer curtains are there whenever you want sunlight to pour in while still allowing for privacy. Berkus also shared that, "The most important thing is to make sure that they fit the window properly." The right fit will ensure light doesn't disturb your sleep, and the proper curtain length will make your room feel larger. You want drapes that span from the ceiling to the floor, which will not only look great but will also be the most functional.