The Simple Way Joanna Gaines Adds A Touch Of Fall To Her Fireplace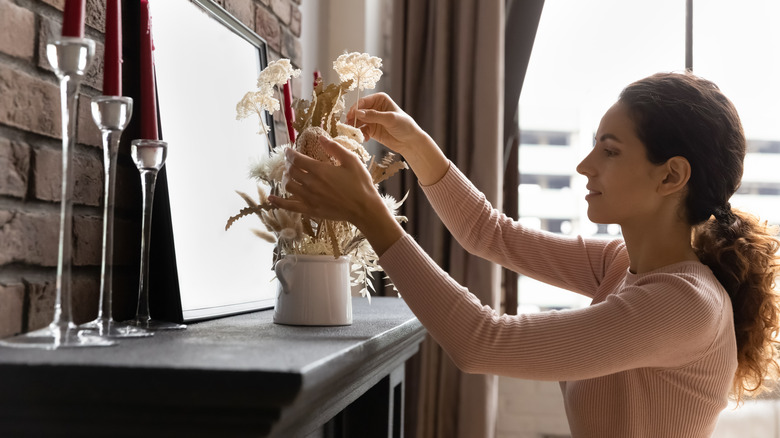 fizkes/Shutterstock
A fireplace with a mantel is special, whether it's a working fireplace or not. This area of the living room is a gathering place, a spot of reconnection and storytelling. As the focal point, it offers a space to acknowledge the changing of the seasons or the beginning of different holidays. Your fireplace can also serve as an anchoring point to make your room's design appear more cohesive. If you're looking to decorate your mantel for fall, designer Joanna Gaines suggests placing a large vase filled with tall faux stems off to one side. 
To maintain a clean design aesthetic, keep your mantel free of clutter or too many items. Instead, decorate your fireplace with one dramatic object and just a few smaller items to keep things interesting. It's the perfect spot for a large pumpkin, a menorah, Christmas stockings, or fresh-cut peonies or roses. To celebrate the arrival of fall, Gaines takes incredibly realistic-looking faux stems of fall leaves and berries and arranges a spray of them in an earthy-looking vase on her mantel. This could look smashing in your home too.
How to make this work in your living room
You'll need the right kind of vase and just a few stems of leaves to capture this less-is-more fall look. For the vase, think subdued, warm earth tones and pieces with slight imperfections that make them look vintage. Since you don't need water for the vase, you have more options — traditional or jug shapes made from different materials like clay, rattan, or textured iron could be used. For fall, using understated hues like terra cotta, rust, deep gray, flax, or subtle olive is typically best. To get the proportions right, a vase holding a tall spray of leaves needs to be on the larger side or around 20 inches high, give or take.
You'll get some wonderful ideas of types of stems you could use from Joanna Gaines' store Magnolia. She's got fall-colored leaves that look like they're about to drop off the branch in eucalyptus, a brown berry spray with green leaves, an olive branch, and others. The best part is that with proper care (and some dusting while they're on display), these stems should last for years. You could also include smaller elements around the vase such as candles and stacked books. If you don't happen to have a fireplace, this look could also work on a coffee table or an uncluttered cocktail table.