The Hack That'll Keep Your Toilet Brush Fresh For Longer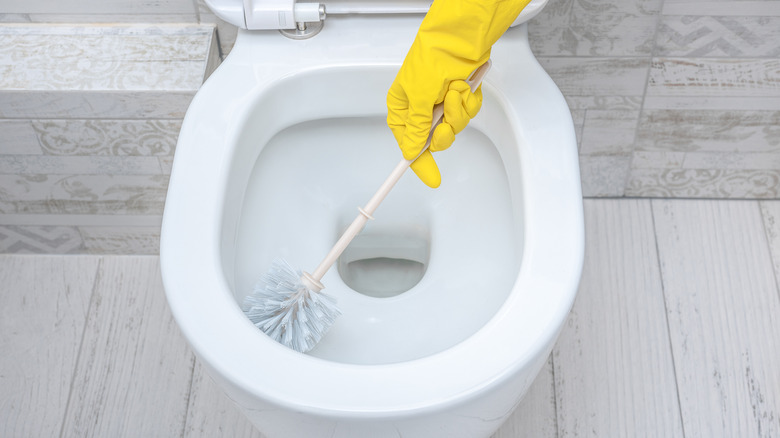 Pavel Muravev/Getty Images
Cleaning the toilet is an important part of cleaning your bathroom, since it ensures the space stays as sterile and hygienic as possible. Unfortunately, the same can't be said for the brush used to scrub it. Grime builds up quickly, and bacteria likes to fester there until we admit defeat and toss it. In fact, it gets so dirty that the rule of thumb is to get a new toilet brush every six months. But if you want to extend its lifespan, you can utilize a simple hack that will keep it fresher for longer. Simply douse it with Pine-Sol after each use. 
Not only does the pine scent make the brush smell a little cleaner, but Pine-Sol is a disinfectant, and when used as instructed on the label, it kills 99.9% of germs and bacteria. That will not only help you get a little more use out of your brush, but can also help with its hygiene issues, discoloration, and scent. Here's how to do so.
How to use Pine-Sol to clean your toilet brush
There are several ways you can freshen your toilet brush with Pine-Sol. The first is to add a splash of the cleaning liquid to the bottom of the toilet brush holder, deodorizing it until you use it next. This is a great way to make it smell nicer, but it might not be the best to thoroughly disinfect it. Since only the tip will be saturated, the rest of the brush might stay germy. If you want to take things a little further, consider using Pine-Sol to clean your brush weekly.
To do so, fill the brush holder with hot water and Pine-Sol. Make sure you use the amount recommended on the label so it's strong enough to kill germs. Diluting it too much will make it ineffective. Let the brush sit for 30 minutes to an hour, allowing the disinfectant to work its magic. Then rinse out the brush and holder, and let the brush air dry before storing it back. If you do this weekly, it will stay nice and fresh for months on end.