Use HGTV's Brian Patrick Flynn's 40/60 Paint Rule To Transform Your Space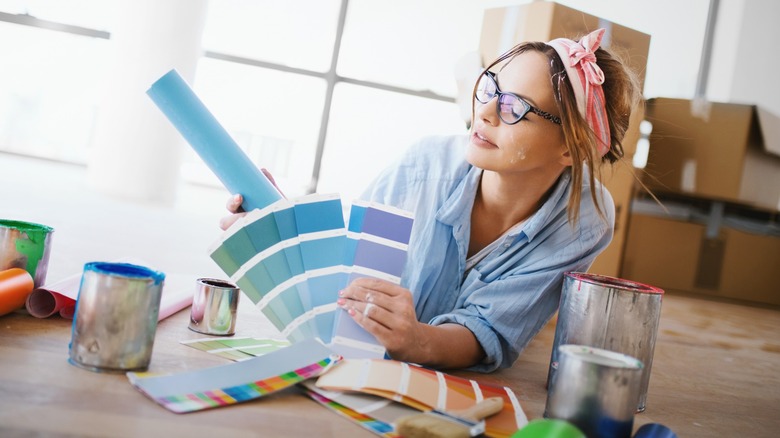 Aja Koska/Getty
Painting your walls is a fun way to instantly refresh your space, but as you're planning out your new color scheme, there's one crucial surface you might be forgetting: the ceiling. Painting ceilings can get a little tricky — if you paint it the exact same color as the walls, the room might end up feeling dark and claustrophobic. On the other hand, a plain white ceiling doesn't always look fabulous, either.
HGTV's Brian Patrick Flynn lends his expertise to the ceiling paint dilemma and has one simple paint rule to keep your space feeling cohesive. He calls it the 40/60 rule. Rather than leave your ceilings white, which Flynn warns will draw people's eyes upward and highlight the smallness of a room, he suggests painting the ceiling 40 to 60% lighter than the shade you use on the walls. Not only can you use this trick on your ceilings, but you can also apply the 40/60 rule to trim, ensuring a fully harmonious room.
How the 40/60 paint rule works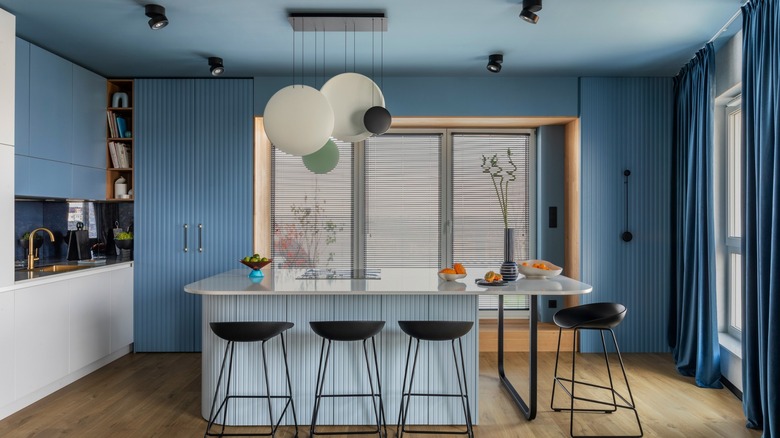 Followtheflow/Shutterstock
The 40/60 paint rule is a guideline for using light paint on your ceiling, suggesting that you choose a color that's about 40 or 60% lighter than the walls. For example, if you were painting your walls blue, you would paint the ceiling a coordinating pale blue (about one or two shades lighter on a paint brand's color chart). Flynn also recommends following the 40/60 rule for painting the trim, however, you have the choice of going 40% darker or lighter, depending on your aesthetic preference. Go for a lighter trim color if you prefer a more understated look, but Flynn encourages folks with antique or visually interesting trim to choose a darker shade that draws attention to the unique feature.
A good color palette takes the entire room into consideration (like the 60-30–10 color rule) and by including the ceiling, you create a more immersive and impactful design experience. When you get the right shade combination, the result should be an effortless flow of color from the walls to the ceiling, significantly opening up the room. Ceiling paint doesn't need to be confusing, just stick to the 40/60 rule and you're guaranteed to have a beautiful space.