The TikTok-Inspired Poolside Umbrella DIY You've Got To Try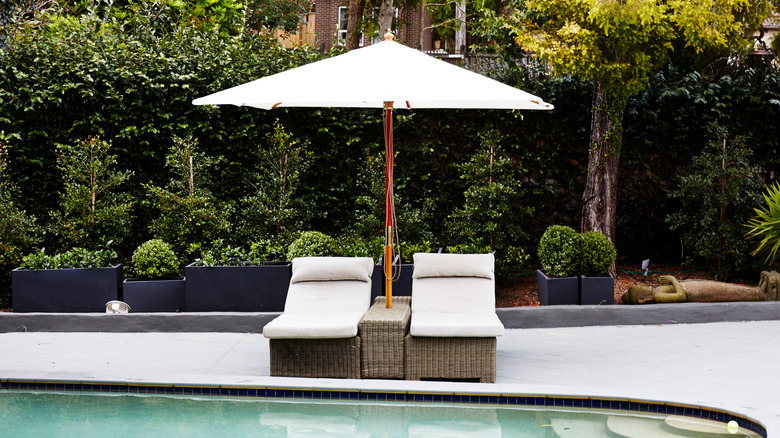 PhotoMavenStock/Shutterstock
Poolside umbrellas are a very popular choice when working with an outdoor pool, especially during the hotter summer months. Perhaps you're currently in the process of deciding whether to purchase one or not. However, while it may be tempting to impulse buy the first stylish one you see, it may not actually be the best move. Instead, you could consider making your own DIY poolside umbrella, likely for a fraction of the price. Not only can you create something that looks sleek along your poolside, but you'll also be saving money. All you need is a planter, an umbrella, and a few other items, and you should be able to construct it in no time.
Although you may need to go out and purchase a few items, it should be all plain sailing from there. Each step is simple and should only take a short while. If it's your first time attempting such a project, then you can always get a helping hand. So, how can you build it for yourself?
Start off with a planter
If you want to try out this TikTok-inspired poolside umbrella DIY by @re.assembled, then make sure you have a large planter on hand, as well as your umbrella of choice. Breaking the process down in the TikTok, the user explains that: "All you need is a two-inch PVC pipe, a bucket and some quick mix concrete. Once it set's place it inside your planter, add sand and now you have a side table that doubles as an umbrella stand." Your PVC pipe should be just tall enough so it slightly pops above the level of your planter. In addition, when it comes to adding sand, you should ensure that you compact it if you want to place any personal items there. 
Likewise, you should check that you have your planter in the correct position, aka where you want it to be positioned in your yard, before proceeding with the next steps. Planning ahead as such will help, as you won't have to lift and move such a heavy item around. This should make the DIY process a whole lot easier. The great thing about this poolside umbrella hack is the creative freedom you have. Not only can you choose a planter and umbrella to fit the theme of your backyard, but it is also doable at a relatively affordable price. To add an extra flair, you could even try painting it; however, make sure you choose the right umbrella size for your patio. 
The concrete holds it in place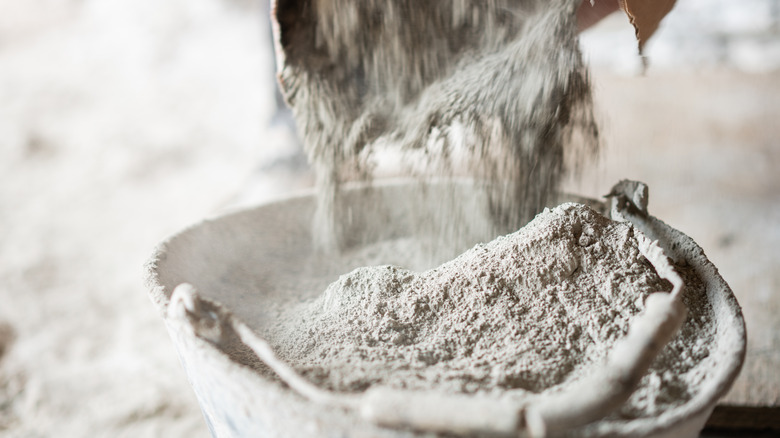 Alvarez/Getty Images
When it comes to this DIY poolside umbrella hack, two main components really help to pull it all together — the sand and the concrete. Both of these materials have high densities, which means small amounts can still pack a punch in terms of weight. As a result, adding these materials to your bucket and planter helps keep the poolside umbrella firmly in place without wobbling or tipping over. Without them, holding everything together may be a lot more challenging.
Of course, this is a great reason to try it out for yourself. However, while working with concrete, you should always ensure to take the correct measures, such as wearing gloves, per HSE. This will help you stay safe while performing this DIY hack. Likewise, you may also find that having an extra set of hands working with you may help you, especially if you don't often do DIY projects like this. Now, all you need to do is try this out for yourself. Just ensure that you take care of your poolside umbrella to keep it in good condition.