How HGTV's Jasmine Roth Turns An Old Wooden Ladder Into A Gorgeous Plant Holder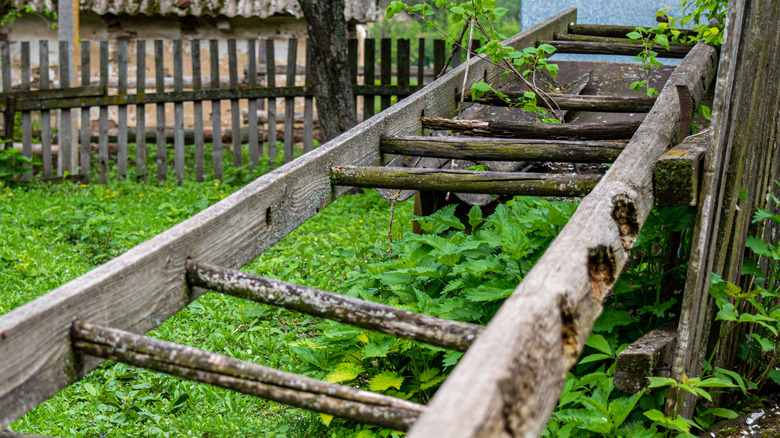 Vitaliybilyak/Getty Images
We may receive a commission on purchases made from links.
Using vintage pieces in your home is a great way to infuse rustic or cozy elements into your decor. Not only will you enjoy the thrill of the treasure hunt when tracking down preloved pieces, but you can also save yourself a lot of money by repurposing old items. HGTV "Hidden Potential" host Jasmine Roth shows us how something as simple as an old ladder can be transformed into an incredible entryway focal piece you won't find in stores.
Roth was looking to create something big for a wall outside the front door of a house she was working on. She had one of those light bulb moments as soon as she spotted some vintage ladders. "I figured I could turn them on their side and turn them into some kind of living wall to really fill this long space up to the entry," Roth said.
All it took for this project was to hang the two ladders parallel to one another on a wall, screw some metal planters into them, and fill them with lush plants. This simple DIY created a stunning focal point for the entry that mixes textures and brings life to the space with its living greenery. And it couldn't have been easier to create.
Making your hanging vintage ladder planter
The first step to making the hanging planter is finding a set of vintage ladders. Start by looking on Craigslist or Facebook Marketplace. Then you'll need some metallic flower pots. Jasmine Roth used 35 on her piece, but you use however many you want or can fit on your ladder. Hobby Lobby sells pots similar to the ones Roth used for $1.49 each, or grab ones with twine on them from Dollar Tree for $1.25 each.
A screw gun will be necessary to screw the pots into the ladder, as are ladder brackets to hang your ladder to the wall. These silver utility brackets from Amazon for around $7 can hold up to 20 lbs. of weight, or spend a few more bucks on this $11 bracket from Grainger that holds up to 120 lbs.
Roth didn't stain or treat the wooden ladders since they already had a beautifully worn gray tone that contrasted well with the white wall she hung them on. You can paint or stain them to complement the color of your wall or skip it. Next, screw your pots to the ladder. Roth chose two pots per rung. Then, mount your ladders on their sides on the wall, leaving about 10 inches or so of space between them. For the final step, fill your pots with your soil and plants. Roth chose a variety of sage and ivy, but you can plant whatever you want. Just ensure they have enough space to grow full and tall within the ladder rung.