Fixer Upper's 'Tile Rug' Hack Is Ideal For A Bathroom With Wood Floors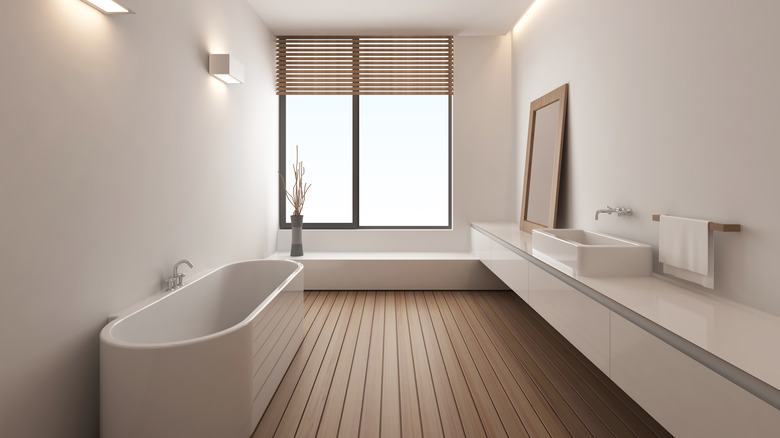 Deliormanli/Getty Images
You can always leave it to Joanna Gaines to add some unique character to a room. In an episode of "Fixer Upper," the designer remodels a 1920s historic home that features stunning wood in the bathroom (via HGTV). And while wood adds a cozy warmth to a space that many homeowners love, it's not the best flooring option for spaces that are exposed to water and moisture. Solid hardwood floors, which are 100% real wood, will be damaged from repeated splashes, drips, and puddles coming out of a bathtub or shower, as well as steam and humidity from bathing.
However, Gaines didn't want to get rid of the hardwood floor in the bathroom completely. The solution is to add a tile inlay and leave the hardwood around the perimeter of the room. "So this is a rug, what we're calling a tile rug, which is wood and marble," the designer explained to her clients. The tile rug is composed of a white arabesque-shaped marble tile and is positioned right outside of the bathtub. When the homeowners step outside the bathtub, the majority of the water will land on the tile. In the end, the bathroom keeps and protects some of its original charming wood floors.
Tile inlays create a unique feature
Real solid hardwood can absorb the moisture from both puddles on the floor and the steam and humidity in the air. The absorption leads the wood to swell and shrink as it dries. Continuously swelling and shrinking will lead to the wood cracking, warping, and curling. The wood board can even separate from each other, leaving gaps in the floor. Tile, on the other hand, is made to withstand water and moisture, which is why the material is most often placed in the bathroom.
Creating an inlay like the one in "Fixer Upper" is a project that home DIYers can tackle on their own. Using an oscillating saw, cut a section out of the hardwood floors. A putty knife and hammer can help lift up the boards to create the space to place the tiles. Once the empty space is ready, install the tiles, using grout in between the tiles and caulk between the edge tiles and the wood to fill any gaps. What's great about a tile inlay is that it can create a pop of color or pattern that adds some visual interest to the room. You can also use more traditional tiles to maintain a charming and antique accent. Or opt for more contemporary tiles to modernize the room instantly.