Pour This Ingredient On Your Vinyl Floors For A Polished Look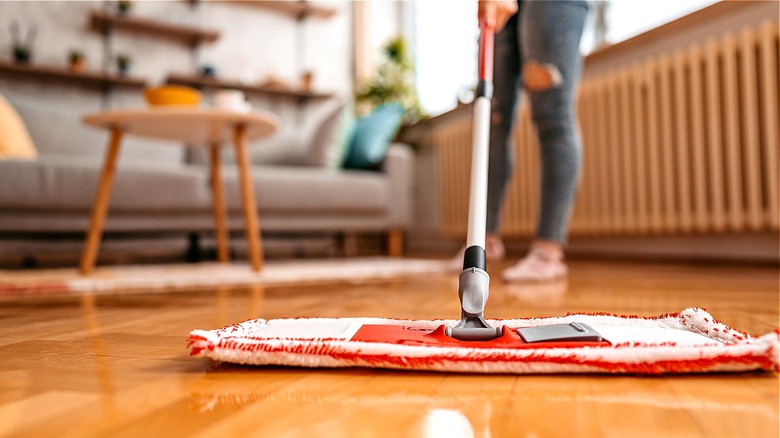 Urbazon/Getty Images
Vinyl floors are a popular choice among homeowners due to their durability and ease of installation. Moreover, these floors have an extra layering on their surface that keeps them safe from wear and tear, mild scratches, and stains. Better yet, they're cheap and can easily last 10 to 20 years if cared for adequately. Though vinyl floors are simple to maintain, it's essential to clean them regularly to prevent them from turning dull and getting irreversibly damaged. While cleaning them will take care of built-up dust and grime, it might not be enough to restore their shine. So, if you are looking to not only clean your vinyl floors but also get their shine back using products you might already have, look no further than baby oil.
Baby oil will work as a natural polish, giving your vinyl flooring an unrivaled sheen without damaging the finish. Worried about your floors getting slippery? Just combine the oil with apple cider vinegar and hot water.
Baby oil to polish your vinyl floor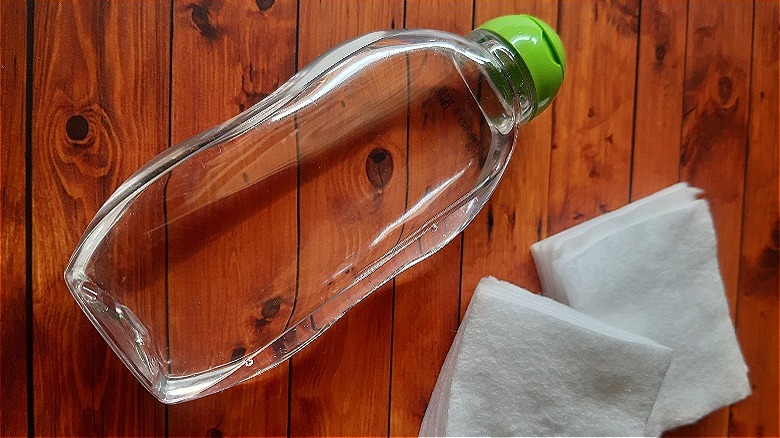 Ika rikawati/Shutterstock
To give your vinyl floors a quick polish, pour a few drops of baby oil on a dry mop and rub it across the flooring for instant shine. But ensure you do this after cleaning the floor. However, if you'd rather add shine to your floors while cleaning them, grab a bottle of apple cider vinegar and boil some water.
Combine 1 cup of apple cider vinegar with 1 gallon of hot water and 3 to 4 drops of baby oil. Now, you can either dampen a clean microfiber mop and use it to clean your floors or spray the cleaning solution directly on your flooring and then use a mop to wipe your vinyl floors. This cleaning hack will help you remove accumulated dirt and grime and restore your floor's shine without leaving any residue. Baby oil is a superior alternative to wax polishes, as it won't build a non-adhering layer on your floor, which will diminish its shine and cause it to look hazy and dull over time.