HGTV Star Jasmine Roth's Top Tip For Decorating With Houseplants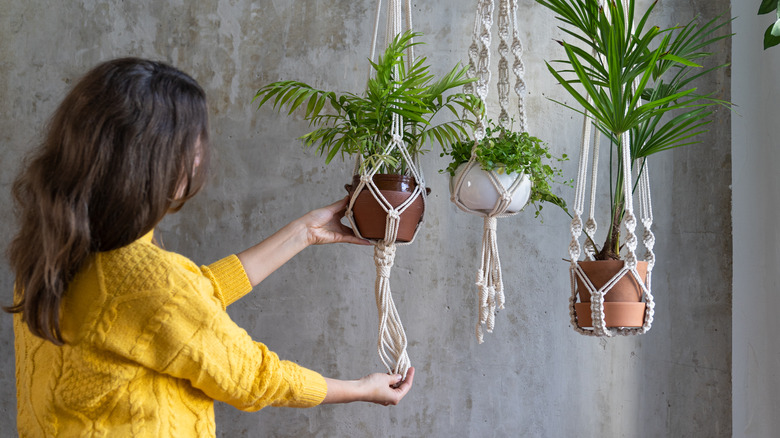 DimaBerlin/Shutterstock
When decorating our homes, we often focus on the furniture and artwork that we will put into our spaces. But HGTV star Jasmine Roth says the one thing every room in your house should have is plants. "Plants are so important in design. If you have a beautiful room with no plants, chances are it doesn't feel finished. My rule? Add green to every single space," Roth says in a YouTube video. She explains that her top tip for decorating with beautiful houseplants is to make sure they are the right size for the room. "One of the important ways to add plants into your space is to really think about the size of the plant compared to your space."
If you live in a small home, a large indoor tree with wide leaves can easily feel overwhelming and look out of place. While small potted plants can help complement different areas of a large room, they do not make enough of a statement to complete the feel of the expansive area. Therefore, it's important to choose wisely when deciding which varieties you're going to decorate with, as you need to consider how large (or how small) they could grow. 
Placing plants in small rooms
"It really makes sense to make sure the scale of your plants fit the size of the space," Jasmine Roth, host of "Hidden Potential", explains in the YouTube video above. So, for smaller spaces, you'll want a plant whose width will remain the same as the planter after it grows to full size. This will prevent your room from feeling cluttered. Snake plants are great for this because they have height to them, which is visually appealing, but are also narrow, so they don't take up a large area. Clustering small plants together is another way to infuse a bunch of greenery and texture while taking up minimal space.
Trailing plants like philodendrons or string of pearls topple over the side of their pots and can be hung or placed on a high shelf. This will draw the eye upward, make the room look bigger, and create a nice focal point. Don't be afraid to place one or two taller plants that make an impression in a cramped room. When properly placed away from other pieces, they can make your room look larger and brighten up darker corners. The key here is to go for plants that have more height rather than width. You also need to make sure the plant you choose gets enough light wherever you decide to place it, which may limit your options further.
Large rooms and dfferent types of displays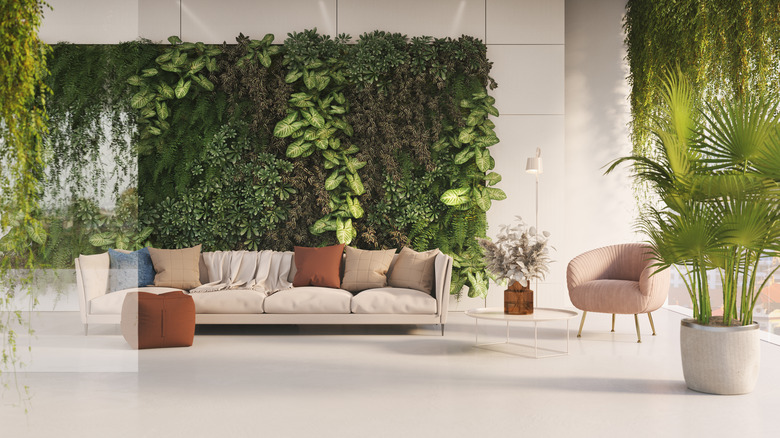 Piranka/Getty Images
According to Jasmine Roth's advice, bigger rooms have the scale to accommodate anything you would put in a small room, plus large floor plants and small trees. However, you don't want to use too few plants, as this could cause them to get lost in the design. The large majesty palm has expansive leaves that are quite beautiful. You can even bring a citrus tree into your home, like the dwarf lemon bonsai tree that will dazzle when it starts to bear fruit.
While hanging a plant or using a floor planter looks beautiful in the home, it's fun to get creative with your green designs. There are plenty of unique-looking wall-mounted planters in glass or fun geometric shapes, which could be incorporated into a gallery wall. You can also disperse small potted plants throughout your bookshelf or use them as centerpieces. 
If you have plants that need a lot of sunlight, consider adding shelves to your windows so your greenery can bask. Another option is to hang plants from a wall-mounted rod or in the middle of the ceiling like a chandelier. Let hanging plants drape over the sides of your furniture or climb up your walls for a jungle effect. Living walls are stunning and bring a lot of life to an indoor space. You can find tons of houseplant design ideas by searching Pinterest, just keep Roth's rule in mind when you start decorating.