Try TikTok's IKEA Hack To Hide Unsightly Pipes In Your Laundry Room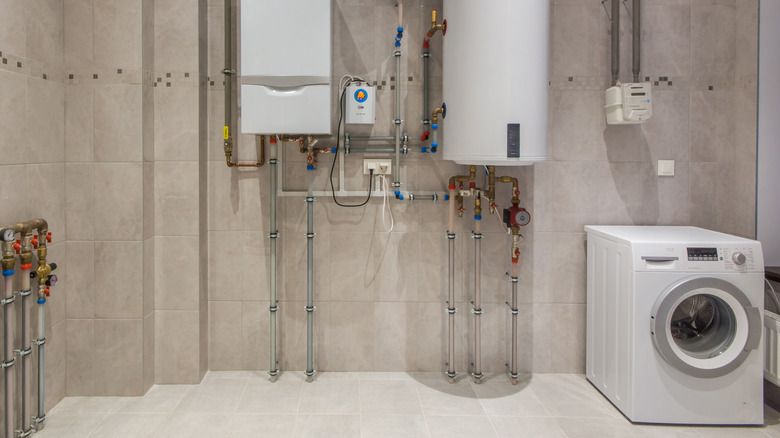 Alhim/Shutterstock
Sometimes the available space in our home requires us to make some creative choices when arranging our appliances, and things don't always fit together the way we'd like them. Thanks to the customizing power of IKEA, however, you can transform any space to create the design you want in any room of your house. IKEA's units can be used to create a pristine laundry room where unsightly pipes, wires, and vents are unseen. TikToker @mypracticehome used IKEA's IVAR system to conceal her dryer vent and create the customized laundry room of her dreams.
She used one of the line's full shelving units with cabinet doors to hide the vent pipe. Then she added an IVAR side unit, some shelves, and a single door to create extra storage. Another shelving unit was used adjacent to the single-door cabinet to create extra over-the-sink storage. Peel-and-stick wallpaper behind the open shelving and a few cute accents make it feel like a master designer had their hand in this laundry room remodel. The before and after of this crucial area of the home is simply jaw-dropping. 
How to create the laundry room IKEA hack
For this hack, you'll need the IKEA IVAR full shelf unit, which goes for $152.50, three side units at $30 each, three shelf pieces at $7.50 each, and two packages of IVAR doors. These cost $75 each and come with two doors each. Even though you'll have four, you'll only use three. You can also buy an 87-inch $36 ASKERSUND deco strip and cut it into pieces to create the panel below the cabinet.
The shelf unit was set up against the left wall in from of the dryer. Leave out all shelves except for the top shelf. This leaves you with four extra shelves. Then you can hang your two doors on it. You can add your deco strip to make your paneling below the cabinet door. Place it far enough down so that when you push your dryer against it, you won't see the wall. 
Set up your side unit on the opposite end of the full shelf unit, but place it close enough so that a shelf will fit at the top. Add your other two shelves inside. You can create a panel at the base of the cabinet if you like. Use two more side units and your remaining two or three shelves from the full shelf unit to create a customized shelf unit that goes over your sink. You can always cut the shelves to make the shelving units fit your space perfectly.