How To Turn A Small IKEA MOPPE Chest Into A Stunning Floating Nightstand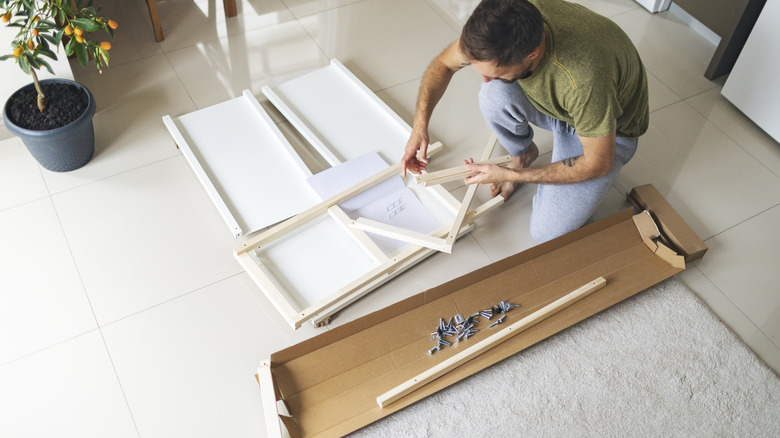 Julpo/Getty Images
Revamping your bedroom space is always exciting, especially if you're undergoing a complete makeover. If you're looking to splurge on a stylish nightstand on a budget, then this IKEA MOPPE chest nightstand hack by @kristinekava__ on TikTok could help you to do exactly that. The incredible part? It looks like it's floating. If that's not something to brag about, then we don't know what is. Not only will you get a sleek-looking nightstand in your bedroom, but you can do it for a fraction of the cost versus buying a similar piece at a store.
You can re-create this piece of eye candy using just a few store-bought items from your local IKEA. However, as this is a DIY, you may need to whip out some of your best crafting skills for this one. Despite this, the whole process should be a breeze, even if you're just starting out on your journey. So, how exactly do you build this floating IKEA nightstand?
Purchase the IKEA MOPPE
For this hack, you'll need to purchase the MOPPE chest from IKEA, some metal screw brackets so that you can attach it to your wall, a screwdriver, the correct screws, glue, a saw, some clamps, and your paint of choice. First, you need to decide if you want to keep your chest intact or customize it further. Once you decide, you can get to work. To customize it as shown in the TikTok, you will also need a RÖDEBY Armrest tray. To start, glue the top two draws together separately before placing the front of the draws (where you open them) on your RÖDEBY Armrest tray. Draw around the outline and use a saw to cut out the shape. Now for the tricky part.
Remove the rest of the draws from your MOPPE chest, measure to where one section of draws is, and cut it off using your saw. Take the piece you cut off and pull off the two side pieces before inserting it back inside your draw, on the side where there's an opening at the bottom. Clamp it together so it's nice and secure. Now, all you need to do is take the piece of RÖDEBY armrest tray you cut earlier and glue it to the front of your two mini draws from earlier. Once dry, you can seal the deal with a lick of your favorite paint before attaching it to your wall using the metal screw brackets.
How to make it the simple way
If you want a floating nightstand that is simple to make, then there is a much easier process. If you're struggling with the first method, this will be the perfect first step in your DIY journey. So, how do you make a simple floating nightstand with the IKEA MOPPE? First, remove all the individual draws and chests before painting them and letting them dry. Next, take your metal brackets, screws, and screwdriver and attach it to the wall. Doing this without the draws inserted inside may make it easier. All you have to do is place them back inside afterward. Likewise, you should also make sure you decide what height you want to place it in beforehand so nothing goes wrong. Thankfully, there are some easy ways to decide the best height for your nightstand.
But why does this hack work so well? Well, it all comes down to the design of the MOPPE. As there are no legs on this particular IKEA nightstand, this gives you the creative power to make it appear as though it's floating in the air by using only screws. Now, all that's left to do is to decorate your nightstand. Now, you can step back and enjoy your mystical creation in all its glory.