The Kitchen Organizer Hack That Uses An Unexpected Storage Tool For Spices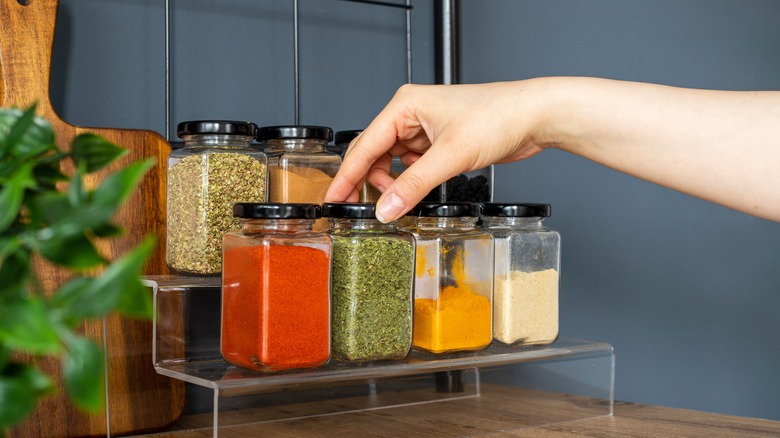 Hazal Ak/Shutterstock
A well-stocked kitchen makes cooking easier and more enjoyable. If you're running out of space for your spices, you can use a surprising home organization tool as a kitchen hack: a shoe organizer.
Of course, you may not want to reuse an old organizer that's already had shoes in it. However, a new over-the-door shoe organizer (think plastic, fabric, or mesh with pockets) is a great way to add storage space to your kitchen. It uses the back of a pantry or closet door, converting unused vertical space into a whole new spice rack. Moreover, it's far less expensive than most wall-hanging spice racks.
You can fit about two normal-sized spice jars per shoe opening, so this hack will really free up space in your cupboards. If you have a large spice collection, consider organizing it alphabetically so everything is easy to find. Alternatively, you can put your most-used spices at eye level, making them always easy to reach.
Store spices and more in your shoe organizer
These shoe organizers are very easy to hang, and no handy home skills are required to do so. They usually come with hooks that go right over the top of the door. While a shoe organizer is an excellent size and shape for holding spices, you can also use it to hold many other pantry goods. Consider filling it with extra cutlery, paper or cloth napkins, measuring utensils, or random "junk drawer" items. However, take care not to stuff the pockets too full, or they may start to separate. Many organizers are made of clear plastic or mesh. If you get an opaque fabric one, though, you can use a label maker so you'll know exactly what's in each pocket.
There's no real maintenance required for this kitchen hack, but you may want to periodically take the spices or other items out and wipe down the organizer to keep it clean and dust-free. After you get a shoe organizer for the kitchen, you might want to add one for every closet in your house. It's a great way to organize small objects like cords and chargers without adding clutter.