Plant A Stunning Sunflower Tent In A Few Easy Steps
Ooyoo/Getty Images
A sunflower tent, also known as a sunflower house, tower, or fort, can create a magical garden area that brings to life the imaginative play spaces you might have dreamed of as a child. The concept is simple: plant sunflowers in thick rows to create "walls" that can even form a "roof" when the flowers lean over. Inside this nook, pets, children, and wildlife can play and enjoy the shade. You'll want to spend time there too!
All you need is an unused, flat spot in your garden or yard that gets full sun throughout the day. You can adjust the size of your sunflower tent to fit your needs, but ensure there's enough space to sit inside. A diameter of 8 feet is a good starting point. If you have children, involve them in building the tent to teach them about planting and create a memorable family experience. When selecting a location, consider the pattern of the summer sun. The tops of the flowers will face the sun, so the placement of the sunflower fort will affect how it looks in the end.
Prepping a perfect sunflower tent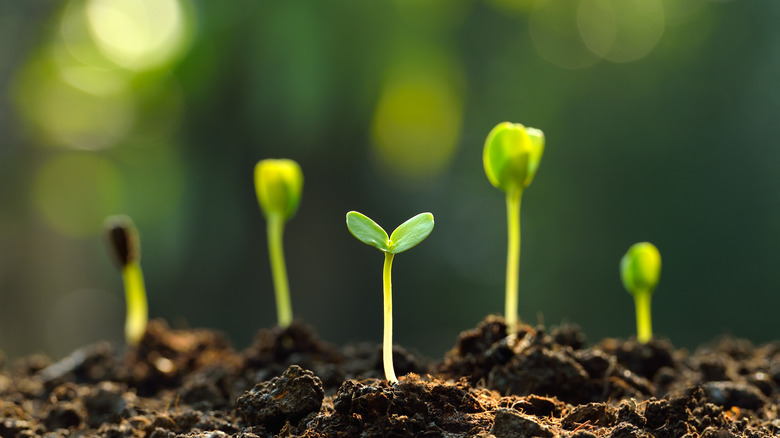 amenic181/Shutterstock
This project is best started in mid-to-late spring or early summer. Once you've picked the perfect location, it's time to choose your seeds. Select varieties that will grow large, such as Skyscraper, Giant Gray Stripe, and Russian Mammoth, to give you the desired size. Consider adding morning glories or scarlet runner beans to your seed collection. When planted among the sunflowers, they will climb up and thicken the foliage, creating a more wall-like feel.
With your seeds in hand, decide what shape you want your sunflower tent to be. Then, use stakes to mark the perimeters and dig a trench around that line. Widen the trench to about 6 to 1 2inches, providing enough room for the sunflowers to grow, and dig around 12 inches down. Make sure to leave a "doorway" about 24 inches wide that is not dug up.
Check the seed packet instructions for planting advice. However, sunflower seeds should generally be planted about an inch deep and 6 inches apart. Add more rows of sunflowers for bigger "walls," or intersperse climbing vines of your choice between sunflower seeds. You can also create a second row of shorter sunflowers for a layered look or mix in some corn among the sunflowers.
Sunflower tent maintenance
Once the seeds are planted, maintaining a healthy and thriving sunflower fort is easy. While fertilizing can promote faster growth, regular watering is the most important aspect of maintenance. Watering every day, especially in the beginning, is ideal, but be careful not to overwater and create soggy ground.
As the sunflowers grow taller, their heavy blooms may require support. Consider adding a trellis or support stakes, which can always be removed later for a more organic feel. Weeding should be done often as the sunflowers grow. Once established, adding mulch can reduce the amount of weeding required.
In just a few weeks, the sunflowers will reach their full height and start to resemble a fort. Use stakes to keep them upright or allow them to fall slightly to create a "ceiling." In addition to providing a great hangout spot, your sunflower tent will also attract pollinators to your garden, making everything around it feel more vibrant and alive.