Ditch The Ugly Tissue Box And Do This Instead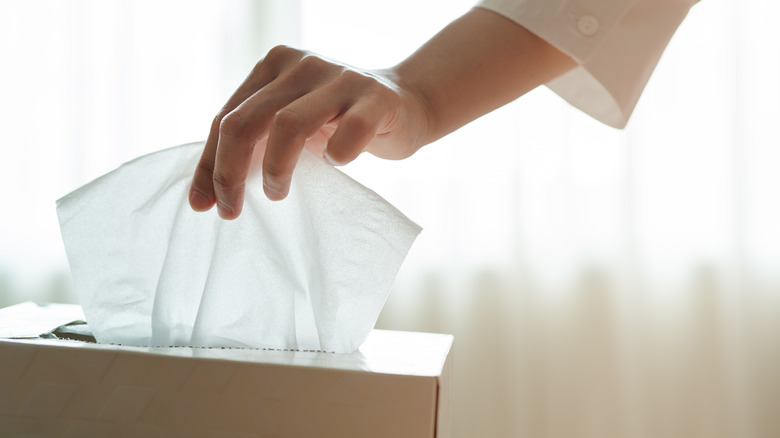 BEAUTY STUDIO/Shutterstock
We may receive a commission on purchases made from links.
It's tempting to feel like we need to go all in when changing the vibe of our homes, especially because home renovation television programs often showcase a mind-blowing, complete makeover. But it's just not always possible for budgeting or timing reasons. What can be empowering, though, is to pick up little ideas that create more beauty, like replacing an ugly cardboard tissue box with a small flower vase.
Remember the old days? Home goods stores often sold, and still do, decorative yet expensive tissue box covers that provided a bit of spice to your interior decor. Times have changed, and the tissue box replacement trick we have for you is one of those simple and affordable "Why didn't I think of that sooner?" TikToker moments. Repurposing a vase offers a lot of bang for your buck, as you can also decorate it with flowers when you run out of tissues.
What kind of vase to get
Walmart, Target, World Market, IKEA, and Wayfair are all great places for you to search for the right type of wide-mouthed vase. You'll need to purchase a vase you like and then remove the tissues from their cardboard box. Roll the tissues and place them inside the vase, with one tissue popping up so that you can easily pull it out.
This Sullivans Origami White Decorative Vase from Target has just the right type of sizing. Walmart's Flora Bunda Tabletop Matte Solid White Ceramic Vase is also a simple option with a more than sufficiently wide mouth. We recommend you get something no taller than 5 or 6 inches so you don't have to dig for the tissues when they fall to the bottom. Other items wide-mouthed vases can hold include cotton balls for the bathroom, chunky candles, or fresh herbs in water for the kitchen.