Freshen Up Your Vacuum And Make Your Home Smell Amazing With This Clever Hack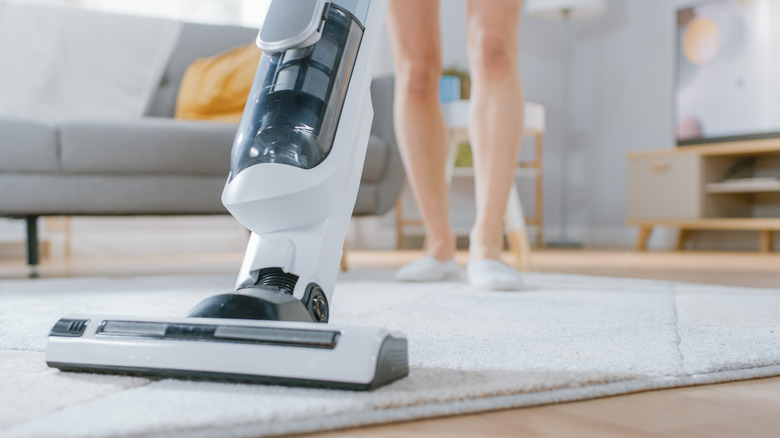 Gorodenkoff/Shutterstock
Whether you're spring cleaning or sprucing up your home before guests come over, there's no doubt that you want to do your best job when it comes to vacuuming. However, if you're going to add an extra bit of flair to the job and make your home smell amazing, then this hack by @choresbychelsea on TikTok could be your ticket to success. Instead of vacuuming normally, she shows how you can quickly refresh your space by using scent booster beads with your vacuum. As a result, this magical duo should leave your home smelling as fresh as a daisy and may even help get rid of any pet odors. 
Utilizing this trick should help to save you time from scenting your home once you finish vacuuming or splashing out on any fancy products that you may otherwise want to purchase. However, where exactly do you put it? This is probably the most important question. Below, we'll take a deep dive into the hack so you can try it out for yourself. Let's take a look.
Grab some scent booster beads of your choice
For this particular TikTok hack, Downy Unstopables were used. However, you can use other scent beads if you have some. All you need to do is sprinkle a small amount into the canister of your vacuum — you shouldn't need too many. Aim for around half a handful of the beads if you're unsure. Now, you must securely close the canister lid and zap around your house with your vacuum. You should find that your home smells much more pleasant as a result of using the beads, especially if your vacuum is already starting to smell. When you're done, you can remove them or keep them in there for next time.
As the beads have quite a strong fragrance, they help to release a fresh scent around your home. They may also help to suppress any smells in an already dirty hoover, making it perfect if you're in a rush while cleaning. However, there are some downsides that you should consider with this hack. First of all, you need to ensure your vacuum doesn't get overly warm, as this could melt the beads, meaning you will probably have to replace it. Likewise, they could also end up getting clumped up in there. Again, this could mean you have to repair your vacuum cleaner, which is something to keep in mind. However, you shouldn't have to worry too much with occasional use.