We'll Never Hang Our Pants Another Way After Seeing This Technique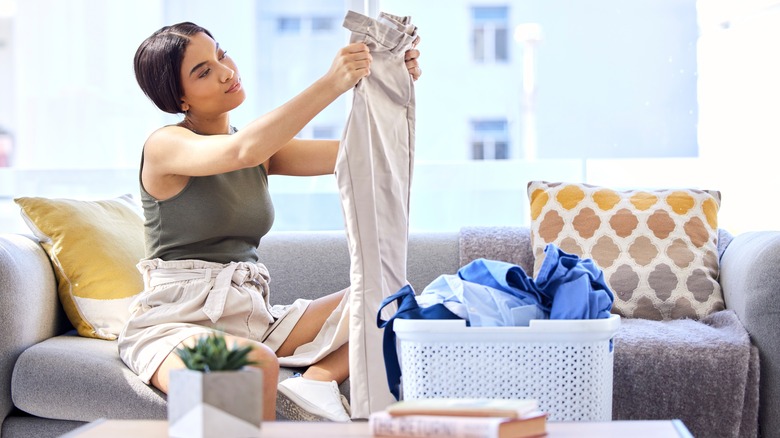 PeopleImages.com - Yuri A/Shutterstock
Whether you live in an apartment or a house, you've probably found that a good amount of storage space is hard to find. Consider yourself lucky if you have a walk-in closet because they are somewhat of a luxury. If you have a small closet, you may spend hours online trying to find space-saving techniques. While there is a space-saving way to fold your other clothes, we also found a tuck-and-fold technique for hanging pants in the closet on TikTok that we're now going to use forever. 
In our closets, pant legs usually hang at their full length, making an overstuffed closet feel smaller than it really is and obscuring any cabinets or other stored items on the floor. This particular method for hanging pants allows the end product to be much shorter, increasing overall closet visibility. We love this benefit, as anything we can do to declutter a small space makes it easier to navigate and quickly locate the item of clothing we need.
How to fold and hang your pants
Fold one leg over the other to create a skinny piece of long fabric — the back pockets should be visible on both sides of the fold. Hold them upside down by their ankles, then grab a hanger with a bottom bar that allows you to drape material inside it. Pull the bottom of the pants through the hanger and fold them over the bar just below where the knee would hit, towards the rest of the pants. Grab the waist, pull them up to the top of the hanger, and hook the belt loop over the hanger's hook.
With this technique, you're eliminating pressure on the belt loops, which could help your clothing items last for years and years. Keeping the garments properly folded also minimizes wrinkling, which is especially beneficial for dress pants or those made out of delicate materials. However, keep in mind that this hack only works with pants that have belt loops. It's also super organized to hang your pants without the legs dangling all over the place, making your closet crisper-looking. As an alternative, there's also a brilliant shower hook hack that you could try, which allows the legs to hang free.