TikTok's IKEA Hack Is Perfect For Storing Toilet Paper In A Small Bathroom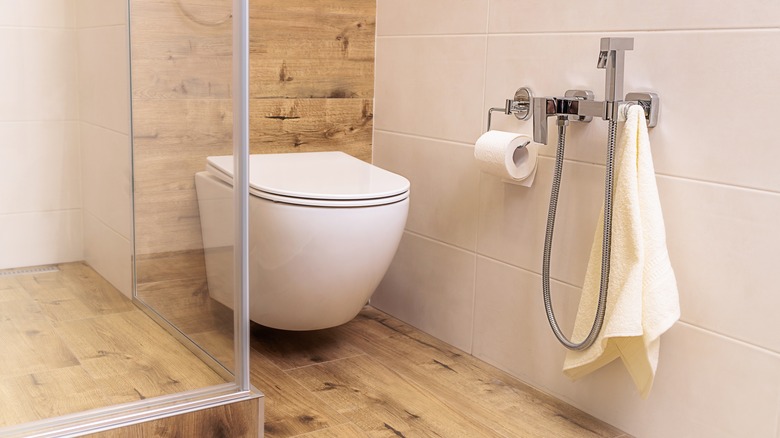 false/Shutterstock
Whenever we need a furniture solution to suit a uniquely shaped living space, many of us turn to IKEA. If they don't have a product to solve our problem, then they have one that can probably be hacked to meet our needs. Recently, IKEA has been a lifesaver for people who stock up on toilet paper to save money, but have too small a bathroom or apartment to store it all. Though IKEA doesn't specifically sell a toilet paper shelf, you can make one using one of their shelving options for under $20.
TikToker @the.organizing.guy came up with this brilliant hack for storing toilet paper in a tiny bathroom using IKEA's MOSSLANDA picture ledge. By hanging one in his bathroom, he was able to save valuable floor and closet space by utilizing a space that otherwise would have been left empty. This hack allowed him to store an entire 12-pack of toilet paper in his bathroom for easy access.
How to make your DIY toilet paper shelf
For this hack, you'll need the 15 1/4" MOSSLANDA picture ledge. It comes in a few different colors, so you'll be able to find one that matches your bathroom's decor or whatever room you choose to place your toilet paper shelf in. The shelves range in price from $19.99 to $24.99 based on their color. You'll also have to buy any screws or fasteners for the type of wall you have since they aren't included [see Good to Know section]. These can be purchased from IKEA's FIXA series or from a local hardware store. You might even have what you need for this in your toolbox. The ledge weighs 3 lbs. and 6 oz. The toilet paper should add an extra pound or two, so make sure the screw you use can hold up this weight in your type of wall.
Mount your picture ledge to your wall, then place the toilet paper rolls on top. They should fit perfectly — you can place your rolls in a pyramid shape to make it look nice. If the toilet paper makes your shelf dusty with lint over time, you can wipe it down with a dry cloth.