The Useful Fridge Storage System HGTV's Nate Berkus Can't Get Enough Of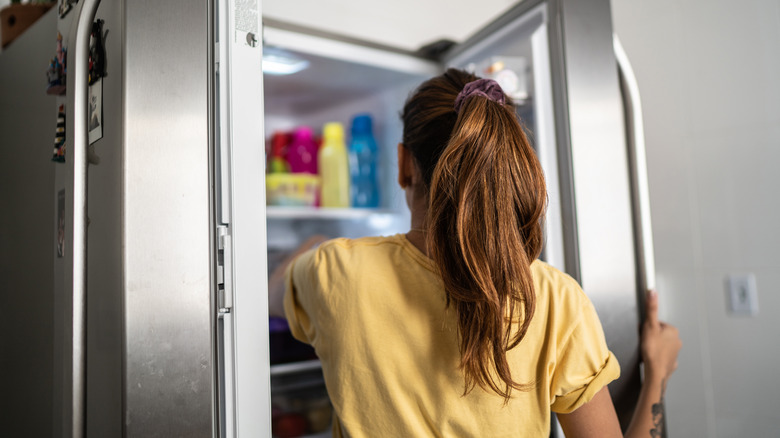 Fg Trade/Getty Images
We may receive a commission on purchases made from links.
Nate Berkus isn't only an interior designer with a signature timeless style; he's also an organization aficionado. How else is he supposed to keep those stunning interiors looking flawless? One room that can always benefit from smart storage systems is the kitchen, as this space has to be as functional as it is beautiful. His Montauk home is a relaxing retreat, and he partially credits that to a storage system he uses to organize his fridge: a 9-inch turntable spinner from Nate Home, the designer's own brand. In a TikTok, Berkus shows how he uses this spinner in the fridge to hold smoothie ingredients and keep the space orderly.
The two tiers of this specific product allow you to take advantage of vertical space inside the fridge. The turntable design means that the shelf can spin, providing easy access to items without having to move around or take out objects to find what you need. Keeping your fridge neat and tidy can save you time when trying to prepare meals, as every ingredient will have a designated place and you'll know exactly where to reach to retrieve what you need. Fridge organization can also contribute to healthier eating habits, prevent food waste, and save you money.
Using turntables to organize the fridge
@natehome

Nate Berkus lives for an organized kitchen cabinet and literally can't sleep if things are a mess. Our 2-Tier spinning Organizer from NATE HOME is the perfect way to take advantage of vertical space and keep things organized. Head to the link in our bio to shop!

♬ original sound - Nate Home
Interior designer Nate Berkus uses the turntable in the fridge of his Montauk home to hold smoothie ingredients. These turntable organizers can easily transform a fridge, making the space more functional for both storage and cooking. Tiered rotating trays optimize the available area in this appliance, allowing you to store more, take advantage of vertical space, and better see items that may have otherwise gotten lost in the back of the fridge. The way to make these turntables work the best is by grouping like items together, so you always know what types of ingredients you're reaching for.
Use a turntable inside the fridge to hold condiments, jars, and bottles for easy access, or group specific ingredients as Berkus does for his family's smoothies such as powdered supplements, yogurt, and go-to fruits. You can also use a spinner to store leftovers to keep them at the forefront of the fridge rather than pushed to the back and forgotten. Another idea is to use spinners to create a snack station for kids to easily grab after school. You can also make these organizational pieces more functional by labeling each spinner with the types of items it holds, which will make finding an ingredient or restocking the fridge much easier.