Rules You Need To Know Before Building On Your Property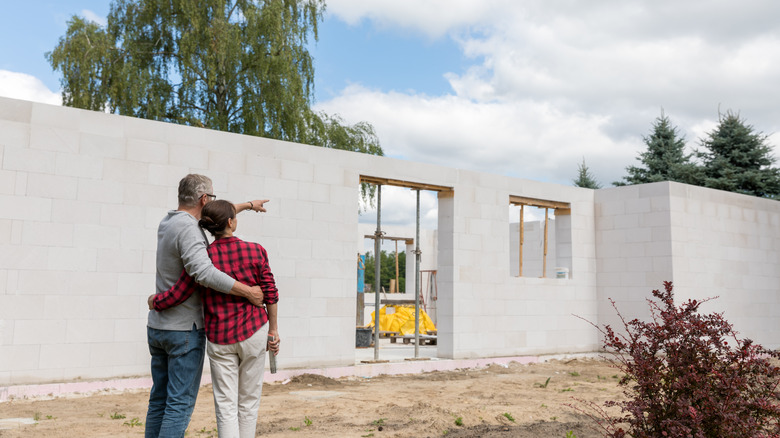 Fredfroese /Getty Images
Building a home is one of the most rewarding journeys a person can embark on. Despite appearances, it doesn't happen overnight. Turning an empty plot of land into a forever home takes grueling planning, patience, and skill. The result of your hard work will stand tall in what used to be a vacant spot. Your new home will be a reflection of yourself — a monument to your hard work and resolve. Unfortunately, it can also be a logistical and financial nightmare.
When building a house, any minor mishap can become costly, from weather to wiring errors. The best way to ward off these situations is to prepare. After all, research and planning are the enemy of misfortune. Things will likely still go wrong along the way, but having contingency plans will minimize the impact on your budget and timeline. From brainstorming floor plans to passing inspections, here are the most important rules you should know before building on your property.
1. Plan your budget extensively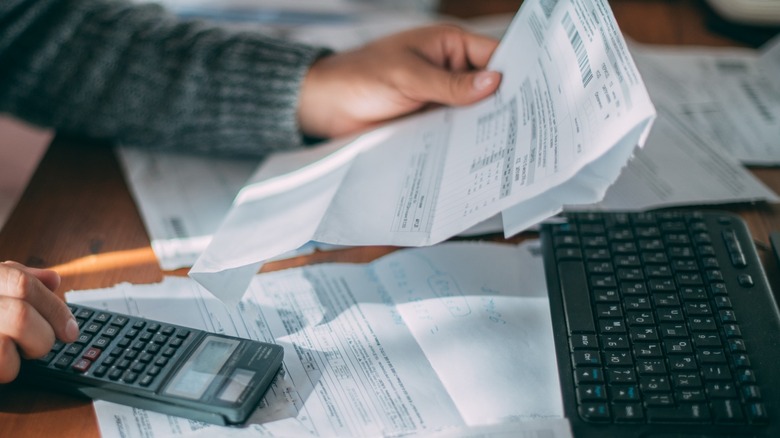 Grusho Anna/Shutterstock
Picking a budget is the first step in any development project. Newly built homes are expensive, typically costing hundreds of thousands of dollars. It is imperative to leave yourself some wiggle room. In a survey conducted by Real Estate Witch, a staggering 92% of respondents said their new home builds were more expensive than they expected.
One of the most common problems first-time home builders run into is communication breakdown and scope creep. This is due to unnecessary and unapproved costs incurred by contractors and suppliers. This leads to projects growing out of control, with new additions and ideas heightening the expenses to a vast degree. 
Another potential issue is your own evolving scope. For example, while building your first house, you may decide you want another bedroom or bathroom in the middle of production. It is always much harder to change course in the middle of construction. Other common oversights, especially from first-time builders, are taxes and fees. Building permits, taxes, and fees add thousands of dollars to your new home's price tag. 
2. Know your materials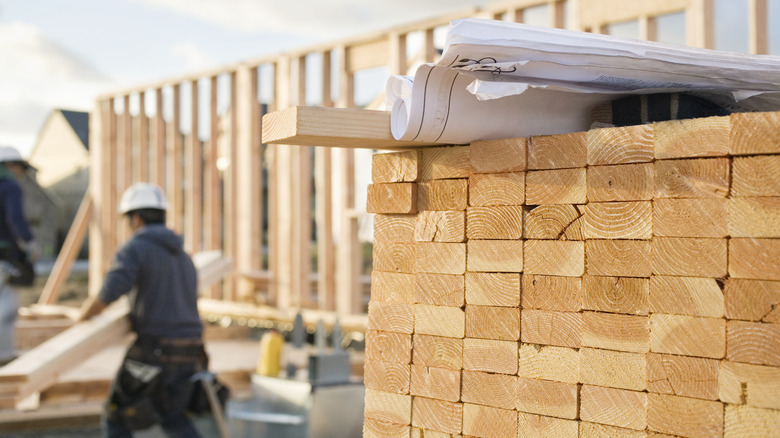 Dpproductions/Getty Images
The materials you choose are the foundation of your new house, which will make or break your homebuilding project. You have many options, but there are just as many factors to consider. These include cost, legality, durability, sustainability, and, most importantly, personal preference. Keep in mind that building material costs can change drastically over time. 
This is the area where you can add the most personal flourish to your home. Long-lasting, durable materials like concrete, wood, and stone are popular choices. These materials are tried and true, but keep in mind your jurisdiction may offer incentives for building your home with sustainable materials. One of the most exciting parts of building on your land is that you can custom blend materials or various textures, colors, and shapes. The possibilities are endless, so it's important to have a firm understanding of both the style and functionality of each material.
3. Hire excellent contractors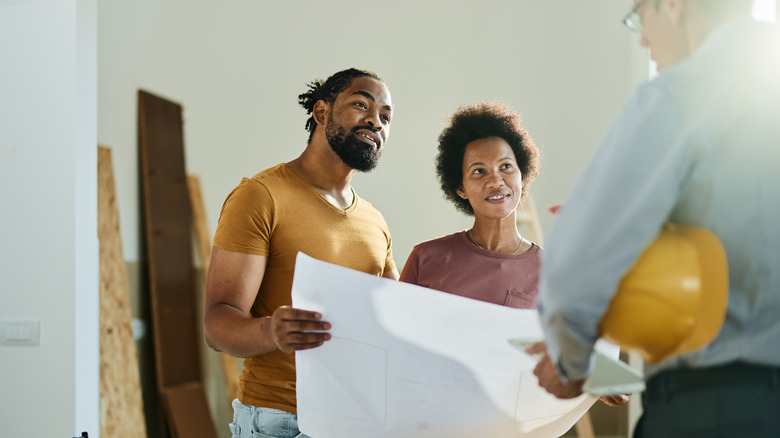 Skynesher/Getty Images
Hiring reliable contractors sounds like a given, but doing so is less common than you might think. For starters, many people do not know how to look. To do your due diligence, the first thing to do is analyze a contractor's past work. A thorough browse of their website and online reviews can give you an idea if they'll be compatible with your project. Next, verify their insurance by calling the state licensing office. If their insurance is legitimate, call or have them visit your project site for a quote. Repeat this process with a few candidates. Then, compare the quotes and pick a contractor for your building project. 
The ideal contractors are efficient, professional, and safe. During the building process, consistently communicating with contractors is essential. Hiring bad or incompatible contractors leads to expensive pitfalls like repairs and rework. For example, if your contractors set up electrical wires throughout your home and they are not up to code, you may have to spend the extra money for them to redo it. There are many options for contractors, and not all of them balance safety, communication, and efficiency. Put simply, being cheap can turn out to be very expensive. 
4. Pick a good time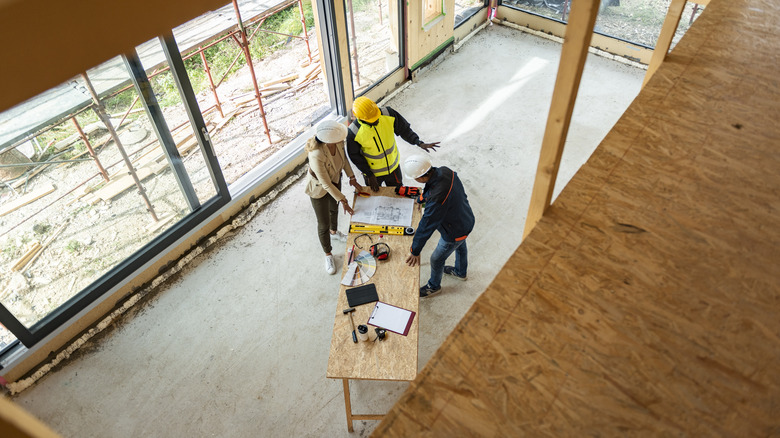 Vitranc/Getty Images
Building a home is a lengthy process. If you're opting for a spec home, you're looking at about six or seven months. However, if you are going with a custom build, the process will likely be more than a year. That is why you set a realistic timeframe for your building project and pick a suitable start date. 
The summer, hot and productivity-killing as it is, is the most popular time of the year to start building. But, at the height of the season, contractors are at their busiest and you can see delays in scheduling permits and inspections. You'll also likely see higher labor costs thanks to the peak demand. Your best bet is to get started as early as possible in the spring. And if you really want to save costs, construction may be slower in the winter, but it will be cheaper due to decreased demand. Remember, your timeline depends on your needs, so it is up to personal preference and your ideal move-in date.
5. Consult with an architect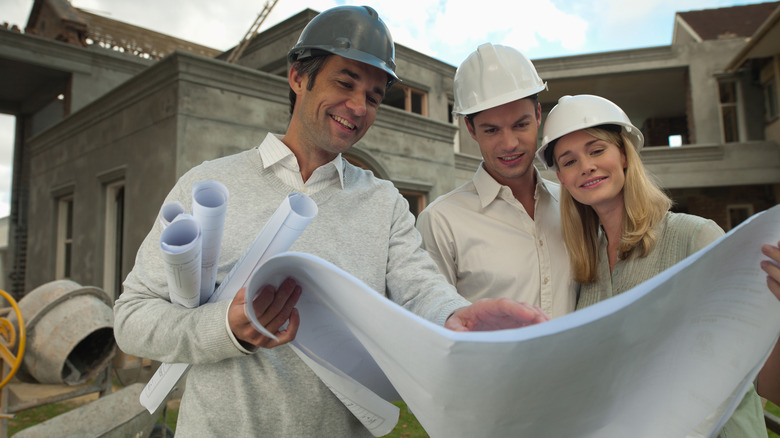 Chris Ryan/Getty Images
You can picture your dream home all you want, but at the end of the day, you are not an architect. You need someone experienced in your corner who can interpret your vision and bring it closer to reality. A good architect will add touches to your dream home you didn't know you needed. Their seasoned knowledge guarantees quality and drives home innovation. Best of all, they can be with you every step of the way. 
An architect's job is to help you avoid design errors and scope creep, visualizing your house to be the best it can be. Given their expertise, architects can help you create the most cost-effective version of your dream home. Architects visualize everything, down to the location of every outlet in your new home, so do your research and find someone with a vision you trust. Make sure to ask your architect the right questions and your voice will not only be heard — it will be amplified. 
6. Establish your scope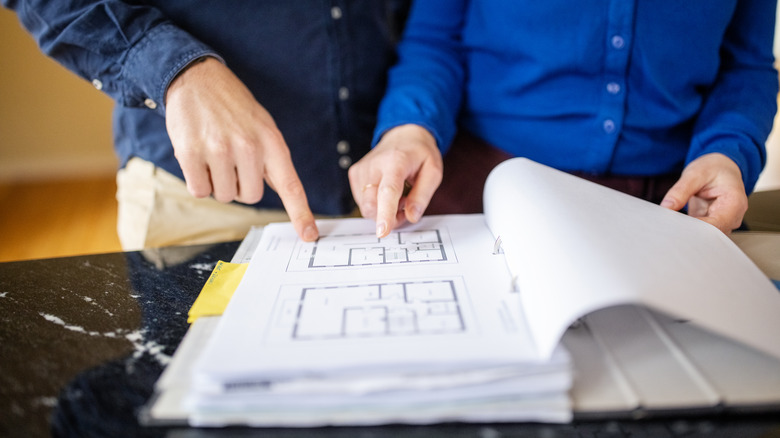 Alvarez/Getty Images
So, you are building a house. How many bedrooms and bathrooms will you have? Do you want a garage? How big is your kitchen? You also have to decide between things like open or closed floorplans. If you are unable to answer these questions, you have yet to determine your scope. The scale of your project proportionally affects how much you spend on materials, labor, and permits. Answering these questions before building will save you time, money, and legal headaches. Once you answer these questions, resist making drastic changes and stick to the plan to reduce overall costs. 
Create a home that suits your needs without veering into excess beyond your budget. It helps to set a five or ten-year plan. Do you plan on having pets? Children? What about an office to work from home? It is important to separate needs from wants. Once you have figured out your needs, include them in your budget to avoid costly renovations or additions down the line.
7. Know the law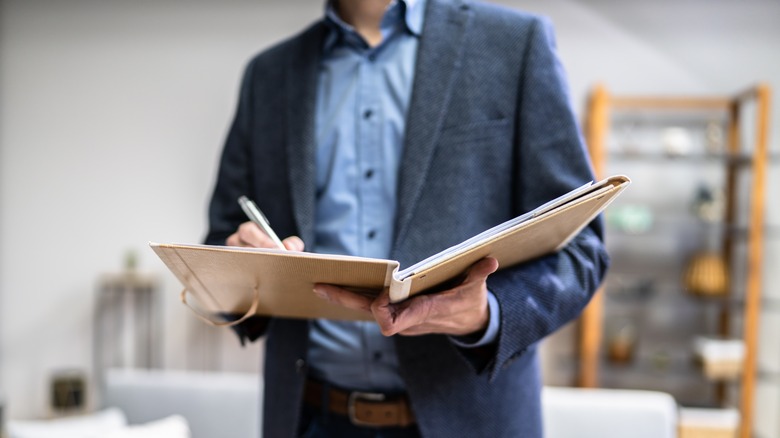 Andrey_Popov/Shutterstock
Housing laws may seem random, but they depend on your jurisdiction. In terms of real estate and land development, no two areas are the same. Make sure to research the law extensively before building on your land. For example, some very unexpected items are illegal in modern homes. The American National Standards Institute banned most window shades with cords in 2018. 
Do your research before making any decision, no matter how small it may seem. It may even help to consult a lawyer on your building project to cover your bases. Before you start building, gain all the proper permits, and lot approval to make sure everything is up to code. Building without permission from any relevant jurisdictional departments usually results in hefty fines for the landowner. It is always better to be safe than sorry, so research local laws on plumbing, power, grading, and taxation to protect your investment.