Easy Tips To Make Your Hydrangeas Turn Purple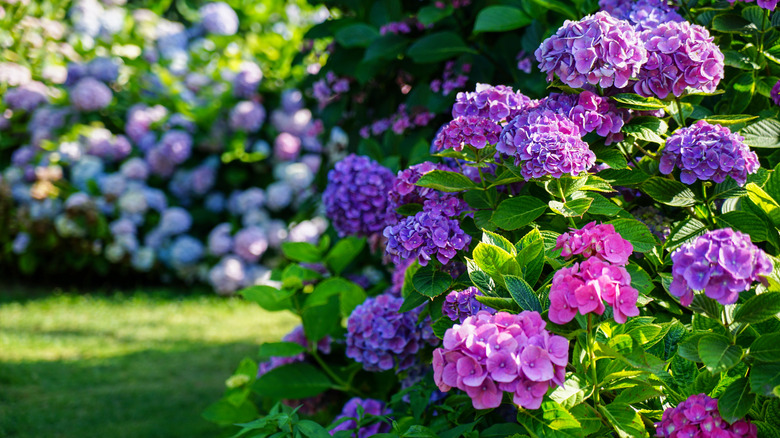 ryota.www/Shutterstock
We may receive a commission on purchases made from links.
When it comes to beautifying a yard, most people opt for decorative flowers first to add a splash of color to the green. One of the most popular blooms used to liven up gardens is a hydrangea bush. Not only will the colorful plant make every head that passes your lawn turn, but they are also super easy to maintain and come in a variety of shades, such as white, blue, pink, green, red, and purple. As it turns out, you can customize the color of your hydrangeas since their hue depends on the acidity of the soil, with purple hydrangeas requiring a neutral pH.
TikTok plant dad @as_i_find_order explains how varying soil pH levels can bring about different colors in your hydrangeas. Acidic soil will give you bluer hydrangeas, while pink and red flowers come from alkaline soil. If you're looking for that stunning purple shade, however, here's how to achieve the perfect pH balance.
Test the soil pH to know what color your hydrangeas will be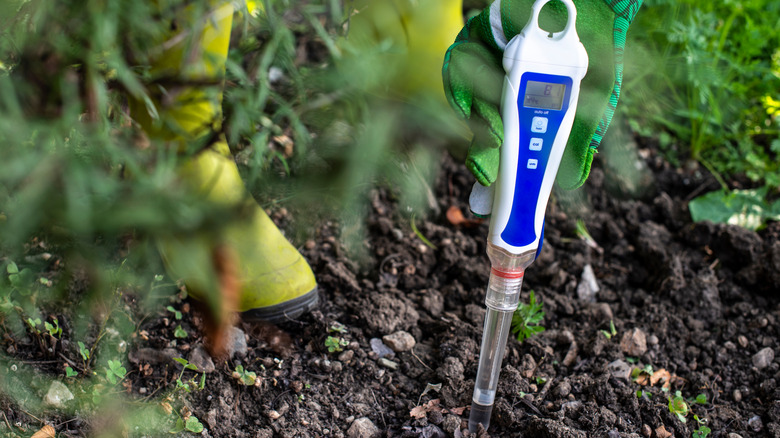 Deyan Georgiev/Shutterstock
The road to getting your hydrangea to change to purple won't be a difficult one, but precision matters. The reason that soil pH affects your hydrangea's color is that it impacts the aluminum level in the soil. The more aluminum your plant takes up from the roots, the bluer it gets, and the more acidic the soil, the higher the presence of aluminum. 
TikTok flower enthusiast @tint.floral goes further to explain that even if aluminum is present in the soil, an alkaline environment prevents that mineral from being absorbed by the hydrangea, resulting in a pink bloom. Since soil with a balanced pH will give you purple flowers, you have to know what to do to your yard soil to give your hydrangea what it needs for that lovely rich violet color.
Per Balcony Garden Web, in order to turn your hydrangea purple, you should aim for a soil pH of 6.5 — 6.8. Your first call should be to run a pH test on the root-level soil before even planting your flowers. You can get a litmus test kit and follow the packet's instructions. Then, if your soil is too basic and you want purple flowers with a bluish tint, you can add some Espoma soil acidifier. If you want a redder purple, increase the soil pH by adding garden lime to it. Finally, sit back and wait. After constant application, you'll see the results fade in gradually.