The Unexpected Pantry Item You Can Use To Start Seeds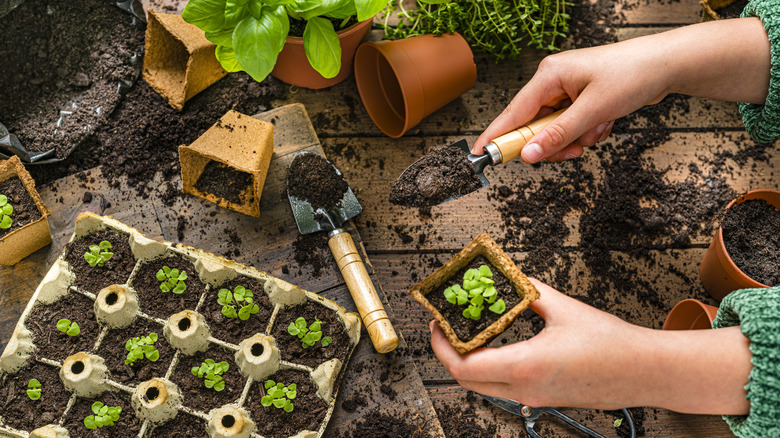 Fcafotodigital/Getty Images
Enjoying a cup of tea is always a bit of a guilty pleasure. If you don't have access to a compost pile, that tea bag has to go in the trash. (Plus, not all tea bags can be composted — more on this later.) What a waste! But it doesn't have to be that way. Whether you have a full-blown homestead or a wee balcony garden, you can use those spent tea bags to grow seedlings for it.
Tea bags have a string, usually with a cardboard tab branded with the tea producer's name, attached to a bag containing dried Camellia sinensis (tea) leaves or other edible plants and herbs.  Some tea manufacturers use plastic tea bags, while others use natural fibers.
When making your tea bag seedling starter kit, avoid plastic tea bags. Some popular tea brands with compostable bags include Celestial Seasonings, Bigelow, and Stash, among many others. Get (tea) drinking: You need at least a dozen used tea bags to make this project worth your time. You'll also need a pair of sharp scissors, a shallow container of some kind (empty egg cartons work great because of the individual pockets), a small stack of paper towels, your seeds of choice, and a spray bottle filled with fresh water.
Make a tea bag seed tray
There are different ways to go about this. One way is to first, line your tray with a few damp paper towels. You can cut the tea bags open at the string end, empty them of their tea filling, and re-pack them with a seed starter soil mix. We recommend Espoma Organic Seed Starter Potting Mix from Walmart or Gardener's Supply Company Seed Starting Mix. You can also cut a hole in one of the flat sides of the bag, keeping the tea leaves inside. Either way, pop them onto your tray with the cut side facing up.
Pick up a single seed and drop it into the bag using a toothpick, a pair of tweezers, or your finger. Once all the bags have a seed, gently spray them with water until they're damp to the touch but not drowning. To speed up germination, cover your tray of seedlings with a plastic bag, creating your own indoor greenhouse. Another option is to lay tea bags (with tea leaves still inside) atop a small planter filled with soil and plant your seeds into them. As the bag degrades, the tea leaves can be used as a natural fertilizer by the seed, and the seedling's roots can stretch out into the soil.