Essential Everyday Garden Tools Martha Stewart Always Has On Hand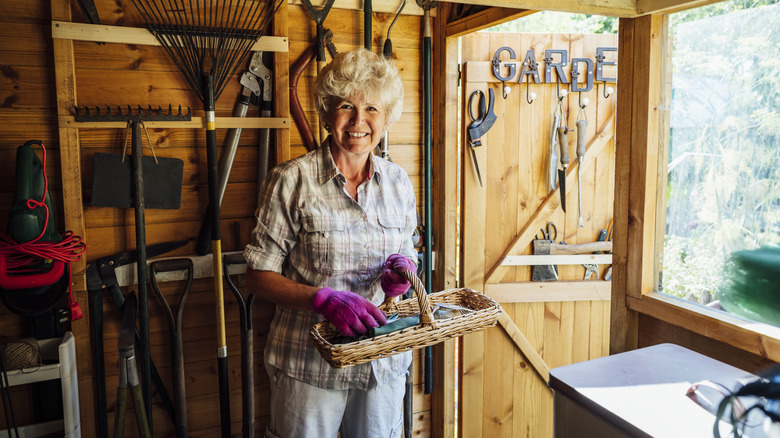 Johnnygreig/Getty Images
Gardening can be hard work, but having the right tools will make it much easier. You may enjoy digging your hands into the soil, but if you have a large garden or the weather makes being outdoors unpleasant, you'll wish you had some tools to make the work go by faster. Deciding which tools you should always have on hand can be tough, but Martha Stewart has broken it down in a YouTube video so you can know exactly what to keep in your shed or garage.
Stewart recommends having both small and large tools along with some supplies to keep them in good shape. A tool is only as good as its condition, and you can keep the same ones for years if you clean and disinfect them properly and replace parts as needed. When you have clean and sturdy tools that are ready when you are, you can feel confident that your garden will always look its best. Another handy tip? Stewart recommends painting the handles of your tools a vibrant color so you never lose them in the garden again.
Small tools to keep in your bag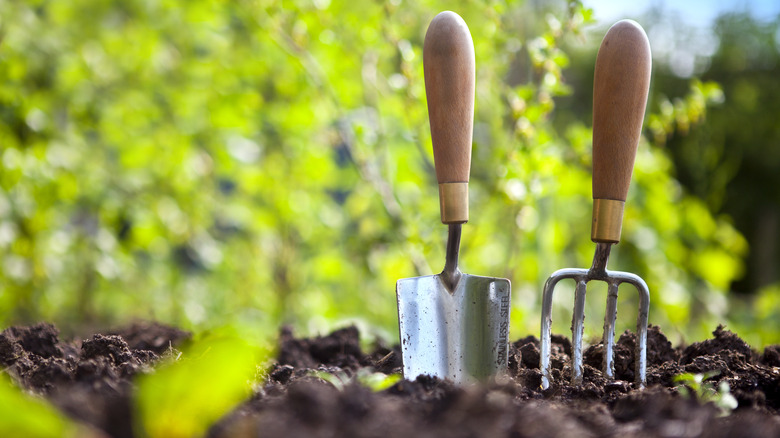 Cjp/Getty Images
There are several small essential gardening tools Martha Stewart recommends to keep handy. Do yourself a favor and get a tool bag for all your garden supplies so you can know where they are at all times. The tool Stewart seems to love the most is her trusty hand pruners. Depending on the size, they can trim branches up to half an inch in diameter, making them the perfect tool for all your pruning needs. Hand shears are another helpful pruning tool that works well for smaller branches like flowers and edible plants.
Stewart also recommends investing in a high-quality hand trowel and hand hoe for digging into the dirt. These tools should be sharp and made out of steel so they can effectively break up the soil. The trowel is ideal for digging holes, while the hand hoe is great for weeding. A hand cultivator is also essential to remove debris from underneath plants and cultivate the soil between rows.
To keep these tools for years to come, you'll need to put a little TLC into them. Purchase replacement blades for your hand pruners and a sharpening stone that will keep everything ready to go. You can clean and store your garden tools in a bucket of sand and motor oil, which will also prevent them from forming rust. Storing this bucket in your shed will help keep all your tools sparkling clean. 
Large tools for the big chores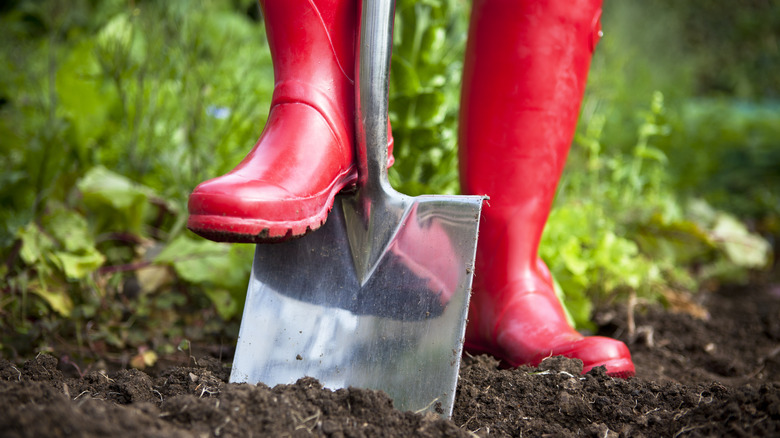 Cjp/Getty Images
While small tools are helpful in a number of scenarios, they won't cut it if your garden has expanded significantly or you have a large plant to transplant into your soil. Martha Stewart recommends you keep these tools in your shed to prepare for bigger tasks. You'll need a shovel and a spade, two tools that seem interchangeable but have specific purposes. Shovels are for scooping up dirt to put somewhere else, while spades are meant for digging large holes. This is why shovels typically have a deeper bowl, while spades are usually flatter. 
You'll also need a dirt rake to smooth out the soil once you've used the shovel and spade. The rake will also help you remove rocks and debris so that you have a clear place to plant. A large stainless steel fork will help with your digging efforts to get your beds ready for planting. Once your beds are prepared, you'll want to use another small tool, a seed distributor. This will help you plant a specific number of seeds per inch to get your garden's layout just right.