The Fragrant Flower Martha Stewart Loves Having In Her Garden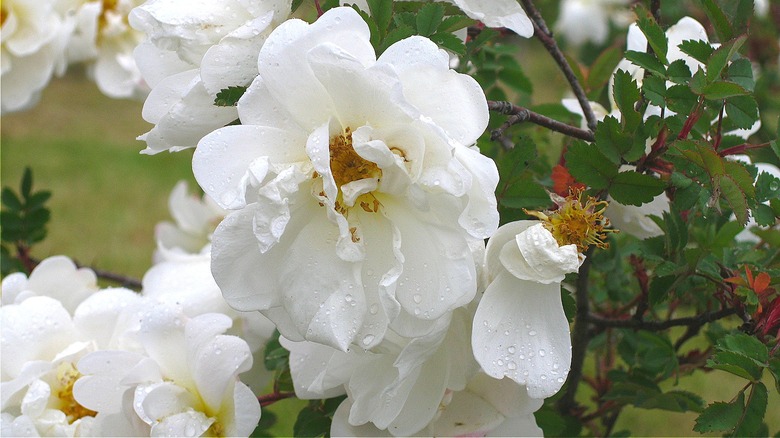 Olga Glagazina/Shutterstock
Although not all are scented, flowers, in general, are known for their fragrance. Roses, for instance, offer myriad smells depending on their type and growing conditions. What's more, did you know they smell differently when in bloom versus in bud form? Lifestyle maven Martha Stewart has a flower or two at her estate, including roses. One bloom from her garden that she appears to particularly love to smell is the Scottish rose, though it's more commonly known as the Scots rose or Burnet rose (Rosa spinosissima).
If you're considering adding roses to your garden, a great benefit to cultivating the Scots rose is its fragrance. In "The Little White Rose," Scottish Renaissance poet Christopher Murray Grieve wrote of the rose variety, "Only the little white rose of Scotland. / That smells sharp and sweet – and breaks the heart." Stewart also had lovely words for the Scottish roses in her garden. In a TikTok from 2022, Stewart said after smelling a Scots rose bloom, "Very fragrant."
Cool features about the Scots rose
The Scots rose features white petals with a prominent yellow pistil in the flower's center. It slightly resembles a spray rose, at least in size, because the Scots rose is significantly smaller than most rose species. Its petals are also wide open and don't cover each other; it doesn't have the interconnected curls of multiple rose petals or what we think of as a typical rose shape.
What also distinguishes the Scots rose is its hip, or fruit, which is a blackish-purple color. Most rose hips are red or reddish-orange, but the black Scots hip is used as a basis for a purple dye. It's combined with alum to create a deep purple color used to make a traditional tartan cloth.
Martha Stewart, however, says the black hips of the fragrant Scottish rose make yellow dye; perhaps she has access to some secret otherworldly process, but if so, she's keeping the recipe to herself. If the delicious-smelling lure of such a simple-looking flower appeals to you, there are added benefits of planting roses next to lavender, the source of yet another transcendent fragrance.