HGTV Offers A Great Landscaping Tip For Increasing Your Home's Value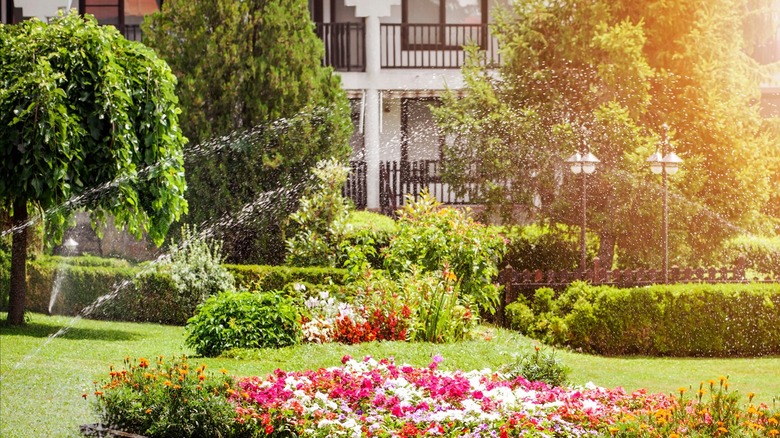 Mariana Serdynska/Shutterstock & undefined
Being a homeowner today is a challenge for most people. Not only is it expensive and time-consuming to maintain, but keeping up with current trends is important for your home's value. If you're savvy, you pay attention to strategies that can increase it. To assist with this process, HGTV shared an important tip on maximizing home value with landscaping projects: installing an irrigation system as well as incorporating other water features.
Installing an irrigation system is an extensive project worth looking into. It's a significant investment, with an average cost of between $2,400 and $4,200 in 2023. However, when you consider the impressive ROI of 83% (per National Association of Realtors Research Group), this home improvement project makes perfect sense. After all, these are just the numbers. You only have to consider the additional benefits to understand why. For example, water features can improve the aesthetic, giving your home an extra boost over other comparable properties in the area.
Why an irrigation system makes sense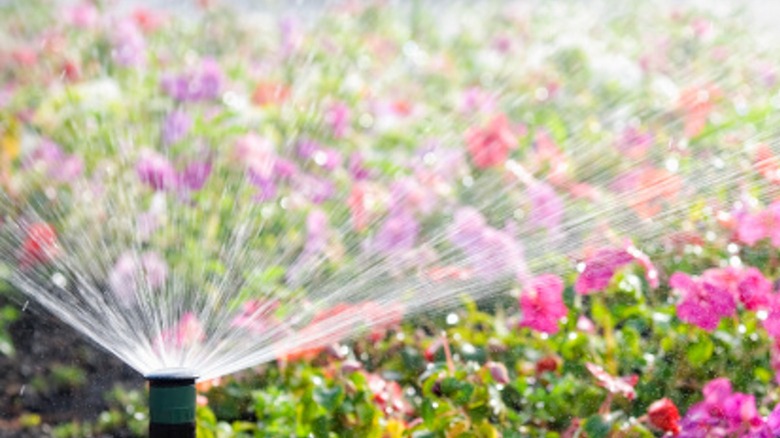 Georgeclerk/Getty
Part of being a homeowner involves taking care of your lawn and garden in a neighborhood-conscious manner. However, especially during the hot season, maintaining a green and beautiful landscape can be both time-consuming and expensive. Installing a sprinkler system is definitely worth the cost, as it has several benefits. For instance, it saves two important commodities: time and money. With new technology, you can water on a programmable schedule at the touch of a button. Moreover, it reduces your water bill in the long run.
Irrigation systems also reduce weeds, plant diseases, and fungi by enabling you to water only the required amount with a drip system. In fact, most professional landscapers refuse to guarantee their work without one in place. A sprinkler system also adds to your home's aesthetic value and appeal, and, of course, makes lawn and garden care easier. Given these benefits and the potential return on investment, it's easy to understand why it's a recommended home improvement project.
Why water features make sense (and what to watch out for)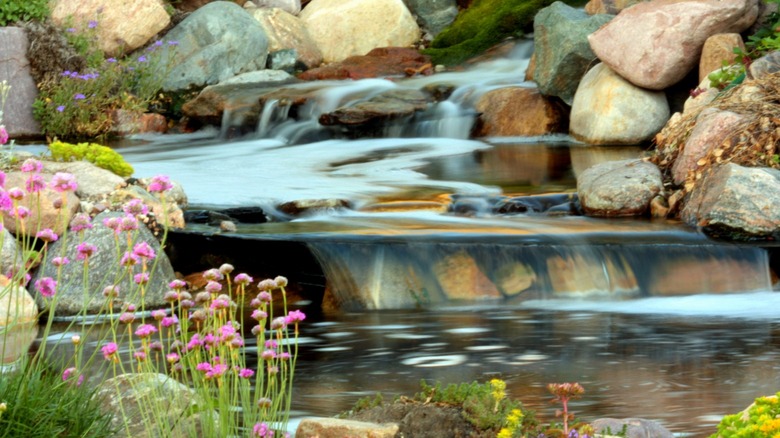 Carol Provins/Shutterstock
Another great idea for improving the aesthetics of your home is adding a water feature. However, it's important to choose the right feature, as installing the wrong one can devalue the home. Many water features can improve curb appeal and the overall vibe, but maintenance should be taken into consideration, and it should be professionally installed.
Water features have many benefits, including blocking out traffic noise, reducing stress and depression, and creating a tranquil and beautiful aesthetic. Opting for a permanently installed fountain or waterfall is the best idea, as these features are typically hardwired to your electric and plumbing systems, reducing maintenance and potential headaches for buyers. The cost of installation is between $947 and $4,483 on average. A koi pond has an average cost between $1,237 and $5,054, plus ongoing costs for fish and maintenance. If you're going to take on a landscaping project, why not choose one that adds value to your home at the same time?