The Tip That'll Make Painting High Walls In Your Stairwell Cleaner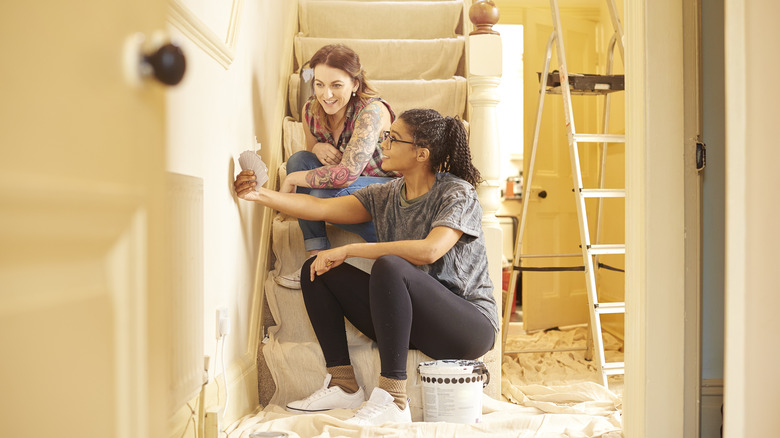 Sturti/Getty Images
We may receive a commission on purchases made from links.
Stairwells can be a big focal point of your home. And since the space above your stairs is one of the first things people see when they walk through your front door, it contributes to the initial impression your overall home makes. You'll want that first impression to be a good one with clean, crisp lines and smooth surfaces. There are a few things you can do to achieve this look. However, following this one tip will make it a breeze. Painting your stairwell walls and the ceiling the same color will let you get away with a less-than-perfect paint job in this difficult-to-reach space.
You could get creative and paint it in two different colors. But you should really hire a professional for something like that if you want to ensure that it will look picturesque and you won't be obsessively staring up at imperfections. Trying to balance a ladder on stairs, while trying not to mess up is no easy feat. You can get away with a DIY job if you paint the walls and the ceiling the same color. This is because any imperfections you create will be less visible.
What you'll need to paint your ceiling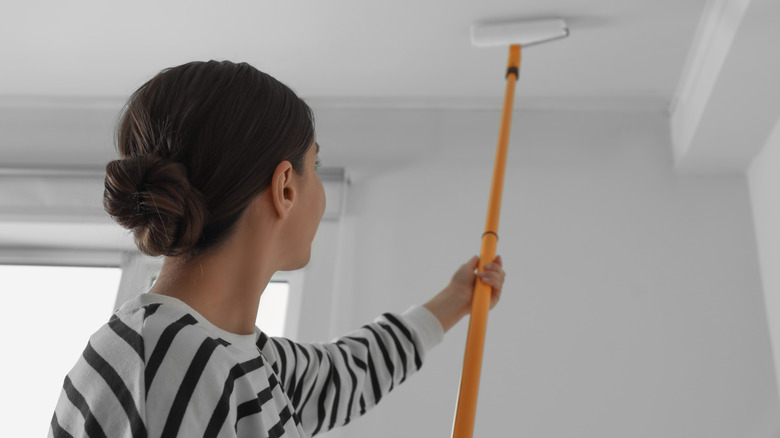 New Africa/Shutterstock
When painting your stairwell ceiling, you'll want to go with a foam roller that can be placed on an extension pole, which you can get from Home Depot for $30. Foam rollers are recommended for ceilings because they are known to spread evenly over a ceiling, which can be textured without causing the paint job to chip. Just make sure you get the proper roller cover with a nap that is best for the texture of your ceiling and whatever material it's made of. 
The smoother the surface, the shorter the nap should be. Longer naps of 3/8-inch,  like this one for $10 from Amazon, are typically used for things like ceilings and paneling. If your ceiling has a texture like concrete, you'll want to go larger with 1/2-inch. If it's something highly textured like stucco, a 3/4-inch would be appropriate. As for paint, choose paint that is of a low sheen and specifically made for ceilings. Most ceiling paints are made with a low-sheen matte finish. 
Why these tips work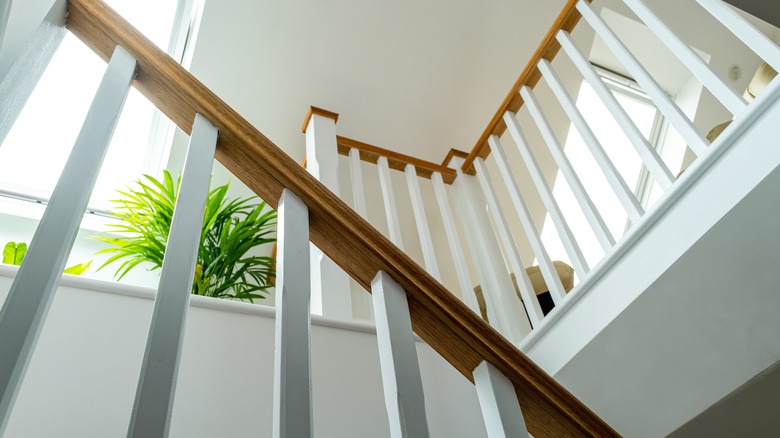 Nick Beer/Shutterstock
You'll want to follow these tips and use these utensils for the same reason: they hide imperfections. If you paint your ceiling the same color as your stairwell, you won't have to worry about impeccably cutting in and creating perfectly straight lines if you don't have a steady hand. Using the same color eliminates the delineation that can look jarring if it's crooked or done sloppily.
Using a flat paint, or one that lacks sheen, prevents light from reflecting on it which will make flaws less visible. Using paint that is specifically made for ceilings will also prevent messes. Ceiling paint is made with a higher viscosity so it will run less and won't create drip marks that look awful and can't really be fixed once they dry. Since painting ceilings is harder than painting a wall, you will want to give yourself some leeway by following these suggestions.