Is It Possible To Install Radiant Floor Heating Under Carpet?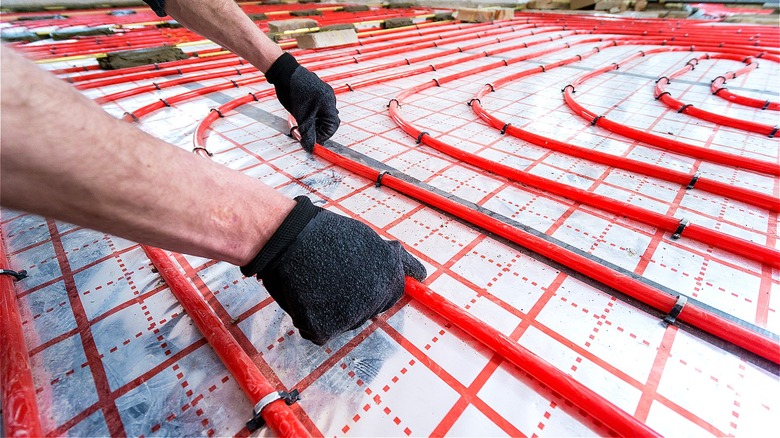 Romaset/Getty Images
Heated floors are a boon to your feet and the home, adding the warmth necessary to endure the coolest temperatures. So, it's no surprise that radiant floor heating systems have become popular with homeowners in spite of their relatively higher upfront costs; more than 50% in some cases. However, as the system offers massive energy efficiencies, the additional investment can often be recouped over time, making it a suitable eco-friendly option. But can you install such floor heating under any type of flooring — specifically, can it work with carpet?
While tiles and stone flooring are considered ideal for getting the most out of a heating system, carpeted floors can work, too, given certain requirements are met. For a radiant heating system to operate effectively, it's essential that the overlayered carpet has lower thermal resistance, as this allows the floors to warm up quickly. Usually, factors like the weight, yarn type, pile height, fiber, thickness, and density of the carpet, including its padding and backing, determine heat conductivity levels and the subsequent effectiveness of under-carpet heating.
Ideal carpet choices for radiant floor heating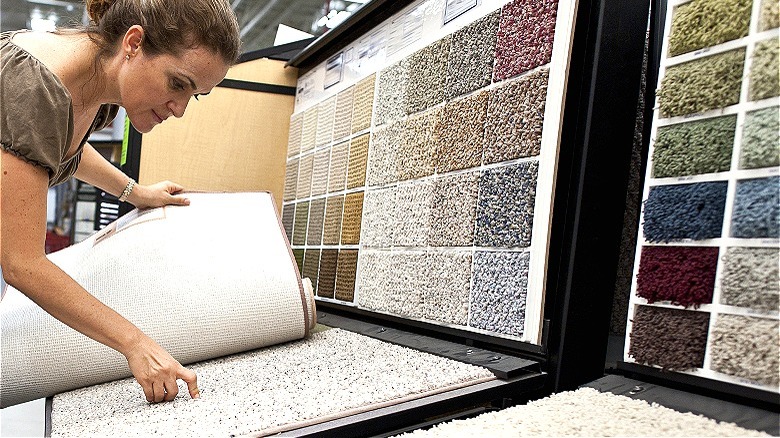 Juanmonino/Getty Images
Radiant floor heating works best with carpets that have low heat resistance; that is, usually a tog rating between 1 and 2. Generally, wool, polypropylene, and nylon-based carpets exhibit higher transfer properties. However, for a cushioned carpet, you must also factor in the tog values of its underlay and overlay cushions, ensuring the total is range-bound to 2.5. For instance, a rug of 80% wool and 20% nylon maxes out at 2.2 tog, making it suitable for heated floors. Also, ensure you only use low-pile carpets measuring up to ⅜ inch in cushion thickness.
Moreover, opt for the more durable hessian-backed carpets instead of heavy crumb and felt-based layers that are heat resistant and can even damage your floor's finish. Another thing to bear in mind is that to use carpet flooring, you must limit the system's temperature to 80 degrees Fahrenheit, which can be tracked easily with a thermostat. Further, install insulation boards in your subfloor or the area over which the radiant system is installed to minimize heat loss.
Benefits of installing radiant heating systems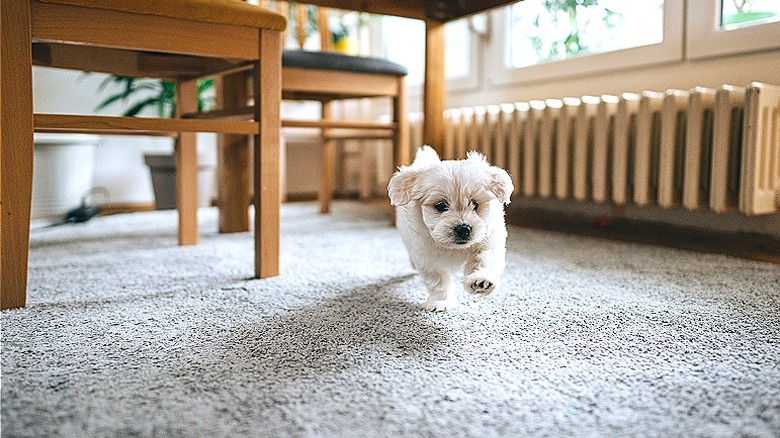 Freemixer/Getty Images
Radiant heating systems, especially hydronic-based versions, are better than various other home heating options as they distribute heat evenly across the floor without requiring bulky heating equipment. Additionally, they operate quietly, offer higher energy efficiency, and require little maintenance. But covering these heating systems with carpets offers additional advantages, such as improving the room's aesthetics and visual appeal. They make the room cozy, which is a huge positive compared to laminated floors, making waking up on cold mornings easier.
What's more, radiant systems with carpet overlays offer health and hygienic benefits. As carpets trap dust and debris over time, a traditional radiator releases these harmful particles while circulating the heated air, adversely impacting those with allergies and asthma. Since underfloor heating entails no air circulation, indoor air quality is maintained despite the rug cover. Finally, adding rubber, cork, or foam-based underlayments to your heating system ensures better sound absorption and moisture resistance while enhancing underfoot comfort.