Save Money With This Ice Cube Tray Gardening Hack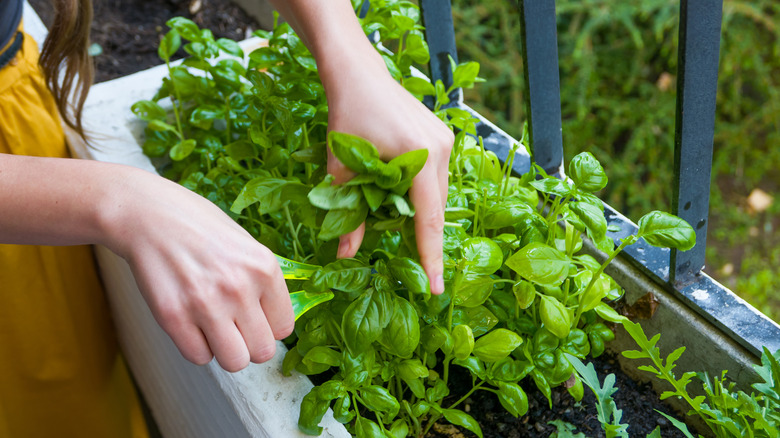 Darwel/Getty Images
Many find joy in the creativity of gardening. It's a delightful yet mysterious process to be able to sprinkle a few seeds in the soil, water them, provide sunlight, send good vibes, keep your fingers crossed, and then witness bright green sprouts two weeks later. And there's even more of a bonus when you're growing an edible plant you can trim and add to dinner. If you're taking a chance on some new seeds or you're just seeking budget-friendly options in a starter kit, look no further than your freezer. Save money by using an ice cube tray (or two) to grow your next batches of lettuce or herbs from seed.
Most of us have multiple ice cube trays on hand. If you want to get started planting right away and you have a few extras, this is a great money and time-saving hack. Ideally, you'll want contemporary ice cube trays — they're more malleable than the old-fashioned, hard-as-a-rock versions, and silicone or softer plastic will make removing your seedlings easier. One key thing to take into consideration is how deep you should be planting your seeds, and this will depend on the specific plant. You can most likely find this information on your seed package.
How to use the ice cube tray gardening hack
Gather your supplies: one or two ice cube trays, new soil, seeds, and a mister containing water. We also recommend adding drainage holes to the tray. You might need to use a drill for this, making a half-inch circle in the center of each cell of the tray. This could also be beneficial if you're using an ice cube tray made out of hard plastic, as you'll be able to push a pencil or chopstick through the hole to loosen the soil when it's time to transfer the plants to the garden. Rather than repurpose existing soil from the garden, use new soil to ensure there's no fungus or other issues.
Put new soil into each cell. Note whether your seeds should be sprinkled on top of the dirt or buried one-quarter to half of an inch below the surface and place them accordingly. Mist the tray with water and place it on your windowsill or the optimum spot to get light without being knocked over. After about 12 days, you should see little sprouts springing up. When they're ready, you can pop each plant out of its cell for replanting. This is a terrific and inexpensive hack for growing herbs from seed, though you could also use it for other plants as well.